Raymarine E-Series Widescreen, mission accomplished!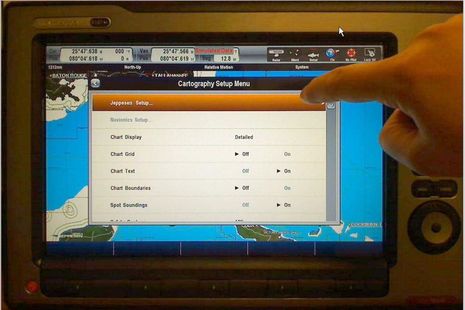 It's a cruddy image, for sure…a screen shot taken at my desk as Raymarine's Jim McGowan used a web cam at his desk to walk me through a beta version of the new E Wide series which is being previewed today worldwide. But it does illustrate two critically important features. The E Wides are touch screen, using a much gussied up new interface, while they also retain the same soft/command key set that Ray developed for the C Wide Series (and will come in the same three screen sizes). You can do everything by touch if you like, and the weather permits, or run things the old fashioned way; Raymarine calls it "hybridTouch". Perhaps even better in terms of user choice: The E Wides can display both Jeppesen C-Map and Navionics cartography, of any format level, and even simultaneously…

Yes, you'll be able to use the Navionics or C-Map format of your preference, or the one that offers the best data for the waters you're boating. Moreover, E Wides will ship preloaded with extraordinarily wide built-in chart coverage, North American models including all of the U.S., Canada, the Caribbean, and Central America. These 'base' charts will be from Jeppesen C-Maps, a reunion both companies seem excited about, and they'll include a system for regular data updates. E-Series Widescreen will also be the first MFD to support an interesting new C-Map format called 4D which seems to include all the features of Navionics Platinum Plus (excepting perhaps TurboView, which E Wide will support), plus a paper-chart-like NOAA raster layer (U.S. only) and automated routing. Cool!
There's more to the new E Wides than good interface and chart choices, particularly in regard to radar; you'll find some hints at Ray's new hybridtouch.com site, and I'll have more coverage here soon. But I do think we've got the answer to the obvious question that came up when the C Wides were introduced last February. When the C-Series got features previously reserved for the now 'Classic' E-Series, like multi-station networking and dual radar support, you had to wonder how Ray could truly distinguish the coming E Wides. It looks to me like they thoroughly accomplished the mission. But of course now there's a new queston: What happens with Raymarine E Wides and the Garmin 5000 series they obviously compete against if the two companies become one, a possible deal still simmering (I think)? I don't have clue. You?