RayTech 6.0, first impressions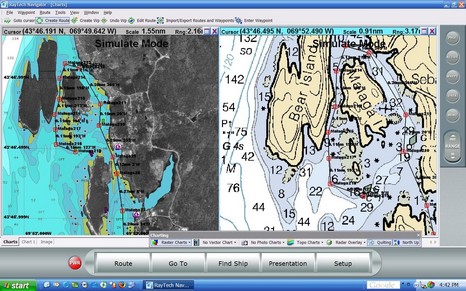 Actually I've been watching RayTech 6.0 for quite a while, as I was kindly included in the Beta testing. I think Raymarine really got it right this time. Take a look at the full screen shot, and consider all the cartography it supports. On the left is Navionics Platinum being read off a CF card in a Navionics USB reader; RayTech seems to speedily support every Platinum feature—including blended photo maps (shown), panoramic photos, 3D, port info, tides & currents, etc. (by contrast Navionics own NavPlanner hardly supports any Platinum features, yet). On the right of course is a Maptech raster chart; other Maptech products supported are photo maps (with variable blending) and topos. Finally, you can also read NT+ charts using a C-Map reader.
And consider how many ways there are to use RayTech 6.0. You can download it for free (yes, available now), grab some free rasters, and you're all set to plan routes that you can copy onto a CF card and take to your Raymarine C or E, or email to someone, or whatever (see below, bigger here). Or you can buy a Navionics or C-Map reader and use your plotter charts to plan on, or at least compare to the rasters, again taking the routes to the plotter via card. Or you can license your copy of 6.0, and then a single Ethernet cable feeds it everything that's on an E Series network (Sirius weather, Navtex, and AIS excepted, for the time being). I'm trying both networked and stand alone versions, as well as the Sirius weather, am impressed by all, and will report further.