Shakespeare's ART-3, check your transmitting power!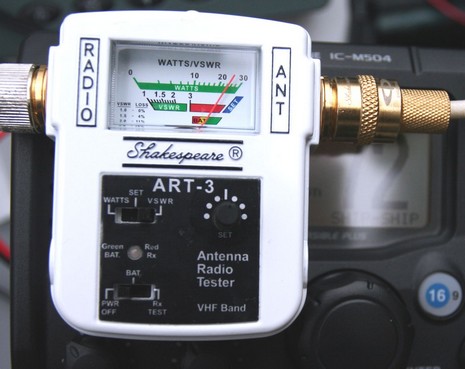 I may be naive–I don't have much experience with testing tools–but Shakespeare's ART-3 impressed me. In this picture, bigger here, that VSWR reading well into the red demonstrates something I'd suspected but wasn't positive about…the old antenna attached to the Icom 504 may look OK but it must be pretty pooched inside. VSWR, by the way, stands for "voltage standing wave ratio" though Shakespeare more reasonably terms it "antenna efficiency". Interestingly the meter showed the Icom and other of my test radios transmitting at a mere 17 watts with this same antenna, but pumping out a full 25 watts with a VSWR of only 1.25 (a mere loss of 2% according to the table on the meter face) when well wired to a decent antenna. Antennas really make a performance difference, as does a good power supply. The $90 (retail, though I don't see a place to buy one online) ART-3 can also generate a tone on Channel 72, thus providing a simple reception test. Note that you do need to provide your own short patch cable between the meter and radio, annoying, but it is smartly designed so that it can be used portably with an internal battery or rigged permanently with wired 12v power.
PS, 3/12/2011: Valuable discussion about what a meter like the ART-3 can, and can not, determine following this entry.