The Wizard, first impressions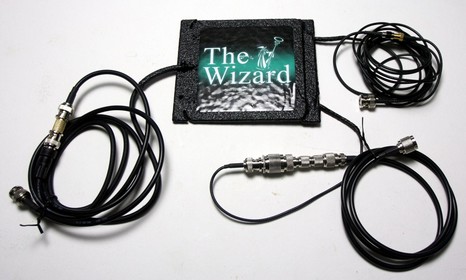 A sample of the intriguing but controversial Wizard antenna arrived yesterday morning and I was able to do some testing before hitting the road for Fort Lauderdale. If I had to put the results in three words they'd be: disappointing but tentative. Before the details, check out the bigger image , which goes along with a more concrete description (that came with the sample) of the marine Wizard's purported capabilities. That RG-58 cable with a BNC connector coming out of the left side will support a 25 watt VHF radio while the two RG 174U cables on the right (one BNC and one SMA) can purportedly handle AM/FM, WiFi, GPS, Cellular, Sat phones, and UHF/VHF, all transmissions limited to 5 watts. The various added connectors and patch cables are what I had to do to hook the Wizard to VHF and Class B AIS, and the unfortunate lash up at bottom right is one of the reasons I say "tentative."
* 25 watt VHF: Using the Lowrance LVR-880, I did A/B/C tests with an 8' 6dB Glomex stick mounted about 30' over the test area, a Shakespeare 3' 3dB stainless whip mounted near the radio, and the Wizard (also nearby). The number and quality of WX stations received were in that same order, though there wasn't a startling difference from Glomex to Wizard. Ditto for a brief transmission test I did with "Sparky", a young radio and harbor enthusiast you'll hear more about. Sparky and I were about a mile apart, with lots of wet trees and buildings in between; he could detect a slight quality difference as we moved through the antennas, but the Wizard did work.
* Testing the 25 watt line with a Shakespeare ART-3 was more troubling. The Glomex tested at 28 watts with 1.2 VSWR, the Shakespeare at 26 watts with 1.3 VSWR, and the Wizard at 18 watts with 2.9 VSWR. I tried moving the Wizard around (per instructions) but only saw a little variability.
* Class B AIS (GPS and 2w VHF): Using the Digital Yacht AIT250 and ACR Nauticast B transponders, I did A/B tests between the ACR antenna set and the Wizard. Not good. The screen shot below (bigger here) shows about the best GPS reception I got, trying two locations, and the Wizard never generated a fix. By contrast the ACR GPS antenna let the transponders lock on to 7 to 11 satellites. Of course the units wouldn't transmit without a fix, but they did receive another Class B that was very nearby. Now note that the GPS signal was traveling from the Wizard through that 5 connector misfortune seen above, but it's continuity check out fine.
* WiFi (and more): I didn't have the right connectors. Friggin connectors. PL-259, BNC, SMA, RP-SMA, TNC, RP-TNC, N…I saw all those in just the VHF, Class B, and WiFi gear I'd like to connect to the Wizard. And then there's cell phones and amps. I didn't have much luck at Radio Shack but have a bunch of adaptors coming from data-alliance and ShowMeCables.
And I have questions to ask at AMT's FLIBS booth (#805). I was surprised, given the no-line-of-sight claims, that the company recommends installing the Wizard as high and as unobstructed as possible. So why the short cables and lack of mounting system? What's a Wizard going to cost? And what's up with the GPS reception?