Standard Horizon Bluetooth, the scheme so far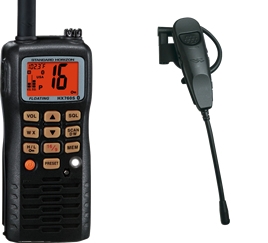 When Standard Horizon showed a prototype Bluetooth VHF headset last Fall, they didn't say which radios it would work with. Now the product scheme has become clear: a new HX760S handheld that comes bundled with the wireless headset, and a BTK-2 kit that can add Bluetoth and the headset to either of its two high-end GX series fixed VHFs. And, by gosh, if you do the Google you'll find the both the 760 and BTK-2 are actually for sale out there.
The handheld is a close relative to the HX850S that I'm keen to try, but even closer to the HX750S I'm afraid. In other words, kids, you can't get a floating, 6 watt VHF that includes both a GPS receiver with full DSC features and a Bluetooth transceiver, at least not yet. I've heard that the combination is possible but S.H. isn't sure anyone would be willing to pay for it. So let's ask you. It looks like the street price of the HX850S is around $250 (though Standard apparently didn't built enough of them to satisfy demand). Meanwhile, the HX760S—with Bluetooth headset, but without GPS/DSC—is going for about $325. What would you pay to have both noteworthy features in one handheld?