Standard Horizon GX2100, AISrx/VHF combo for most any boat?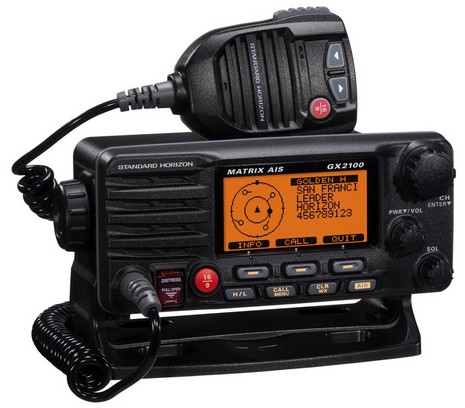 I consider this fairly big news. Not only does the GX2100 combine full featured Class D VHF with a true dual AIS receiver in one box with a fairly big screen, and include most all of the nice added features the pairing can support, but it does it all for $400 MAP (minimum advertised price). That's a lot of features per gear dollar, and I'm going to list most of them because they're not online elsewhere yet:

So, meet the Standard Horizon GX2100, a.k.a. the Matrix AIS, which is already FCC approved, and should ship soon:
AIS target display — MMSI, Call Sign, Ship Name, BRG, DST, SOG and COG; Contact AIS Ship with DSC; CPA (Closest Point of Approach) Alarm; 80dB Commercial grade receiver; Class D DSC (continuous DSC watch via independent Channel 70 receiver) with Individual, All ship, Position Report, Request and Distress; Enter, Save and Navigate to waypoints (up to 100 saved) with Compass page; Navigate to a DSC Distress Call; ClearVoice noise canceling speaker microphone with channel selection and 16/9 key; Over-sized rotary channel knob with push to enter, backlit display and keys; 30 Watt PA/Loud Hailer with pre-programmed fog signals and listen back; Capable of connecting an optional RAM3 second station remote microphone; Intercom between radio and RAM3; DSC position request and report functions when connected to compatible GPS chart plotter; Voice Scrambler (optional); Versatile user-programmable scanning, priority scan and Dual Watch; User programmable soft keys; 38,400 AIS NMEA 0183 sentence output to compatible GPS Chart Plotter; available in black or white; and comes with a 3 Year Waterproof Warranty
Wow. The common lament of VHF manufacturers is that many boaters never replace the one(s) that came with their boat (which was true of Gizmo, though most every other piece had been replaced in her prior 9 years). And which also contributes to the glacial pace of DSC adoption. Maybe this GX2100 will do the trick for many?
But what if you already have an AIS receiver or transponder? Well, this could be a backup receiver with AIS/DSC features you may not otherwise have. Or the the unit you leave on during a long offshore sail, or at anchor. OR you may be interested in the GX2000, which seems to be the same radio except that it has a 38,400 NMEA 0183 AIS input instead of an AIS receiver and it only MAPs for $230. But let's note that this is where some boats with standard 0183 AIS receivers/transponders are going to run into a problem of too little 0183 output to feed too many mouths, which is one of the reasons I inadvertently created that whole AIS/N2K mess the other day.
And when you think about it, aren't devices like these that have GPS input, DSC message output, and AIS input or output kinda ripe for real NMEA 2000 type networking anyway? Just saying. We already know that the Garmin VHF300 AIS, with N2K, is coming, but it's a premium product, and also involves a separate decision involving the pros and cons of black box radios. The new GX2100 and GX2000 make more sense on more boats right now, and Standard Horizon deserves a big hand.