To transpond or not to transpond, that is the question.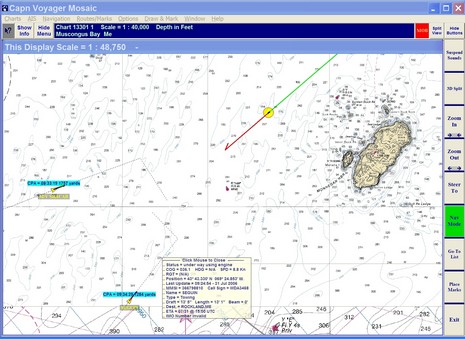 Apologies to Shakespeare. Please do open the full screen of the above, as it nicely illustrates a point I mentioned this morning…how neatly Capn Voyager plots where a Closest Point of Approach is going to happen. I like it and I don't recall seeing it done before, either with AIS or ARPA (but I certainly could have missed something).
The screen shot also illustrates another situation I'd rather simulate than actually experience in limited visibility…an 85' motor yacht and xx' tug coming together with me as the possible sandwich meat, worse if I slow down! Now, here's a question. Class B AIS is just about to hit the market, likely in the $1,200–$1,500 range. But some knowledgeable people think that it doesn't matter much for smaller boats to be sending out their position, that 90% of AIS's value is in being able to see what the big guys are doing so you can stay the hell out of of their way. What do you think?
PS. I like software like Nobeltec and Coastal Explorer which can draw AIS targets to scale when you zoom in to an appropriate level, but notice how screwed up the dimensions of the tug Seguin are. I see user input mistakes like this all the time.