Trends in marine electronics, your thoughts please!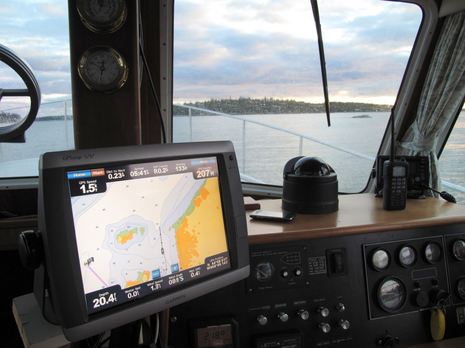 I'm working on a January Yachting feature about trends in marine electronics, and I'd appreciate your feedback. One thing I'm fairly sure of is that multifunction displays have come a long way in recent years, and justifiably dominate the mid size boat market. I took a solo overnight expedition last week, and had to note again that each of the four MFD/radar systems currently installed on Gizmo is pretty darn powerful. Especially if you imagine yourself five to ten years back in marine electronics. Note how the Garmin 24HD radome is imaging and overlaying that low ledge seen off to starboard, without any tuning, and also the NMEA 2000 data flowing onto the 5212 screen (and every other display aboard). Note, too, the iPhone on the dash — right then running SailTrac, a trip tracking and blogging program I'll write about soon — and the Standard Horizon HX850S, which also has a GPS and is ready to call in the cavalry via DSC should I screw up. There are many trends to consider…

And for many trends, there's also a counter trend, or even a possible major disruption just over the horizon. Which is why my list to date may be half baked:
* MFDs are not only getting much better, but are coming out as the special purpose computers they actually are. Thus we have support for DVI remote monitors and USB mice/keyboards. Will they get Internet connectivity soon?
* Compared to the rapid evolution of MFDs, PC navigation has been on the wane. But that could turn around. Positive signs: Windows7, inexpensive but powerful hardware, new Nobeltec management, new MaxSea, and new Coastal Explorer. PCs already have the connectivity many boaters want, but it could be used better. Less expensive PC radar and marine monitors (like the Planar LX below), and NMEA 2000 integration, would really help this segment.
* Meanwhile, connected pocket computers, namely the iPhone, have really caught on with boaters. I've rarely seen marine products as quickly beloved as apps like Navionics Mobile, iNavX, and Ship Finder. Won't this grow exponentially, and couldn't a slick, easy tablet be disruptive?
* As much as the term rankles me, "social networking" is coming to boats. Sharing adventures with friends and family, sharing data and opinions with fellow boaters…most of us want it, and we're looking for tools to make it easy. But WiFi is difficult and unreliable, cellular is spotty, and sat coms damn expensive. Solution unclear!
* Naysayers aside, AIS is also being embraced by recreational boaters, and transponders will likely become the norm on most all vessels over 30 feet. Better ways to display targets and bigger screens will take care of the "clutter problem" before it's a real problem.
* Partially because of AIS, boaters may finally start using DSC VHF. Other enablers: NMEA 2000 making VHF integration with GPS, AIS, and MFDs easier; improved DSC interfaces using that integration; and the completion of Rescue 21.
* Sensor technology — from radar to boat speed — is improving rapidly thanks to rapidly improving micro processors and design tools. New technologies like solid state radar and ultrasonic wind, water speed, and tank sensors may disrupt familiar technologies.
* For similar reasons, like rapidly improving robotics, manufacturing is also improving and thus complex marine electronics are generally more reliable. Newly affordable tech like LED display backlighting are also increasing reliability (and improving visibility).
* What's not improving in reliability is the software inside marine electronics. This is a small industry with an amazingly fragmented and complex consumer base. Easily distributed software updates are great in some ways, but early adopters of marine electronics should expect to be beta testers.
* Stylish software and hardware design are becoming more important in marine electronics, and why not? And, incidentally, is the advance in MFDs just the precursor to glass bridges, i.e. a networked system of screens, keypads, black boxes, and sensors that do everything?
* A trend in onboard entertainment systems is a fierce competition to enable the endless HD channel choices available on land, but that whole model may be disrupted by streaming video, vidcasts, etc. What will the future mid size boat entertainment system look like?
* The frontier for marine electronics is the monitoring and control of non navigation systems like engines, electrical power, heating and cooling, security and safety systems, etc. A lot of boaters want to get "greener" too, which is related. NMEA 2000 could play a big part in this, but it would sure help if the N2K standards process picked up the pace.
What have I missed? Where am I wrong? Let's discuss…