XM + Sirius, just when the live weather war heats up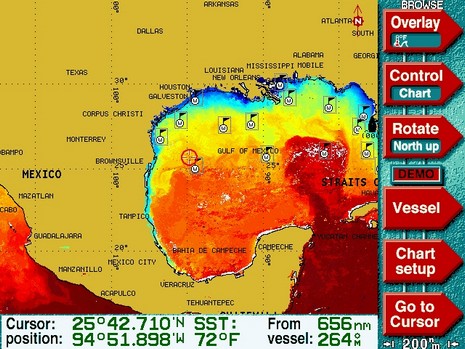 It's not every day that the New York Times puts a tech merger on the top of the front page, but amazingly the XM/Sirius merger, rumored for ages, never came up (around me) in Miami…despite lots of news about their competing marine weather services. Northstar, for instance, previewed its 6100i Sirius Weather product, which makes terrific use of softkeys to mix and view all those data elements (a real challenge). For instance, that "Overlay" key above (bigger here) let's you page through six different customizable data mix presets, each represented in the little window with icons, and you can further tweak the data presentation by setting ranges if you want.
Furuno was also previewing a Sirius weather product (PDF brochure); the interface seemed much more rudimentary, but since Furuno is using a new generic Sirius receiver (Northstar's is their own) and there's also new Sirius weather PC software in the works, a boat might be able to use both on the same subscription. Sirius Weather was also showing on a Maptech i3, which already runs XM, and as part of a ambitious new SkyMate product that includes GPRS and Orbcomm communications. And Raymarine introduced Sirius Weather for the C-Series, which incorporates a cool implimentation of Sirius audio, including volumn control, easy presets, notification of favorite artist and some other subtleties. Audio is already built into the E-Series Sirius receiver—all these receivers, in fact—but the audio interface won't come for a while.
Meanwhile, XM's big news is species-specific fish finding data (sorry for poor pic below), as well as extended wave, wind, and surface pressure forecasts and more Canadian data, including radar (Puerto Rico too)—all included in the same $50/month Master Mariner subscription—plus there's some exciting new hardware and relationships in the works. In short, there's a hell of a Sirius/XM competition going on just in this little marine weather segment. What does it mean if and when the two become one? Your thoughts please!