3M Scotchloks, is my love so wrong?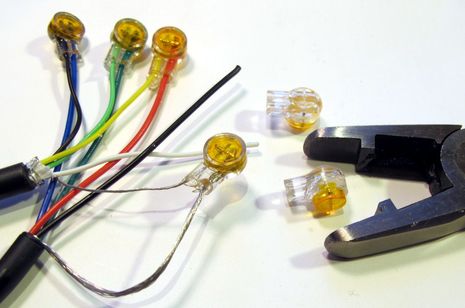 In October I promised to eventually discuss the 3M Scotchlok IDC connectors I used to tap into Gizmo's engine gauge wires in order to install an Actisense EMU-1 Engine Monitoring Unit. Given that two experienced commenters already strongly dismissed these connectors for boat use, I did more research and testing. Tentative conclusion: while 3M does indeed state that Scotchloks like those tiny UY butt connectors above are meant only for 22-26 gauge solid copper conducter wires, they still seem like the fastest, surest way I've seen to splice the fine gauge stranded wires we often deal with afloat. Could it just be a mistake that's kept a lot of useful Scotchlok models out of 3M's limited marine line, or did I miss some major difference?
Let's start at the beginning. What you need to make a lasting wire splice in the boating environment is sufficient mechanical contact between the conductors, a strong connection between the two wires so the contact isn't broken by vibration or other physical abuse (probably abetted by some form of strain relief), and some sort of protection so that the contact surfaces don't corrode and fail.  The classic first class solution is carefully installed crimped heat shrink connectors as deeply detailed by our friend RC Collins of Compass Marine.
   But that solution is quite time consuming and particularly difficult with, say, those 24 gauge NMEA 0183 wires seen in the top photo. I'd love to see some photos and time estimates of how that 5 pair splice is done well with traditional crimp connectors, but can tell you that making those Scotchlok connections — insert unstripped wire pair, snap shut, done — took less time than sorting out the unmatched colors, and I found that regular adjustable pliers could work as well as 3M's special "crimping" tool.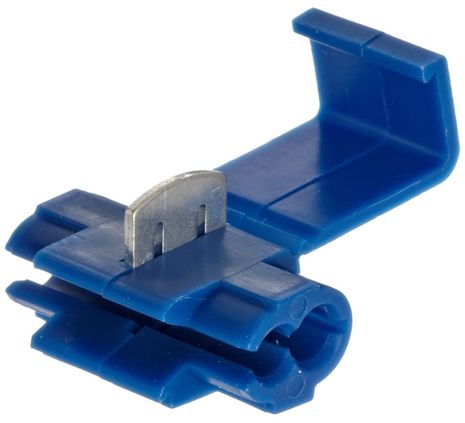 One reason that Scotchloks are unpopular among boaters, I suspect, is that this 801 Instant Electric Connector is probably the first one they experienced. I felt the same way as I've seen these things fail fairly frequently, even though they're still sold as suitable for stranded wire and boats. But the photo does nicely illustrate the essential Scotchlok feature, which is that sliding tin-coated copper "wire insulation displacement contact" with two tapered slots that cut through to the conductors.
   The 801 also illustrates how well Scotchlok can work as a tap connector you can use to connect a wire to an existing wire without cutting the latter, a trick not possible with traditional crimp connectors. But as one of the first Scotchlok designs, the 801 has a poor mechanism for securing the contact plate down and it offers no corrosion protection.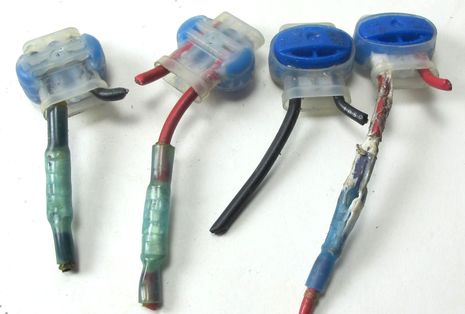 There are more advanced marine Scotchloks like the 314 two or three wire butt connectors above. This particular set was only removed from Gizmo after four years because the varnished running light boards need restoration again; the connectors are near impossible to break open and the anti-corrosive goo inside them seems as gooey as the day I installed them (in a difficult location where traditional crimp connectors would have been a serious pain).  These modern Scotchloks also have what's called a "U-contact," which means that the plate seen in the old 815 design is effectively doubled. Hence, the contact surface between the wires is also doubled as is the mechanical grip preventing the wires from pulling out.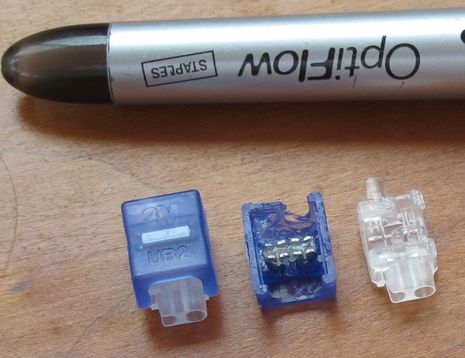 So why aren't these little Scotchlok UB2 tap connectors also suitable for stranded wire and boats? Honestly, I have no idea. The waterproofing goo — a combination of mineral oil, polybutylene, and dimethyl siloxane — seems to be exactly the same. The doubled contact plate also seems very similar (though I don't know why there are three slots for a two wire connector). Why would a UB2 be fine for connecting, say, solid core 19-26 gauge wires up on a telephone pole in all weather carrying highspeed DSL communications, but not for low speed stranded wire data connections on a boat?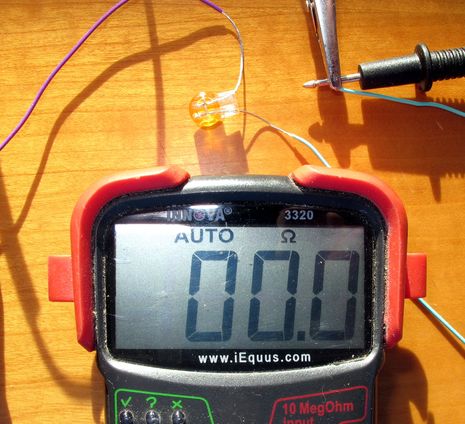 Well, I tried hard to unravel this conundrum. The test above, like many others, shows a zero resistance stranded wire connection through what's supposed to be a solid-wire-only Scotchlok UY butt connector. I had also stripped off the insulation, thinking that might better reveal how the connector didn't have a solid grip on the stranded 24 gauge wire, but I could tug nearly to the wire's natural breaking point on either side. And if I'd been more knowledgeable when I ordered these connectors from Allied Electronics, I would have gotten the slightly larger but double plated and more versatile — they can handle 19-26 AWG wires — Scotchlok UY2's anyway.
   At any rate, below is a photo of Gizmo's main Volvo Penta gauge cluster with six Scotchlok UB2 tap connectors taking tachometer and other sensor info to the EMU-1 and then on to all the NMEA 2000 devices that can now display, log, and alarm the boat's engine sensors. Installing them was almost trivial – I measured zero ohms of resistance across every connection, and the EMU data was looking fine until I hauled the boat. The only problem is that I'm not supposed to use them in this application. Could it be that 3M just didn't bother testing these products for the relatively tiny market of marine and automotive small gauge stranded wire use? I'd like to hear your thoughts and also learn about alternatives to my Scotchlok splicing.