Quality crimp connections, the right tool makes all the difference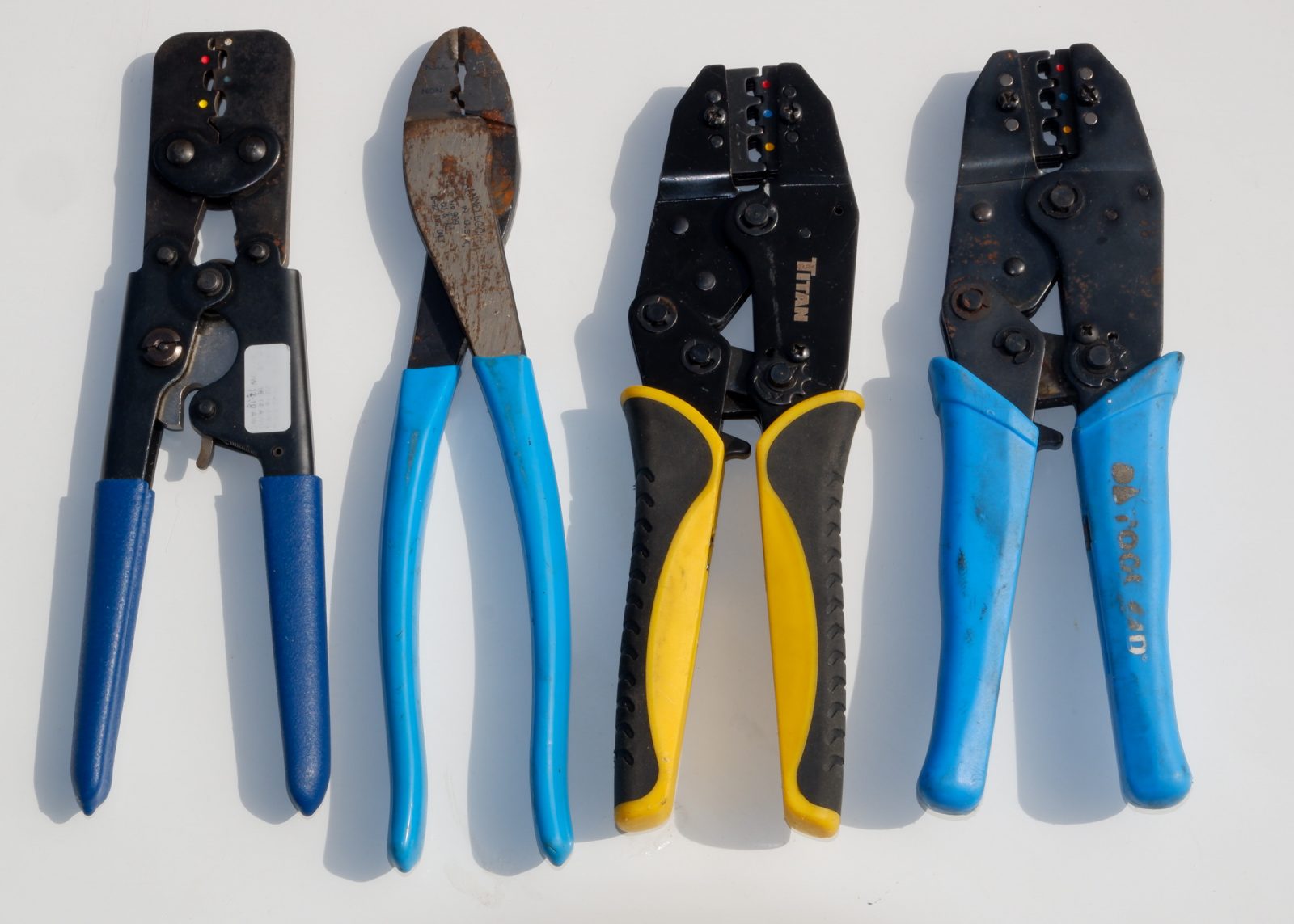 I think we've all heard the wisdom about the right tool for the job and how much easier it can make it to complete your task. I have something of a tool habit, so I frequently use this wisdom as an excuse to go buy another. But, sometimes the cost of the "right" tool is sufficient to cause me to try some intermediate steps first. Heat-shrink crimping tools are a prime example of my hesitance to buy the expensive "right" tool out of the gate. What follows is a visual illustration of the results.
Years ago as I was first researching how best to make connections on my boat I learned that nearly every method of connecting wires I knew from projects at home was inappropriate for the boat. So I needed to learn some new tricks. I found out that crimping was nearly always the preferred method of joining conductors or attaching terminals and further that heat-shrink crimp connectors were likely to be best for nearly all my applications.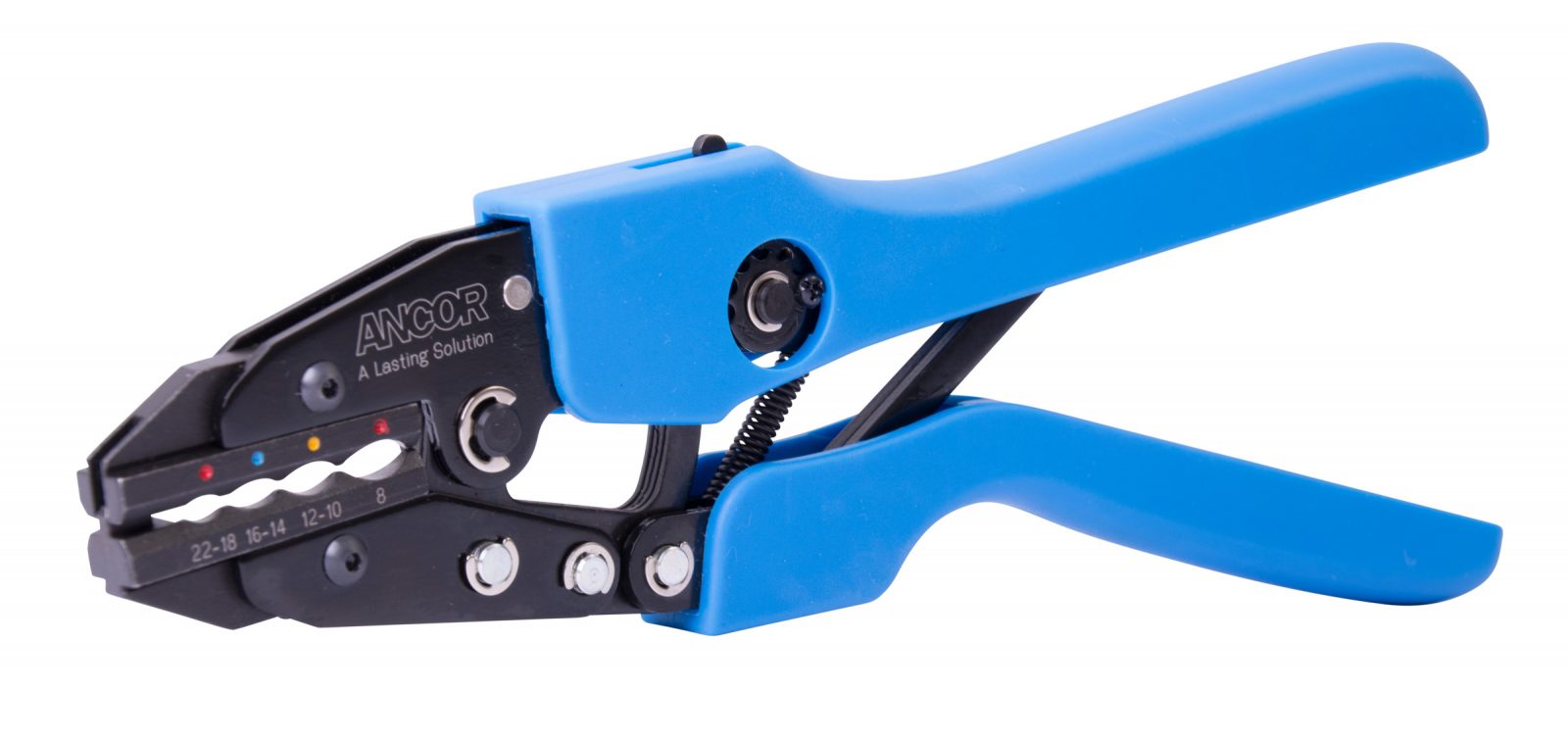 But, to crimp these connectors I needed a heat-shrink terminal crimping tool. Heat-shrink terminals, as the name implies, have a heat-shrink outer jacket around the metal terminal or butt splice. To crimp these connectors properly the tool needs to squeeze the barrel of the terminal sufficiently to grab the wires without cutting, crushing or otherwise destroying the heat-shrink jacket. I looked at the Ancor tool above and then did a little search on Amazon. The Ancor tool was just shy of $100 while the visually similar Tool-Aid (far right in the top picture) "Professional Ratcheting Crimper" was only about $20. So, figuring that they looked similar enough I went ahead and bought the Tool-Aid crimper and began my crimping career.
Imagine my surprise and frustration when many of my early crimps pulled out immediately after crimping them. I did learn that I could frequently get better results by sizing down one color (crimp a blue, 16-14 gauge, connector on red and yellow, 12-10 gauge, on blue) but that only worked for blue and yellow since there wasn't a size smaller than the red (22-18 gauge). So, off I went in search of a better crimper.
I'm not sure why at this point I didn't just pay up for a good tool but I didn't. Instead I went back to the Amazon well despite my previous failure. This time I picked a Titan Tools ratcheting crimper for heat-shrink terminals, (Thanks to Beth for noting in her comments below that this crimper is not advertised as being appropriate for heat-shrink terminals. Though I was quite certain it was marketed as such when I purchased it I can't find anything that shows that and now question if I made a mistake when I purchased this or the description has changed) thanks in large part to several thousand reviews averaging 4.5 stars. The results were better, but hardly great. ABYC specifications call for a 14 gauge wire with a crimp connector to resist 30 pounds of pull force. If half of my crimps with this tool withstand that I would be surprised.
Added 3/11/2020 – What I'd not yet realized (but should have) was that while both crimpers I'd tried were visually similar to the Ancor tool their jaws have important differences. The Ancor jaws are designed to squeeze without hurting the heat-shrink jacket while the Tool-Aid and Titan use a jaw design suitable for insulated terminals but not heat-shrink terminals.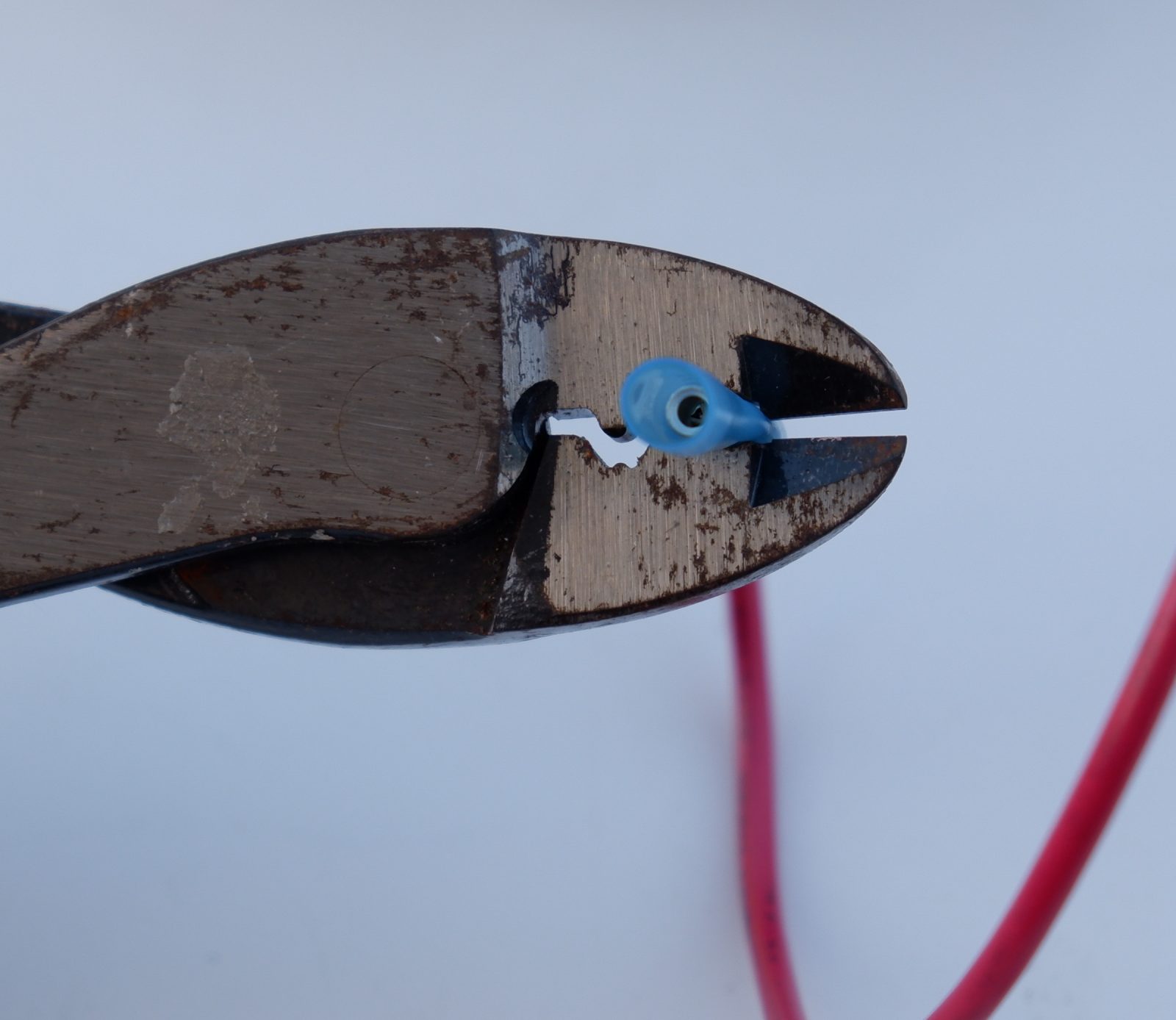 Next up in my search was a tried and true, non-ratcheting, Channel Lock #909 crimper. This is a general purpose crimping tool, not specifically deigned for heat-shrink terminals. So, it runs the risk of damaging the heat-shrink jacket either by cutting it or squeezing it too hard and breaking through with the jaws of the tool. The Channel Lock has worked pretty well for me; well-enough that I decided to give up on ratcheting crimpers. But it does have a couple of weaknesses. The first can be seen above as the right edge of the heat-shrink jacket is being squeezed into the cutting surface of the crimper. This means that each crimp usually has at minimum a scoring of the jacket right at each crimp point. The second issue is one of consistency, because there's no ratcheting mechanism to control the crimp it's all about how much force you put into crimping. I've found my crimps with this tool are uneven. Sometimes, I don't squeeze hard enough and the wire can slip out. Other times I squeeze too hard and cut fully through the heat-shrink jacket. But I learned to manage these issues and produced pretty reliable results, though probably with a 10-20% percent failure rate.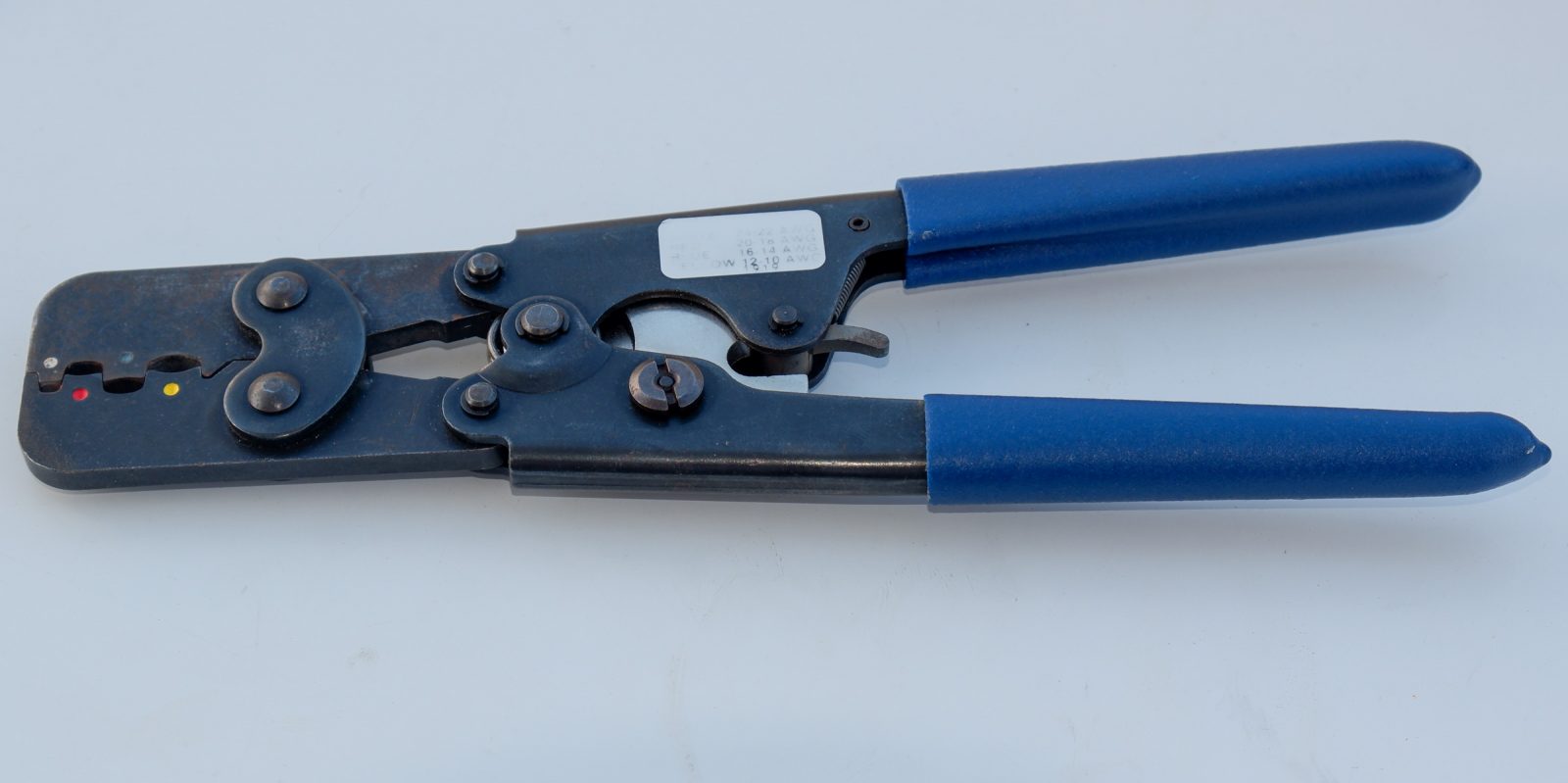 Then, while reading an article on proper crimp connections on Rod Collins' excellent Marine How To, I learned he is selling two heat-shrink crimpers. There's both a DIY model ($37) and a professional option ($147 – HST-Pro). At this point I crimp a lot of connections, at least a couple of dozen a week, so I justified the expense of the professional tool to myself (I'm a professional, right? OK, sort of) and ordered one up. Let me just say that though there's a roughly seven fold price premium between the cheap Amazon crimpers and the model Rod sells it is very easy for me to justify that premium. Gone are the poor crimps with no explanation.
If I take my time, insert the wire fully and fully crimp I get a high quality crimp each time. That 30 pounds of pull that ABYC specifies? I've lifted myself up using a loop of cable I made with a butt-splice. When I cut away a crimp made with the Titan (above right) I found I could still see the wire strands with the body of the splice squeezed around them. The HST-Pro crimped end was basically mushed into a single, thinner block where I could no longer distinguish the wire from the body of the splice. Also, I wasn't able to get a picture of the cut away with the Tool-Aid crimper because of the five or six that I tried the wires pulled out before I could cut through the splice.
I certainly recognize that not everyone is going to be interested in spending the $150 or so an HST-Pro costs. But, before you run out to Amazon and pick up a $20 (not really) good enough knock-off I'd encourage you to try out the DIY tool that Marine How To sells. I haven't had the opportunity to try one myself but Rod Collins says it does a good job of making reliable crimps without damaging the heat-shrink. For over $100 less if you're just going to make an occasional crimp it's probably a good compromise.
The last video shows the process of heating the heat-shrink jacket so that it shrinks down around the wire. I've often used a small torch or even a lighter to heat the splice but a heat gun provides a more consistent result without risking burning the wire. I'm using a Milwuakee M-18 cordless heat gun that while not super powerful is hot enough to melt the jacket and neatly finish off the splice.
As you can see in the videos above the results really speak for themselves. If you have the right tools and take your time you can achieve results far in excess of what I've ever seen with solder, wire nuts or any other ABYC non-approved means of connecting wires.