Heat shrink solder sleeve butt connectors, great for skinny boat wires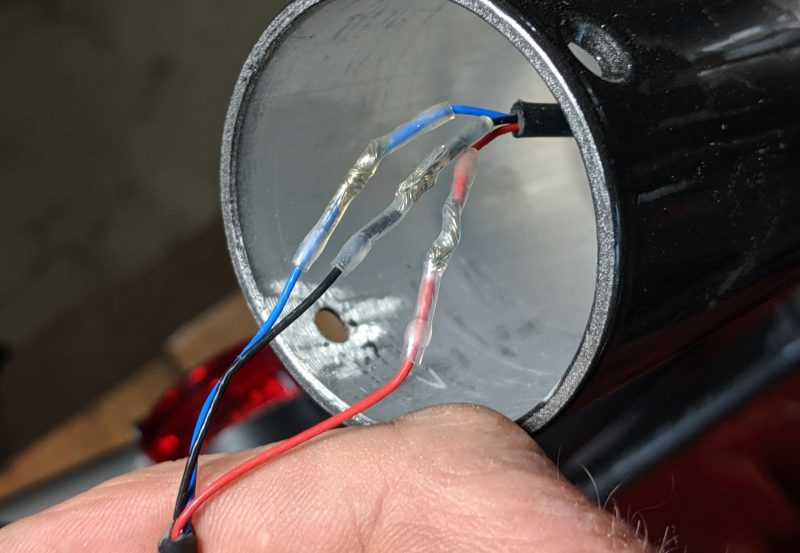 The small gauge wire connections usually required when installing NMEA 0183 data sharing often fail because normal boat wiring techniques don't work well at this scale — or at least not in my clumsy DIY hands. So I was intrigued at first sight with this relatively new type of heat shrink butt connector that uses low-temperature solder instead of a crimping sleeve, and so far I'm quite impressed with the results.
The three skinny wire splices above may not look neat and tidy, but I'm confident that they'll hold up to a lot of abuse.  And the heat shrink solder sleeves were fairly easy and quick to use. But they do involve a few issues that I'll discuss, and it's possible that readers will have more to add. Boat wiring may seem mundane, but it's important and to some extent controversial.
These clever connectors are called solder seals by some manufacturers like Wirefy,  which is also responsible for this helpful illustration of the various components involved (though the bottom line should read "Starts to melt at 138° C / 280° F").
Before we get into further details, however, I can almost hear informed readers muttering something like "Wait a minute, soldered wire connections are not allowed on boats!" That's only a partial truth as best I can tell. The actual wording of the ABYC Standard for Boats E-11 (excerpted here) goes "Solder shall not be the sole means of mechanical connection in any circuit" and Ed Sherman further suggests the standard's flexibility in this ABYC blog entry.
I'd argue that these heat shrink solder connectors with waterproof adhesive provide a lot of mechanical connection beyond the solder, especially when compared to what's otherwise possible with wire gauges thinner than 22 AWG. Heck, ABYC E-11 also states that "Conductors shall be at least 16 AWG…" and the smallest Ancor heat shrink butt connector is for 18-22 AWG, but smaller gauge NMEA 0183 wires are still in use on a great many boats. And while 0183 is slowly going away, many of new boat monitoring systems use various sensors like magnetic door intrusion detectors that work fine with skinny wires, except when you need to splice them.
I've vented about thin wire difficulties before, and have also had good luck with 3M Scotchloks and similar mechanical connectors (though several issues came up in the comments to that entry). Could solder seals be the best solution?
Here I tried to illustrate the steps required for this type of butt connector, aside from stripping back the two insulating layers. Note how one black wire is already fished through the heat shrink tube and twisted together with its mate, but the connector has not yet been worked along the joined wires to position the solder sleeve over the twisted bare strands, as I have done with the red pair.
Lastly I carefully applied heat to the black and red connectors until the pre-fluxed solder bonded with the wire strands and the adhesive end bands flowed as the tubing shrank, as evident in the blue wire splice. It's great that an installer can see the results well, but I wasn't completely happy with mine (check top photo), and — mainly because one of those 3-wire cables had zero slack available — I was also reluctant to apply more heat and possibly torch the job.
Therein lies what may be the real issue with this connector design.  If you dig into the more negative reviews of Amazon's many solder sleeve brands, a fairly common complaint is how easy it is to overheat (torch) the shrink tube before melting the solder. And we're talking about the smallest and likely most fragile sizes, like these Sopoby white-bands (sizes are color-coded to at least a vague standard). Ben Stein has also had these issues, but I have a theory that it may be about manufacturing quality than connector design.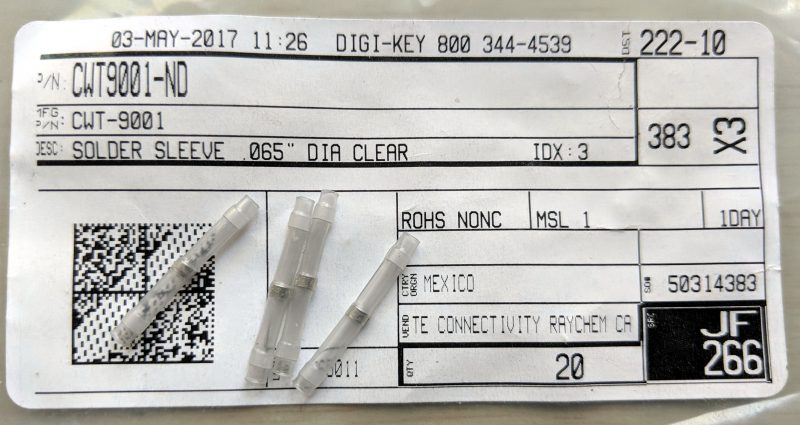 Two summers ago a Mazu Marine engineer kindly left me a small bag of white-band size solder seals at the end of a Gizmo install visit, but I only realized how kind today. These TE Connectivity brand solder sleeves cost 82 cents each in small quantities, which is far more than the brands already mentioned and many others I've seen.
But maybe that's why they've worked so well for me? I've used about a dozen for various projects without any problems at all. None burned, for instance, despite my using a questionable variety of butane heat sources, even a cheap Bernzomatic utility lighter. In fact, the most recent three seen above are the worst looking (and I did, in fact, add more heat shrink tubing around the whole cable splice for extra mechanical strength and waterproofing).
So can these little widgets that all look almost exactly the same actually be quite different in construction and hence in how well they work? I don't know, but it does seem like we're seeing more and more inexpensive knockoffs that are not really the good deal they seem to be. The good news with solder seals is that you will very likely know a badly made one when you use it, and maybe some readers will report on experience with less expensive brands.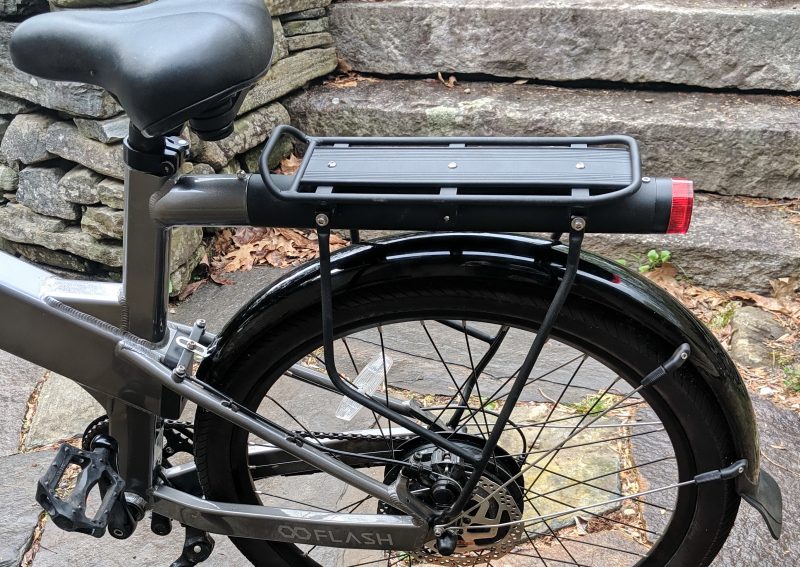 The project I used to illustrate this entry could have involved a GPS cable that barely extended beyond the end of a center console T-Top tube, but in fact I was turning the Flash V1 ebike I discussed last summer into what I think is the even better Flash Commuter design. So those red and black 26 (or maybe 28) AWG wires are powering a 60 lumen LED rear light while the blue data wire tells it whether to be a safety flasher, a brake light, or a turn signal. That's possible because of the bike's 36v DC power system, and I won't be surprised if many boats move to even higher voltage main DC systems eventually, and thinner wires.
Speaking of neat modern tech, I recently learned that the Flash team can track my battery usage thanks to the bike's associated app, and that's quite helpful because I've only put it through 15 cycles due to my fat tire preference and I want to sell it. So consider this: you could visit beautiful Camden Maine, try out an extraordinary ebike, and maybe go home with it at a steep discount that in this case makes sense.