ActiveCaptain.com, the POI bomb!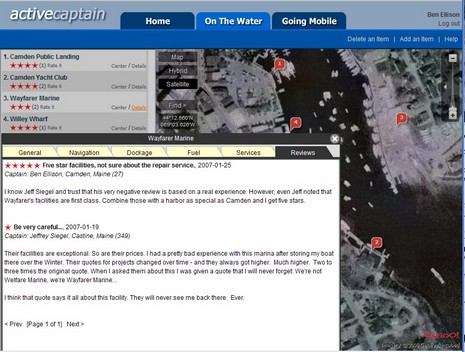 My column about the sorry state of marine Points of Interest (POI) info is now out in the February issue of Power and Motoryacht (and now online). At the end of it I make note of a cool new Web service that was about to go live and that could go a long way toward solving the POI problem. Well, ActiveCaptain.com is really here, and it's even better than the alpha version suggested. The site was created by the talented Jeff and Karen Siegel, and its goal is to let all of us contribute details of marina services and give them ratings. Other useful POIs, like anchorages, will be possible soon. The Web interface, using Yahoo maps and sat photos, is wicked slick, and totally free. And it will remain free, as the Siegel's business plan is to develop and sell software that will enable mobile devices like cell phones to easily access ActiveCaptain, while leaving regular Web access free, even of advertising, so that hopefully a critical mass of "captains" will contribute to it. Smart!
But there is an ironic twist to this story. My secondary objective with the POI column was to promote my home harbor of Camden, Maine, which has a largely undeserved reputation as a tough place to find a good and reasonable berth. Well, wouldn't you know it, Jeff Siegel himself was the first person to rate a certain Camden marina and apparently it's the only negative one he's written so far! But that's how it works when when conversations gets real. I've already detailed and rated Camden marinas myself (full size screen shot here), and am confident that even what's there now, week one of ActiveCaptain.com, is more accurate than what you'll find on any electronic chart or in any guide book. Now there's probably another dreary winter weekend ahead, so take some time to register at ActiveCaptain and add your two cents about Camden or any other harbor you're familiar with. The more, the better.
PS, 1/27: Oy, some of the cynics at rec.boats.electronics and rec.boats.cruising have gone paranoid about how ActiveCaptain's sinister purpose is to "harvest" e-mail addresses. Ignore them! I am absolutely confident that the Siegels will not misuse anyone's e-mail. By the way, much as I appreciate those newsgroups, they certainly can be sources of misinformation. Interestingly, the ringleader of this particular nonsense is a regular poster/windbag named "Larry", whose asinine rants about NMEA 2000 already made Panbo. Always ignore Larry!
PS, 1/28: Oy again; the righteous moderators at SailNet even axed a simple announcement of ActiveCaptain. Isn't it ironic that if the Siegles had included an obvious revenue source like Google ads on the site, these paranoids would probably be excited about it? Haven't they noticed business models that include a significant ad-free element, like, say, GoogleEarth?