AirWave Marine – Antenna Connection Never Faster or Easier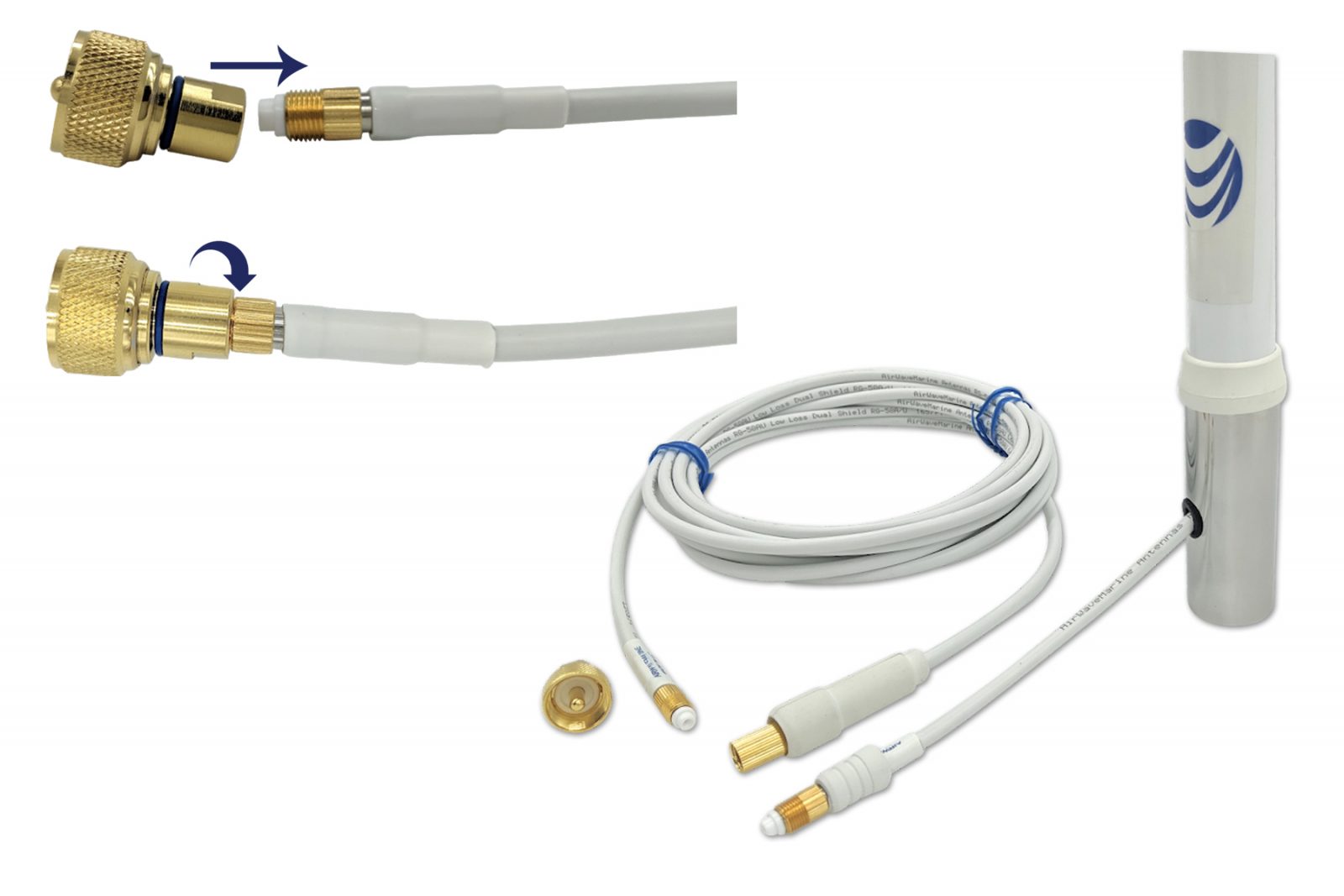 Traditional coax cable twists as it's threaded, often damaging the wiring inside or shearing a connection in an unseen location. With the Pro Series Antenna Cable System from AirWave Marine, installing or replacing an antenna has never been faster or easier. It's ideal for DIYers, marine electronics installers and OEMs.
AirWave Pro Series cables are available in 5′, 10′, 15′ and 20′ sizes. Selecting the optimal length eliminates signal loss from excessive runs. Each gold-plated connector is machine-crimped to exacting standards for the most secure termination available.
Manufactured in the USA, the Pro Series Antenna Cable System connects in a few simple, toolless steps. An adapter is slid onto the male end, the integrated fitting tightened and a protective sleeve slid over it. Then, it's connected to the antenna cable and a ferrule threaded. Finally, the watertight housing is slid to cover the entire connection. It's barely thicker than the coax itself for easy running through masts and tubing. Connecting to the radio is just as easy with the included ProConnect PL-259 UHF adapter. A video is at bit.ly/installairwave.
The innovative Pro Series connection is foundational to AirWave's wide range of antennas. It offers handmade, small-batch VHF, AM/FM, AIS, cellular, GPS, SiriusXM and combination models. Prices start at $99.
For nearly 35 years, AirWave Marine has engineered and manufactured technologically advanced antennas for recreational, commercial and military applications. Its onsite testing facility ensures quality and performance.
Contact AirWave Marine, 9500 NW 12th St. #5, Doral, FL 33172.   305-471-9507; [email protected]; www.airwavemarine.com.
This press release distributed by Martin Flory Group