Glomex USA, Shakespeare and the search for better antenna cabling systems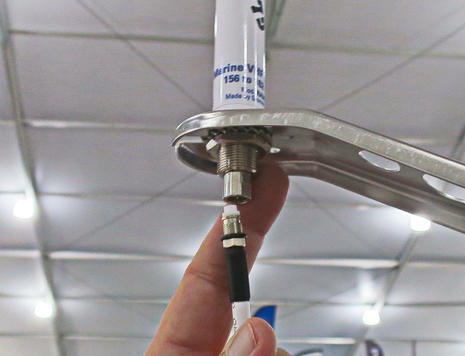 Recently I struggled installing a typical marine antenna with its included cable and annoying 0.71-inch (18 mm) diameter PL-259 connector. I could have cut the coax, run the cable, and attached a new PL-259, but I'm not sure that any human can install a cable connector as well as a machine, and certainly not me. That's why it's nice that Glomex now offers a variety of antennas and machine-made cables that use 0.35-inch (9mm) FME connectors. But for U.S. boaters, the Glomex news is better still…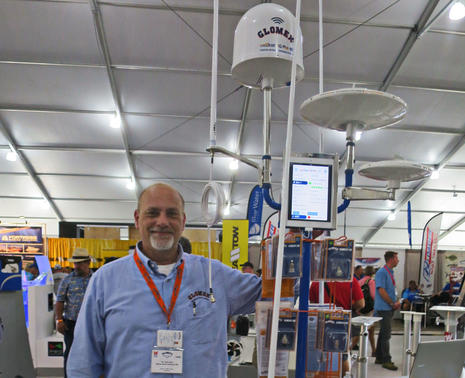 While Glomex has been developing marine communications gear in Italy since 1984, now it's established Glomex Marine Antennas USA to better serve this (huge) market. Moreover, the new Glomex USA sales manager is Chris Catoe, who for many years was the go-to guy for technical questions at Shakespeare Marine, and Chris is already happily helping with product development.
I hope to use improved Glomex availability to test some of their interesting TV, WiFi, and cellular antennas, and I'm also hoping that wider distribution of their extensive "Glomeasy" offerings will hasten the end of marine VHF, AIS, and FM antennas with awkward fixed cables and connectors.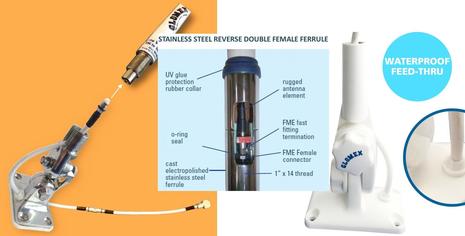 The collage above shows how Glomex has designed various mounts to work with their FME terminated antennas, many of which include a waterproof way to feed the cable through a cabin top (see more detail in this Chris Catoe video and even more in the Glomeasy PDF). Another benefit besides an easier installation without PL-259 issues is that you can easily remove the antenna or replace a broken one.
You could also use an FME adapter from Glomex or others to upgrade most of the cable run to coax with less signal loss than standard RG-8X. Many professional installers favor LMR 400 or 240 coax and an attenuation table will show you why. But if you can afford maximum performance, check out premium sticks like Digital Antenna's 800 series or Shakespeare's Phase III designs, both of which feature clever double female ferrule designs that can accommodate thick extra low loss cable like LMR 400 direct to the antenna base. (Phase III detail video here, with a familiar narrator.) And if you're a serious racing sailor, don't miss Farallon Electronics' UltraWhip.
Back in more modestly priced territory, there's also Shakespeare's QuickConnect antenna and mount system, illustrated below. It still includes a fixed PL-259 connector, so it wouldn't have helped with my issue of fishing the cable through a smaller hole. But you won't suffer the silliness of twisting an antenna onto a mount with a bundle of cable also in hand, and the antenna will be removable.