AIS at Lauderdale, lots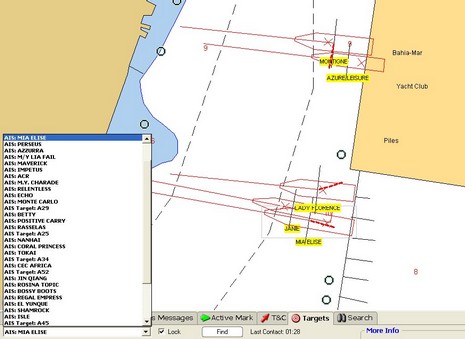 The above snip from a Nobeltec VNS screen (full size here) shows how some of the megayachts tied stern-to at the Ft. Lauderdale show looked AIS-wise. There are obviously a few errors either in the vessel dimensions or GPS locations (the red "X"s) or the underlying chart, but mind you this is a very zoomed-in view. I saw lots of boaters looking at screens like this and realizing what AIS can do for them. I also got to go aboard several of the megayachts and can tell you that the crews on those boats are also impressed with the technology. The Nobeltec exhibitors were using the Nasa/Si-Tex receiver with a regular VHF antenna tied to the top of their booth inside a giant steel framed tent, and were still getting some 30–40 targets within about a ten mile radius. The Si-Tex ColorMax plotter shown below was similarly set up and getting lots of targets.
The show, by the way, was better attended by exhibitors and customers than I had guessed, and I'm glad I went. More to come.