AIS B, shipping in Europe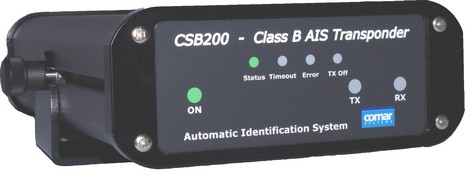 I think that at least three AIS Class B transponders are now fully approved and shipping in Europe, or darn close to it. And I believe that all three are based on Software Radio's PCB (below). Interestingly the Comar CSB200 has changed since first pictured here. Note the "TX off" LED; two contacts on the back let the user rig an optional switch that will put this unit in Silent mode. Comar, unlike SevenStar, has not chosen to utilize the optional Safety Related Message (SRM), arguing that even some Class A AIS units can't read it yet, let alone the shoreside authorities. These are some of the differences possible while still using the same core SRT transceiver. Hopefully, the good people at Trueheading, Y-tronic, Shine Micro, and elsewhere will fill us in on others.
The Comar, by the way, was selling at METS for about 600 Euros, plus another 100 for an active GPS antenna, and you'll need a VHF antenna too (hopefully tuned for AIS). Meanwhile, here in the States I'm told that USCG and FCC approval is still pending, subject to issues concerning "MMSI assignment, full transponder 'Activation', exclusive use of AIS I and 2, inland waters, and satellite monitoring, just to name a few." Sigh.