Garmin GPSMap 86sci: inReach, GPS and a plethora of tools for boaters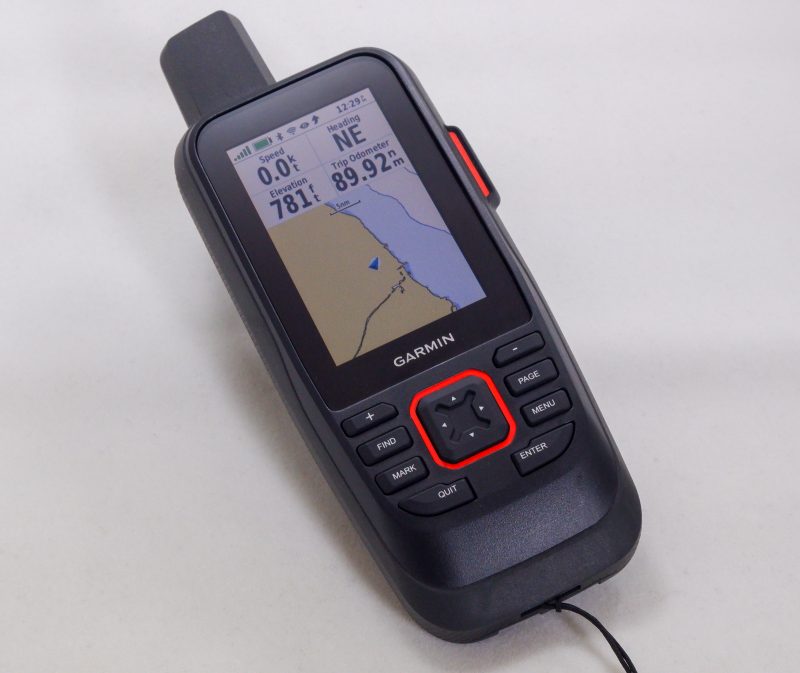 The Garmin GPSMAp 86 family is a powerhouse of communications and connectivity. The dizzying array of technology inside this handheld provides two-way satellite messaging, GPS chart plotting, and integrations with many onboard electronics, all in a compact, weather-resistant, floating case. The marriage of a marine GPS unit with inReach satellite messaging could be the perfect tool for boaters. Can this many capabilities work in one little package? Read on to find out.
The GPSMap 86 series replaces a few products in Garmin's product line. It serves as both the update to the venerable GPSMap 78 and the inReach Explorer+. When compared to their predecessors, these new handhelds are an upgrade in nearly every respect.
The hardware
The $650 GPSMap 86sci is the first full-featured marine GPS handheld with inReach capabilities built-in and Garmin's G3 cartography. The line starts with the $400 GPSMap 86s which comes with a worldwide basemap and no inReach functionality; the $450 GPSMap 86sc adds BlueChart G3 but still doesn't have the inReach functionality; while the $600 GPSMap 86i features inReach functionality but no G3 cartography.
All models have a 3-inch transflective TFT display with a resolution of 400 x 240 pixels and measure 2.5″ x 7″ x 1.7″ overall. There's WiFi, Bluetooth, ANT+, GPS, an Iridium radio (sci and i modells) , and a 3-axis compass. The devices are powered by an internal LiIon and also have a Micro USB connector on the back for charging and sharing data — via NMEA-0183, Garmin Serial, text or MTP for media transfer.
Garmin includes a cradle-style mount with a USB charging cable that mates to two pins on the bottom of the GPSMap 86. There's also a Micro-USB charging port under a secure rubber cover at the top of the unit that can be used for charging. Garmin sells an accessory mount that takes power directly from your boat's 12-volt system.
The SOS button is on the right side of the unit under another secure rubber cover. To deploy the SOS function on the unit the cover has to be lifted and the button underneath held down. With an SOS active the SOS button can be held again to cancel the emergency. The cover is quite secure and the button recessed enough that I can't imagine there will be too many accidental deployments.
All of the 86 series handhelds feel just a little bit puffed up in your hand and in fact, they're a bit larger than the hiking and outdoor focused GPSMap 66 series units because the 86 series floats. The unit also feels quite solidly made and like it will stand up to regular use on the deck of a boat.
There's a speaker somewhere in the unit to generate beeps. The alert tones coming out of the GPSMap are loud and easily heard. I was very happy to find the unit also has a vibration motor so it can vibrate in addition to sounds. This can be particularly helpful in loud environments where the alert tones might be missed.
Using the GPSMap 86
Garmin uses a simple, icon-based user interface. The home screen is a large collection of icons with all of the (many) functions of the device displayed; it takes three screens to scroll through the icons for all the functions of the GPSMap 86sci. In addition to the home screen icons, the page button on the keypad will cycle through a list of favorite screens.
There's more functionality in this little guy than I can possibly cover, but as I used the unit I noticed it behaves differently from other Garmin marine products. The GPSMap 86 is a derivative of the GPSMap 66 adapted for marine use. The modifications made to the 86 series include making it larger so it will float, adding G3 cartography, and remote control of Fusion stereos and Garmin autopilots.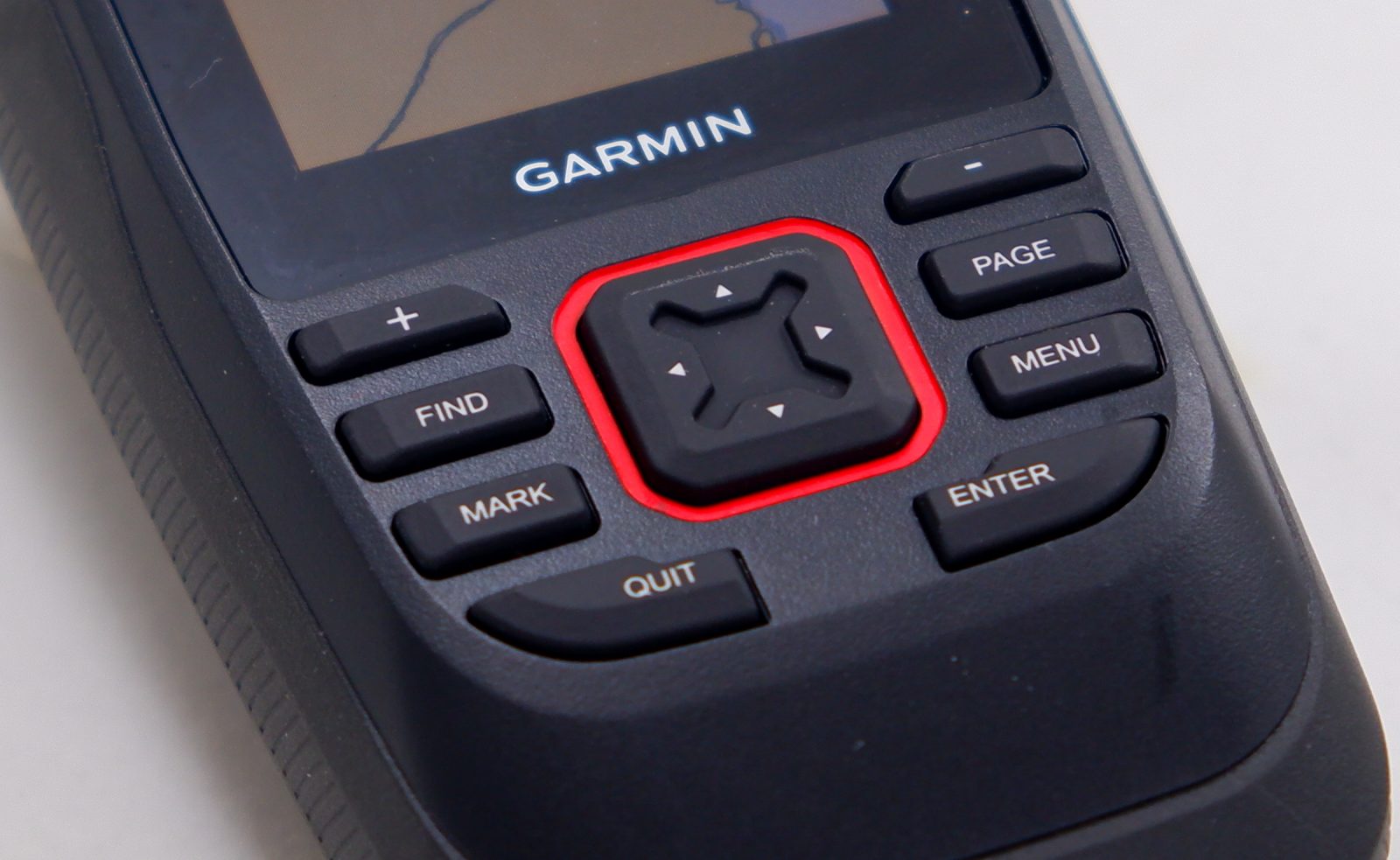 Immediately after unboxing my review unit I repeatedly found myself trying to touch the screen to control the unit. Let me save you some trouble, it's not a touch screen and no amount of touching it will change this. Garmin explained that part of the reason for this is to maximize water resistance and avoid issues with water on the touch screen. This makes sense, though I do sometimes find myself missing the touchscreen as I use the directional pad to scroll around. The good news is the Explore app mitigates this giving you the option to control the unit from the screen of your mobile device, but more about that later.
GPS functions
The GPSMap 86sci (and the non-inReach GPSMap 86sc) comes bundled with Garmin's BlueCharts G3 coastal charts (for U.S. and Bahamas) built using Navionics' data. These charts deliver good detail and display nicely on the 3″ display. G3 support on the 86 series appears limited to displaying G3 vector charts. I didn't find any way to utilize G3's auto-guidance capabilities, display NOAA raster charts, or depth range shading features. G3 charts for the U.S. (if you purchased a model without bundled charts) and other regions can be purchased separately.
Routes can be built on the device or via the Garmin Explore app. Once defined, routes can be followed from the device, though unlike many marine GPS units there's not a specific route following mode. Instead, the route is displayed on the chart and the data bar above the chart can be changed — as I have above — to display information about the next waypoint or the route. I found the route following capabilities minimal compared to an inexpensive mounted GPS unit like a Garmin EchoMap 43.
All models in the family include a worldwide base map and topographic maps. This means the GPSMap 86 can go from the deck of a boat to a hike and provide maps, communications and weather updates seamlessly.
The GPSMap 86 series' user interface is based on the outdoor-focused GPSMap 66 which in turn comes from the inReach family of products like the Explorer+ and inReach SE+. The outdoor roots can be seen in many of the screens. To follow a route you select it via the device's Find button, but when you press the Find button you're presented with several choices for what to find including your defined waypoints, tracks, and routes as well as points of interest (POIs). The first page is all land-based POIs, while the second screen has quite a few marine-focused categories.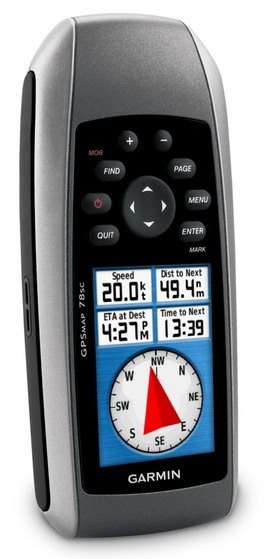 The GPSMap 86 series replaces the GPSMap 78 series and when viewed as a successor to the 78 series the 86 is a big improvement. The screen is larger and higher resolution, there's roughly ten times the internal storage, the charts are higher resolution, and the device is much faster.
inReach two-way communications
The inReach functionality built into the GPSMap 86sci and 86i is, in my opinion, what sets these devices apart from any other GPS handheld (save Garmin's previous inReach devices). It allows two-way messaging, tracking, weather updates, and interactive SOS all via the Iridium satellite network. Two way messaging allows you to send and receive messages with SMS, email and facebook contacts. You can either send preset messages with predefined text to predetermined recipients — useful for sending "we're underway" and "we've arrived" messages to a shore-based safety contact — or write your own message to any recipient. Messages can be composed on the device using the onscreen keyboard and the directional pad of the device to type (a little cumbersome for longer messages), or within the Garmin Explore app on a mobile device (a lot easier if you have much to say).
Weather can be downloaded using the inReach Iridium connection, which means you can receive updated weather nearly anywhere on the globe. The device will receive a four-day weather basic forecast or an eight-day premium forecast and, optionally, a marine weather forecast for your selected location. The basic and premium forecasts provide daily summaries with two-hour detail each of which can be selected for detail on temperature, precipitation, cloud coverage, wind, and humidity.
Marine weather is available on most larger bodies of water for up to six days. The summary page provides wind speed and wave height information. Drilling down on any forecast entry displays detailed conditions.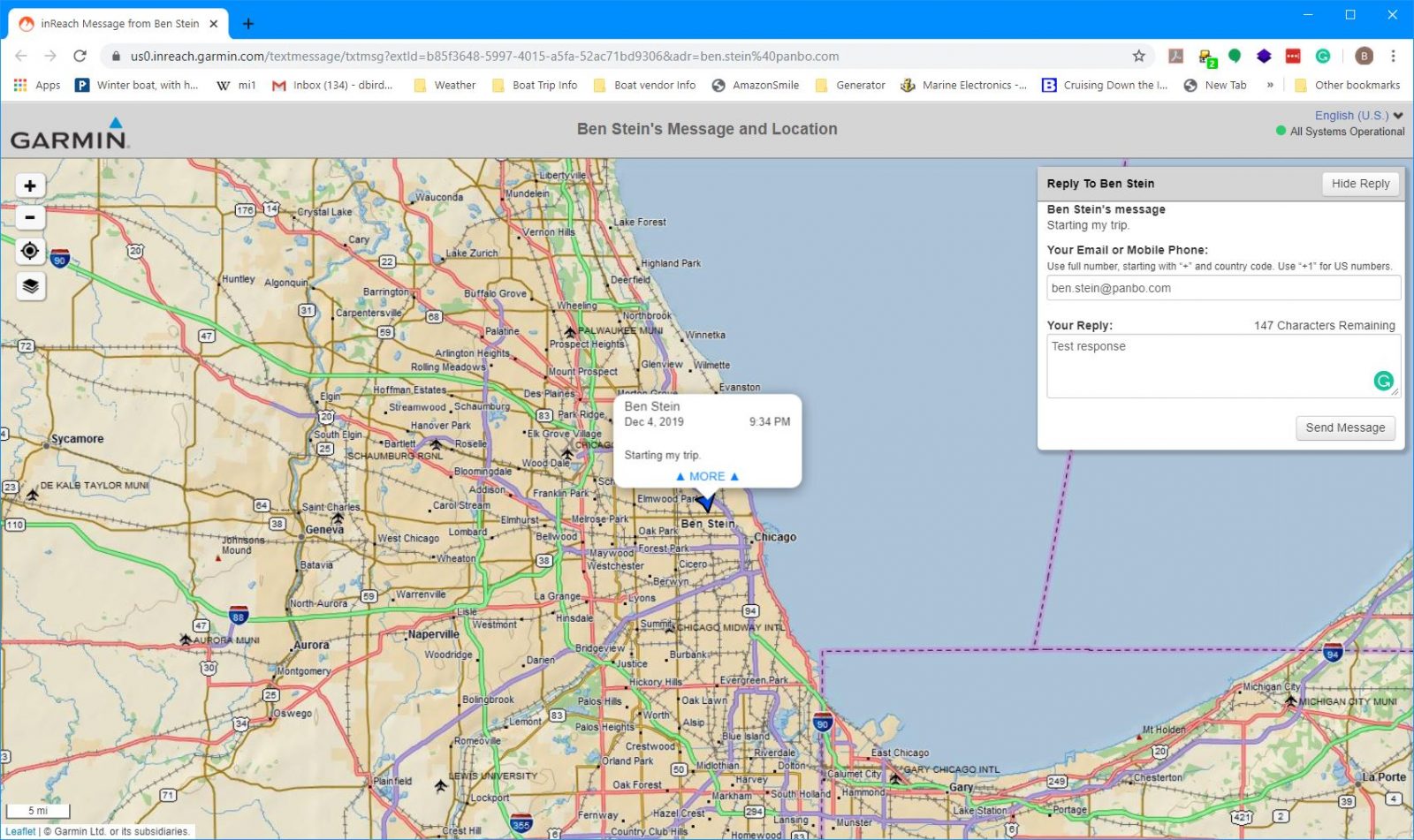 One of inReach's best-known features is its real-time location tracking. The GPSMap 86sci's LiveTrack uploads your position on an interval between two minutes and four hours. More frequent location tracking will reduce battery life while less frequent tracking allows the device to last longer. Garmin says that in expedition mode — which turns off the screen, enters power save mode and collects fewer GPS track points — using a 30-minute LiveTrack interval the unit will last 200 hours on a battery charge. Of course, all of this is moot if the device is plugged in.
Once the data is transmitted from the handheld it is uploaded to Garmin's Explore servers and available to be reviewed and shared as the account owner desires. I've made my tracks available at https://share.garmin.com/HaveAnotherDay Although the handheld has BlueChart G3 charts the Garmin share website only has surface maps available.
Ben Ellison has previously covered the many capabilities of inReach's live tracking functions. I've tested several, though not all, of those capabilities and have found all of them seem to have carried forward to the new models intact. The only changes I've noticed are improvements like support for more frequent updates via satellite.
Garmin Explore app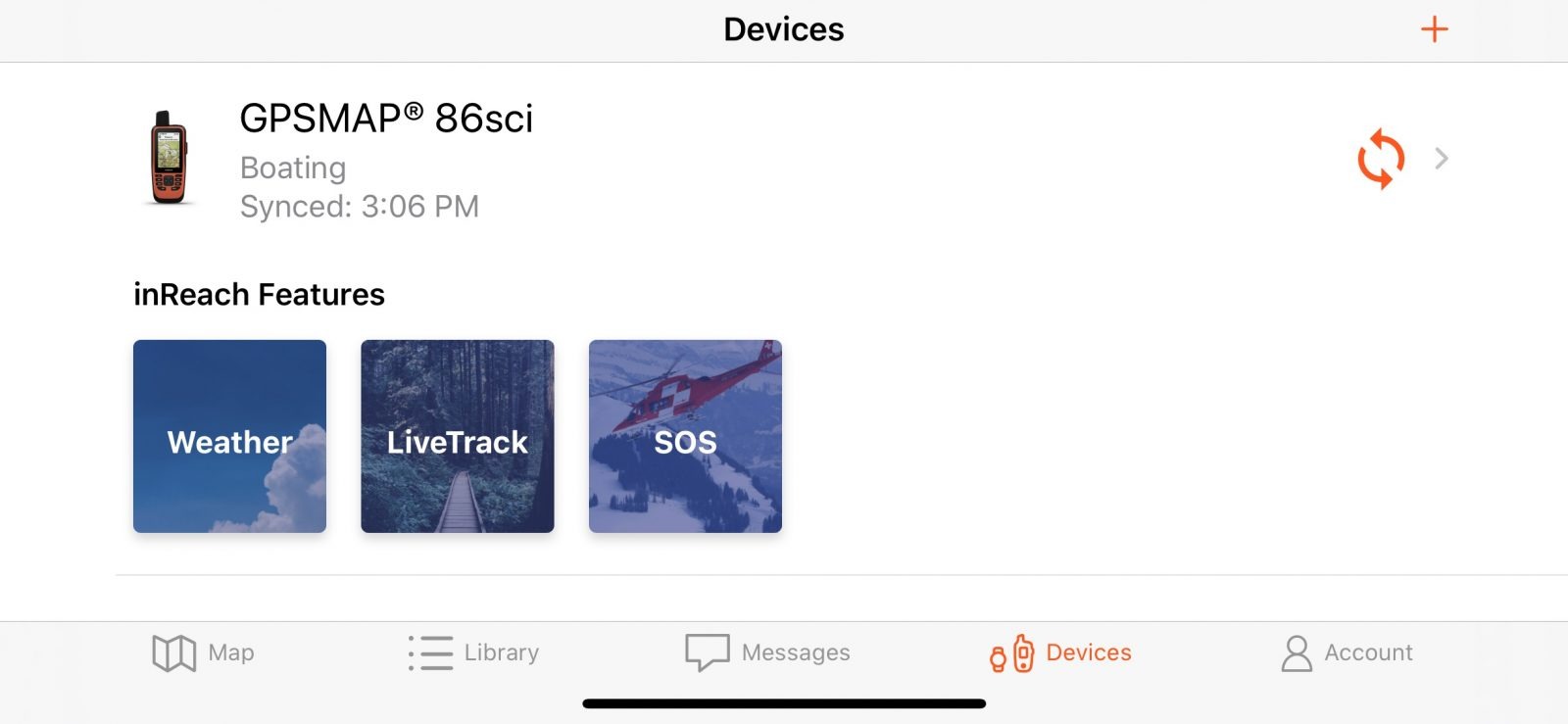 With the new generation of inReach capable devices, Garmin has migrated away from the Earthmate App and replaced it with their Explore App. From what I can tell the capabilities of these two apps look quite similar, except that Earthmate supports NOAA charts while the Explore App can't currently show any marine charts.
Garmin uses their ActiveCaptain App to manage most of their marine hardware and I'd been hoping the GPSMap 86 family might also be managed within this app. Alas, that's not the case which means the easy route sharing ActiveCaptain enables isn't available with the GPSMap 86s.
The Explore app does provide a much easier place to compose a custom message and a good place to review collected data or check a weather forecast, but it's not yet a good place to plan a route on the water. That last part isn't because of any limitations about transferring routes, waypoints or any other data between the app and the handheld (those are all excellent and in my testing quite reliable).
The trouble is that the app doesn't display nautical charts. So, instead, you're left to plan a route through water using a road or topo map. That's not a viable planning scheme and it's really a pity. Route creation in the app is intuitive, quick, and easy, but without visibility of depth soundings, aids to navigation and other critical features of a nautical chart it's also dangerous. Garmin says they've heard from users asking for nautical charts in the app and are looking at adding those back in.
Additional capabilities
We've already talked about an awful lot of things these handhelds can do, but we're not done yet. The handheld can control an ANT+ equipped Fusion stereo or a Garmin Autopilot. While having the option to control a stereo from the handheld is nice, I suspect it would be easier on a phone or dedicated remote, but with Garmin's ANT+ radio already onboard I imagine this was pretty easy for Garmin to add. Additionally, a long list of Garmin watches can be used to control GPSMap 86 devices including reading messages, sending preset messages, triggering an SOS and controlling tracking. Lastly, the display on the device can be used to display boat data from a compatible Garmin MFD.
I'm not going to be able to cover everything these units can do but there are a few things left I want to highlight. I'm a big fan of anchor alarms — I'm nervous at anchor, and they put my mind more at ease — and these handhelds with GPS, a good screen, long battery life, loud speaker, and vibration abilities do anchor drag alarming well.
But while I was hoping that anchor alarm activation could trigger an inReach message to my phone ashore, that doesn't appear to be possible, and I would be thrilled to see Garmin add this. However, if your phone is paired to a GPSMap 86 you will also see phone notifications on the handheld. Pressing the enter button while the notification is displayed will bring up a full view of the message that triggered the notification. This seems especially handy on an open boat where your phone might well be away in a safe location.
Service plans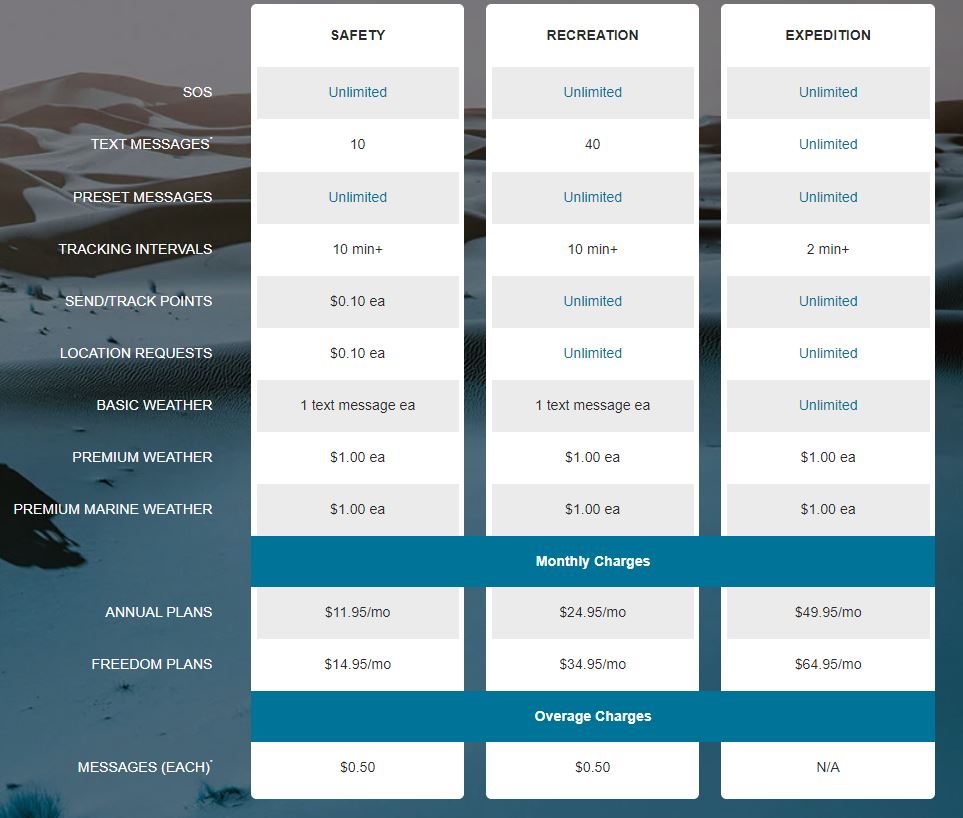 Monthly service plans start at as little as $11.95 a month when paid annually for the safety subscription. As the name implies, this plan is for those who want to be sure they have an active device they can use to transmit an SOS message. The inReach product pages are clear that you must have an active subscription for the SOS functions to work. On their Freedom plans Garmin allows you to suspend service one month at a time for no charge.
Final thoughts
The GPSMap 86sci is a pretty impressive demonstration of how much technology can be packed into a single, handheld package. Although at times I wished for a little more chartplotter-like functionality, I am very impressed at what the device can do and believe it's a great fit on many different types of boats.
On my own 57-foot powerboat the 86 is likely to spend much of its time in the powered cradle providing location information to my friends and family while also providing peace of mind that I can aluseways get messages out and receive them regardless of cellular service. But it's likely to come out of its cradle and join us nearly any time we take the dinghy out to explore new areas. Many times this involves hikes and minimal cellular service, and those are situations when the GPSMap 86 will shine.
I can't think of an active boater who wouldn't benefit from what these devices can offer. On smaller boats, this can be your primary GPS device while on larger boats it can be a backup to other equipment. But, regardless of the size of your boat the messaging capabilities are likely worth the cost of admission on their own.