Anchor alarms, apps style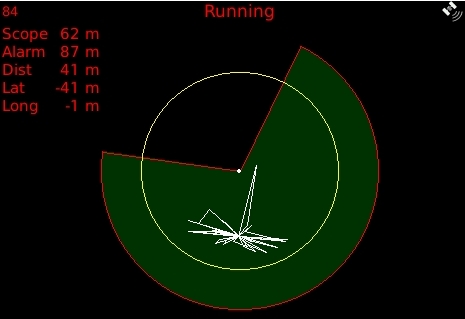 I don't think I've ever seen such a sophisticated anchor alarm, and it's an app called My Anchor Watch running on a Blackberry! (Thanks to Panbo reader Per for the head's up.) The developer's site explains the software well, but the features that really stand out for me is that "angle of exclusion" shown above and the SMS alarm capability…

In the diagram above, the white dot is the anchor, the white circle represents the scope of the anchor rode, and the red circle shows the alarm setting. Those are typical anchor alarm parameters, and you'll get beeped if GPS shows your boat wandering outside the red circle. But a typical anchor alarm is no help when the wind changes and your boat swings, say, 180 degrees, which may mean your anchor will break out easily or that you're too close to land or another vessel. That's why My Anchor Watch lets you exclude a segment of the circle from the green no-alarm safe zone. Smart!
Another thing about a typical anchor alarm is that it's set on a plotter, or sometimes even a radar, which is then draining your batteries at anchor. A cell phone is great for the purpose because you'd probably have it on anyway, and you can carry it around the boat with you (the problem being GPS reception next to your berth). A bigger problem with a conventional alarm is that it doesn't help you when you might want it most, i.e. when you go ashore. Apparently, My Anchor Watch can deliver its alarm as an SMS message, though, of course, that would have to be to another phone.
To my knowledge, there are two iPhone apps with anchor alarms, iNavX and Anchor Alarm (shown below). One of the truly powerful things about the whole iTunes app ecology is that either of those developers could add an exclusion angle and get into my phone in a few weeks, or another small developer might come up with an even more sophisticated anchor alarm and make money on it at a $10-$20 price (like the other stand alones), or maybe less. What the iPhone can't do is that SMS alarm messaging (I'm pretty sure), plus you can't run other apps while the anchor alarm is functional. Which are reasons why there's room in this world for more app phones from the likes of Palm, Blackberry, Google, etc. I don't think it takes much of crystal ball to predict that 2010 will be rich in phone applications for boaters.