Argonaut's giant A615 Android tablet, and a Panbo reader survey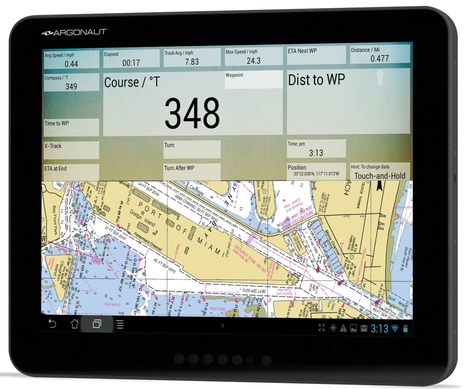 This is different! While the new Argonaut A615 Smart Monitor has several of the marine display features the company is known for, it can also serve as a large Android tablet. So with its 360° waterproof enclosure, bonded Tflex transflective LED-backlit LCD, and Quad Core ARM processor you can have fast standalone chart plotting on a 15-inch screen in your cockpit or on your flying bridge using only 20 Watts of 12 or 24 volt DC power. And of course that's not all…
If the A615 Smart Monitor can reach the Internet with its own WiFi, or via your boat's WiFi router, you can get real time weather, check e-mail, download more apps, watch Netflix, etc. It also has a DVI and analog video inputs so the screen can alternately display onboard cameras, MFD output, and more. The A615 can be surface mounted, bracket mounted or set up with a more flexible RAM mount; I'd favor the latter as transflective displays are especially sensitive to sunlight angle.
   The charting app that comes with the A615 appears to be the worthy Memory-Map, but there are several interesting choices on Android now. Jeppesen's Plan2Nav offers global C-Map coverage plus ActiveCaptain, for instance, and if you have a current Raymarine MFD or Navico GoFree setup there are free android apps that will make the Smart Monitor a nice second station over WiFi. But note that the A615 does not have touch screen, and I'm not yet sure what Argonaut means by an "All Weather Touch Pad" control. Is that something built onto the monitor or…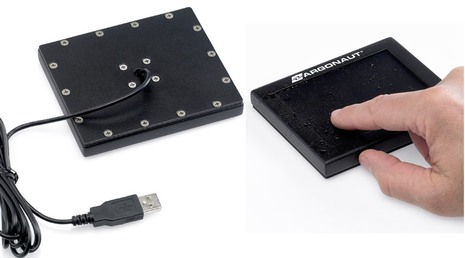 Maybe the A615 Smart Monitor comes with Argonaut's OneTouch waterproof touch pad mouse?  I'm sure I can get more details after the weekend, but some boaters who already have exposed monitors might want to know about this touch pad anyway.
Besides, I wanted to put up a weekend entry in the hope that relaxed readers will take a short survey. Actually, it only takes a few minutes, you might get a laugh, and you could also win a famed Panbo long-billed lightweight cap. Plus, you'll get a chance to deliver anonymous feedback on how Panbo can be improved — don't hold back! — and/or impress potential advertisers with details of your electronics addiction (or influence over buyers). Please be completely candid, but please do take the 2013 Panbo Reader Survey.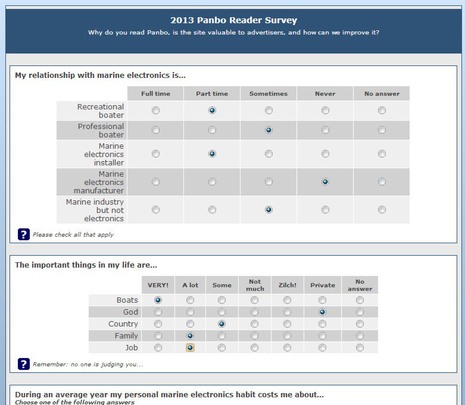 PS 12/6: draft survey results now available as a PDF download. Interesting!