Argonaut 15″ monitor under $1,000, and other good new$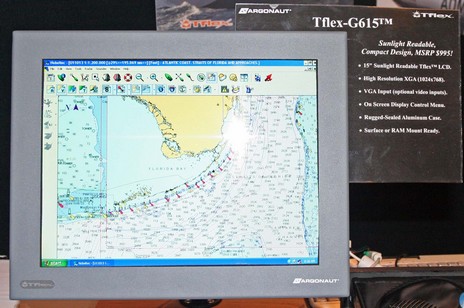 In a way, this photo, bigger here, doesn't do Argonaut's new Tflex-G615 monitor justice, but then again I took it at the NMEA Conference with a Canon XT flash aimed directly into the poor thing's LCD. Try that with a conventional lap– or desktop screen! It is indeed noteworthy that Argonaut has come up with a "waterproof sunlight readable" monitor under a grand, but do note that its claimed 2,000 NITS transflective equivalency is figured in direct sunlight. I'm going to test one soon and will be interested to see how it does in bright situations without direct light. Note, too, all the added features—optical bonding, multiple inputs, wider range dimming, PiP, etc.—that you get with the Tflex-G515, the same underlying LCD, I think, but costing nearly three times the money.
More good pricing news:
* Apparently due mostly to lowered memory card costs (all the data for an XL3 size region usually requires two Gigs of space), Navionics has dropped the price of Platinum cards from $499 to $299. Plus there are more Platinum regions available, like in Europe, and US cards still include the right to a free Fish'n Chip (which, by the way, deserves better Panbo coverage).
* And, get this, Captn. Jack's is now offering Maptech's U.S. Boating Chart DVD for $19.50, still with free ground shipping, money back guarantee, and technical support. And here I thought this a great value at $50. But this special holiday price may not last long; I guess 'Jack' wants to get noticed.