BEP CZone Signal Interface, a NMEA 2000 winner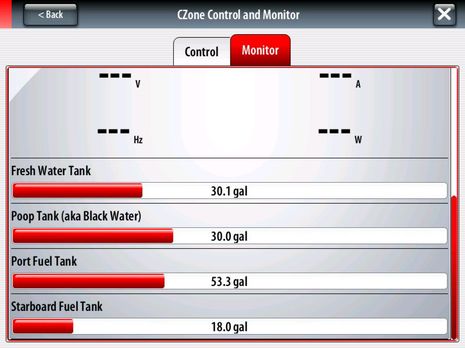 That screen above makes me so happy! I had been reluctant to give up on Gizmo's standalone tank monitoring system but circumstances forced a change. Had I realized how easy and relatively inexpensive it was to switch the tank senders over to BEP CZone NMEA 2000 monitoring — and how accurate and flexible the output would be, even to the point of custom (and juvenile) tank labels — I would have made the leap a long time ago…
Aside from the Volvo Penta engine panels the Wema Tank-level Indicator is the only remaining gauge from when I bought this boat in 2009 and it was probably there when she was launched in 2000. If it works don't fix it, right? But in fact it never worked very well; I just didn't realize it. The Poop Tank in particutlar was highly inconsistent, staying at "0" for unreasonable periods and sometimes jumping to "4/4" seemingly overnight, but didn't it make sense that even a specially protected sliding level sensor might fail after so many years in those conditions?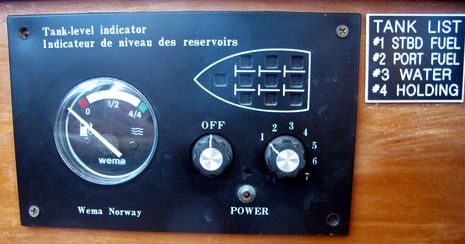 The situation took a bad turn last September, just before I headed south. Suddenly the fuel tanks showed significantly different readings than they had the day before even though the engine had not even been run. That got my attention and though the readings got consistent again once we started bouncing around a bit yours truly also got more consistent about logging miles, engine hours, and tank in use, and I took further measures, so to speak…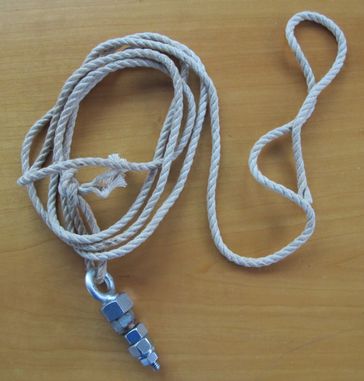 Yup, I started using a weighted line to occasionally measure fuel tank levels and felt fortunate that the boat's short, straight filler hoses make this easy and fairly accurate (I think). I also think that the tanks are rectangular, which would make a linear measurement equate well to volume, though I avoided assumptions that could get me in trouble. I intended, of course, to replace the Wema gauge or try something else, but didn't actually do anything until using the gauge became a matter of jiggling the on/off knob just so and then it died completely early in the trip north.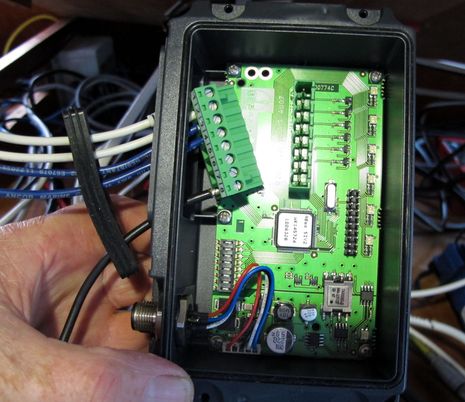 Also on the (very long) to-do list was testing some BEP CZone modules, including the Signal Interface which is purportedly capable of reading 240-30 Ohm tank senders like the Wemas. The hardware install could not have been easier. I just snipped the blade connectors off the tank and -12v wires that once went to the Wema gauge inserted them into the SI's removable terminal strip, added a NMEA 2000 drop to the boat's SimNet network and that was about it. In the photo I tried to show how the module is designed so that you can wire up the gasket and terminal strip away from the module and then put it all together in one easy move. Nice!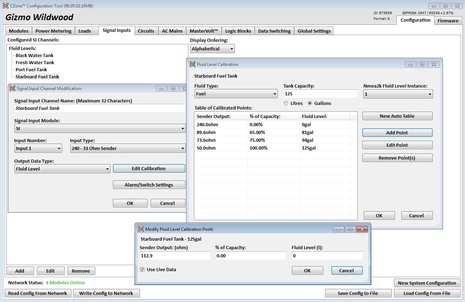 Then there was the CZone Configuration Tool, which is a Windows PC program that connects to the modules via a USB CAN Adapter. It seemed daunting at first but I've now managed to configure a few modules with it and I've hardly cracked the manual. I should do some reading though and I already see that there are impressive capabilities I haven't tried yet, but let's focus on the tank configuration screen above. What I love is shown in the bottom window where I am about to set a calibration point using "live data" from the sender. That means I've already been able to set tank percentages based on string measurements made at the same time and when I find a very patient fuel dock I'll be able to set or edit as many points as I want in terms of gallons.
But equally important, I think, is that this live calibration feature has let me easily observe the sender states. What I've learned so far is that all the Wema senders, even the one submerged in Black Water, are remarkably consistent day-by-day for a tank that hasn't been used and seem to make good sense about what is used. The only exception I've seen so far was a 8-25% wobble in the starboard fuel tank when it was down to 3.5-inches and the boat was rolling mildly, and I seem to have improved that with another level guesstimate. And the story gets even better…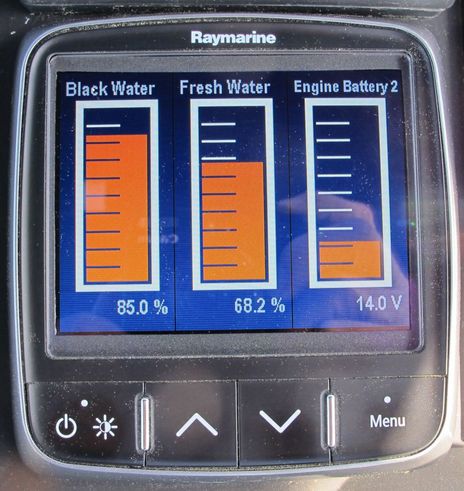 CZone is thought of primarily as distributed power and digital switching system (as discussed after the Miami Show) and that stuff is done using proprietary NMEA 2000 PGNs. That means you can only make the switching work using a CZone display or a Simrad MFD (because Simrad and BEP have a partnership). I can confirm that as I also have a CZone Output module in operation (slickly), but the monitoring modules output standard PGNs as seen on the Raymarine i70 above, as well as on a Garmin GMI 10, a Maretron DSM, a Furuno TZT (fuel only) and elsewhere.
What doesn't carry across the system are the custom labels. In other words "Black Water" is a tank level category built into NMEA 2000 but "Poop Tank" is a custom label only supported so far by Simrad (though I believe that custom label concept is in N2K, just not widely utilized). At any rate, I'm delighted with what I've found so far, and there's much more yet to report. For instance, those temperatures seen on the NSS8 GoFree screen below are coming from a Maretron TMP 100, and that "Engrm" one, actually block temp, could proof itself invaluable. But consider this: when I do a major fuel fill in New Bedford tomorrow I should be able to see what's happening on an iPad. And whereas I also use fuel and waste tank levels to keep Gizmo trim — they're all outboard — I'll be able to use the same screen when pumping overboard (where possible). I don't think I'm going to replace the broken Wema gauge.