B&G Zeus, Simrad NSE for sailors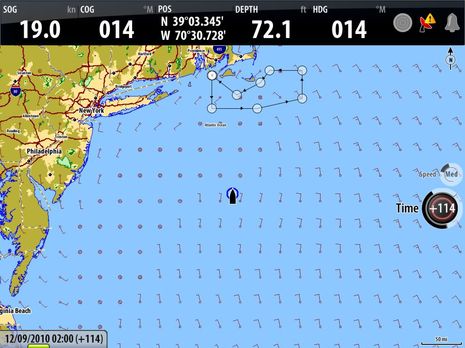 Though it's not mentioned anywhere, there's no question that B&G's new Zeus multifunction displays are re-branded Simrad NSE MFDs, with some special software sauce on top. But that's a good idea. NSE has a lot going for it, and the more ways Navico finds to expand its scope — like the Simrad NSO system, also "soft launched" in Newport last week — the better for everyone, I think. Besides, has there ever been an MFD that can do jobs sailors usually use PCs for — like animating GRIB weather files, displaying data strip charts, and calculating laylines?

I got a little hand's on time with Zeus and was particularly struck by the slick GRIB controls, somewhat shown in the screen shot above (a video would be better). Just by turning and clicking the rotary knob, you can set the hour-by-hour animation speed or manually spin through the hours — at warp speed, if desired — and those functions work together. For instance, you might watch 72 hours of wind data to get the big picture, then spin/zip back to hour 18 to focus on a particular forecast change, letting the animation automatically resume or manually ticking back and forth through the hours with the knob. I don't use GRIB viewers a lot, but I recall either/or animation/manual and lots of mouse or arrow clicking to see what I wanted. Plus with Zeus a sailor can be checking GRIBs on deck with a bright, waterproof display, and that rotary knob will be just as handy for zooming charts, tweaking Broadband Radar settings, flying through menu trees, etc.
I'm quite unfamiliar with layline calculations, but maybe some of you racer readers will comment on the menu below. And maybe B&G will soon add a manual to the existing online feature descriptions. In fact, the B&G guy in Newport was just learning Zeus himself, though he was clear that this system is not meant to replace the dedicated Wave Technology Processors — actually, there's a new WTP3 — and the Deckman (or Expedition) software used by grand prix racers. Zeus will integrate with B&G instruments, of course, but it will also work with most any N2K sensors, and thus may appeal to racer cruisers who haven't ventured into B&G gear before. Heck, wouldn't easy layline calculations overlaid on a cockpit plotter benefit a cruiser, say, beating up a Maine bay full of islands?