Navico Hawks 2017: "Full boat integration into one display cluster"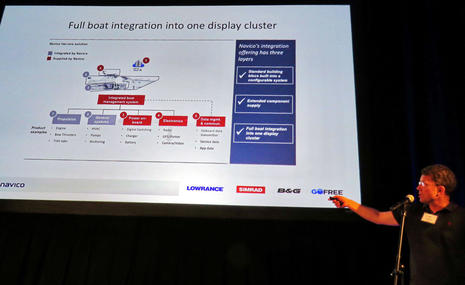 The Miami Boat Show was loaded with marine electronics news, but first let's visit the Navico writers event held at Hawks Cay, Florida, earlier this month. Deeper still – Mercury engine integration, B&G Zeus PredictWind weather routing, the Halo radar VelocityTrack Doppler upgrade, Navionics SonarChart Live everywhere, Simrad's new 3kW 3-channel S5100 super sonar, and Lowrance Carbon (Gen3) MFDs are some of the goodies that were demonstrated and/or discussed. But I was especially taken with CEO Leif Ottosson's opening "big picture" presentation and think it's valuable to anyone interested in the future of boating…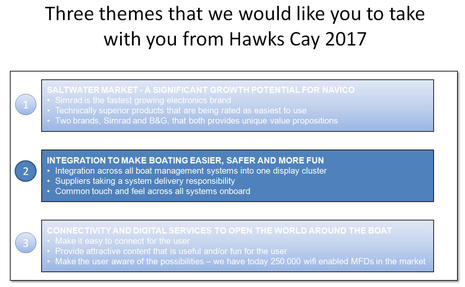 Actually, I first photographed Leif talking about Navico integration back in 2011 in Spain, but the realities have come a long way since then, and his concept of where it's all headed has evolved at least as quickly and broadly. "Full boat integration into one display cluster" means a lot more than "like a modern automobile" nowadays, and I believe it's going to happen.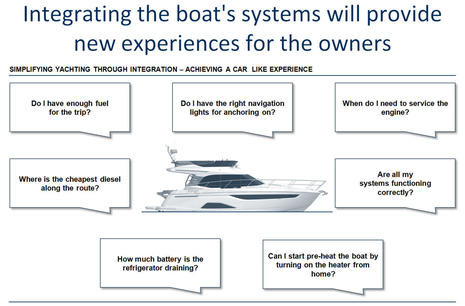 Nonetheless, the typically integrated modern car does offer some of the features that could make boating less stressful and more fun; hence the subtitle of this slide about boater expectations that went up early in the presentation.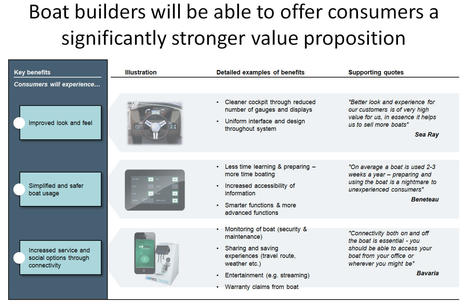 But unlike the automobile industry, there are very few boatbuilders with the resources needed to develop the level of electronic integration Leif envisions (and, in fact, I wonder if any should try). One slide I'm leaving out showed more quotes from nine builders, including, "Plug and play is key for integration, we don't have technically skilled labor in our factories." Yike! Many builders understandably hunger for some major system supplier like Navico to take responsibility for all or most of the systems, and it's easy to imagine how better, more reliable, yet less expensive boats could result.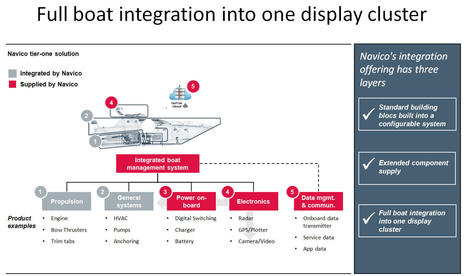 So it's great to see how Navico pictures not only creating more of the system elements, but also supplying elements they don't manufacture. And the full concept seems to include supporting third party hardware through the design and purchase process during installation and out in the field.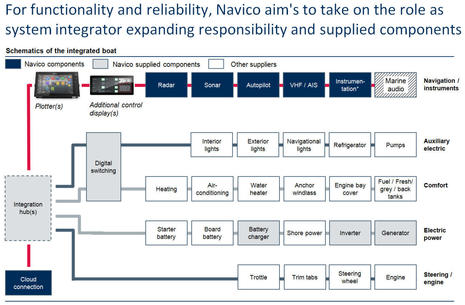 Ottosson emphasized that integration does not just mean digital switching and monitoring, though as you'll see below Navico's new partnership with Naviop has a trailblazing aspect. The real deal in Leif's view starts with a single source integrator, lives on board in common display clusters, and includes system updating, social features, diagnosis, prognosis, and more in an integrated cloud off the boat. And current Navico displays are already showing off some of what he means.
In One Display Cluster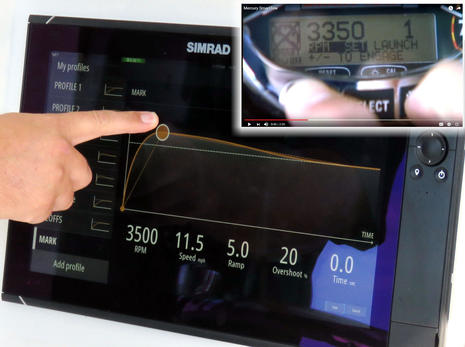 Here's a stunning example of display integration with propulsion systems I saw fully functioning off Hawks Cay. Last year we detailed the tight Mercury/Navico partnership seen in VesselView, but now there's even more engine control available where you really want it. Mercury's clever Smart Tow assistance for launching water skiers and wakeboarders has been around for a while, as you can see in this 2008 video. But the SC100/1000 gauge setup routine sure looks clunky compared to what's now possible on the Simrad NSS16 evo3 screen above, or on many other Navico MFDs or Merc's own VesselViews.
In the photo above, the operator is fingetip adjusting a custom profile that will ramp up quickly and even overshoot the desired 3,500 towing RPM to, say, pop a heavy slalom skier (or three) onto plane. The setup was easy, the driver could focus more on watersports safety once he'd initiated the profile (with a screen command and full throttle), and the skier(s) can expect the same tow time after time. Simply backing off the throttle disengages the automatic RPM (or speed) control, though I suspect that's only a hint of the safety engineering that's gone into permitting high speed throttle control on a multifunction display.
Current VesselView software can also manage Cruise Control, even at high speeds, and in Miami Navico announced SmartCraft autopilot integration that will put capabilities like route steering and active trim control onto the big display clusters of boats with Mercury Joystick Piloting. But Navico's integration strategy is inclusive, not exclusive, and that, fortunately, seems the trend. In Miami, Navico also announced advanced Yamaha engine integration, and so did Furuno, and so did Garmin!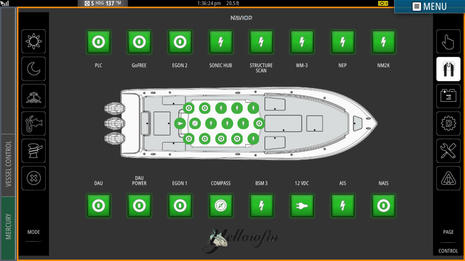 The same Team Simrad Yellowfin 36 with the VesselView engine monitoring and control — note the screen tabs left above — also sports an extensive Naviop monitoring and digital switching system (with demo video on gorgeous Venician water taxi here). Interestingly, the mode screen above was designed to show Captain Mark Maus all the devices set to be powered up when he leaves the dock. In other words: One glance, all green, good to go.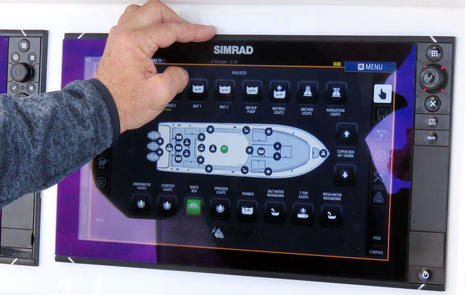 Here Mark is demonstrating a screen full of switches for lights, pumps, and even a huge (fish) "coffin box" he could open and close from the helm. This was all impressive — imagine the large confusing panel of circuit breakers replaced — and I knew that backup switching is built in from my first look at Naviop's tech in late 2015.
But the big deal about Naviop in terms of big picture integration may be the fact that the Navico Operating System (NOS) is using a browser to display these slick controls. Geeky as it may sound, Navico product managers regard this as key, because it means third party developers like Naviop can manage their app integration with much less coding and validation effort on Navico's part. Moreover, product managers at two other major marine electronics companies told me in Miami that they too are looking at HTML5 browsing as a possible way to make third party integration easier to enable and quicker to update.
Kees enthused about this HTML5 "app" technique after seeing the new evo3 and Zeus3 MFDs at METS, but, to be clear, that's an NSS evo2 using the NOS browser above. While Evo3 and Zeus3 definitely have improved IPS screens and goodies like the custom function (Wheel) key — apparently, I will soon be able to use that to one-tap toggle screen windows to full screen and back (hurray) — most new NOS features work on older MFDs too, Lowrance's often included.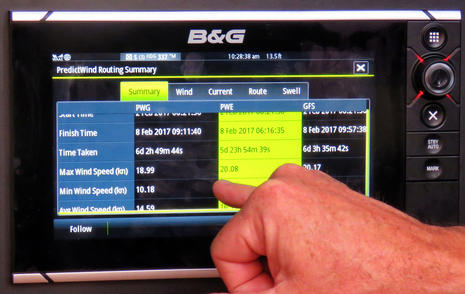 So here's a B&G Zeus2 showing off its new ability to run PredictWind weather routing — video walkthrough here — which worked quite smoothly on board the racy J111 Utah just using a cell phone to make the needed WiFi-to-Internet connection. It was a challenging route, too, as suggested by the 5 and 6-day possible passage times shown on the Summary screen above, and especially when you look at the four possible routes based on different weather models overlaid on the chart screen below.
A lot of calculating seemed to materialize very quickly, probably because it largely happens on PredictWind's own servers, which also means that the data transfer is actually modest and can be done with fairly narrowband satellite. Departure planning is also supported, and if you're unfamiliar with these valuable services a neat place to learn is the free FastSeas site discussed here recently.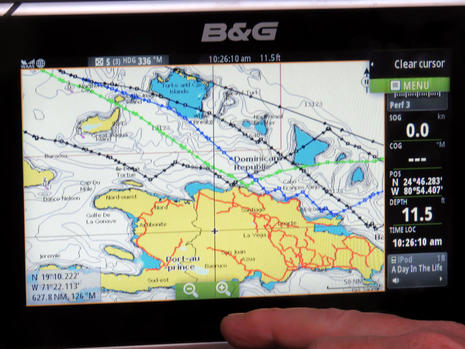 Weather routing is normally done on a PC or tablet, and I believe that you can still use your PredictWind subscription on those platforms. But wouldn't it be nice to use on a networked MFD system, where the route you choose may instantly go into use via a bright screen on deck?
PW weather routing is just one of several partner integrations that came in the Zeus2 update 4.5, and you'll also see new audio relationships and new Navionics features in the Simrad evo2 4.5 update and in Lowrance HDS Gen3 v4.5, all of which are also known as the NOS56 in Zeus3, evo3, and HDS Carbon. Add in the engine, digital switching, and other integrations not mentioned here; understand that the fast track HTML5 technique has just begun with Naviop; and I think we have some sense of where "full boat integration into one display cluster" is going. But then there's the cloud.
One Cloud Too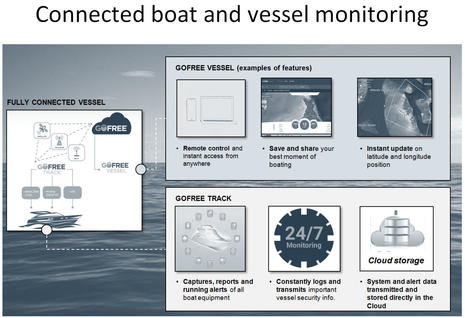 I've had Navico's impressively powerful GoFree Track monitoring hardware installed on Gizmo for several months now, and while all Vessel services except the lowest level free WiFi SD are still in development, I think that's because Navico is so ambitious about what's possible. They don't just want to provide every consumer boat monitoring feature so far imaginable, as suggested in the slide above.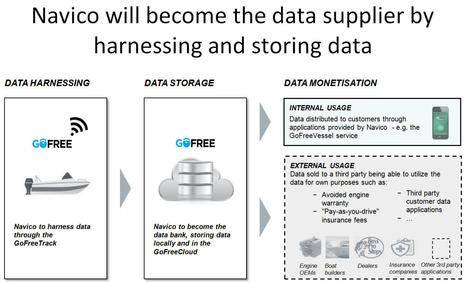 Navico also wants to sell specific or anonymized boat monitoring data to various third parties. That idea may disturb some boaters concerned with privacy, and I'm pretty sure they will be able to opt out, but I'm one of many who gave up on such privacy quite a while ago, and I see some benefits. Giving my engine and/or boat builder access to monitoring logs could help me, for instance, and wider anonymous data sharing might help boating in general, and, of course, I also like the idea of subsidized costs.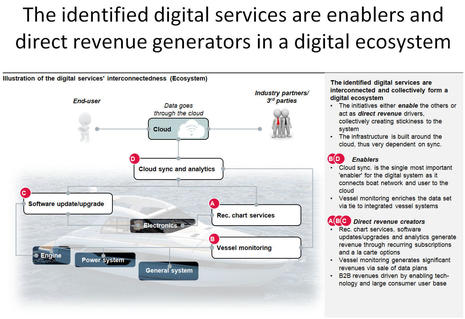 This slide is a little more specific and also seems like a "note to self" for Navico, which so far has not made cloud sync really easy. While the Track system will be great at monitor data syncing, it's the multifunction displays that need to connect for software upgrades and chart purchases. The separate GoFree WiFi1 network device works OK in my experience, but it's good that all the new MFDs have WiFi built in, and I understand that eventually Navico WiFi will support simultaneous client and access point modes. That means that the MFDs can feed GoFree and third party apps on mobile devices around the boat while also being connected to the cloud and maybe even onboard sensors like radar, quite like what Raymarine MFDs can do now, and what will likely become the norm.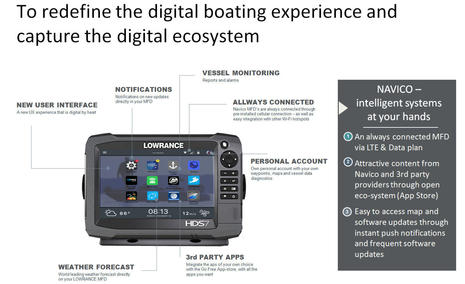 This final slide is where Leif Ottosson's presentation became truly aspirational and darn interesting, I think, as long as you understand that the MFD envisioned does not exist yet. It's always cloud connected by WiFi or built-in LTE 4G, the vessel monitoring seems to be integrated, and it looks like more independent third party apps are available through Navico's app store. The concepts make sense to me, but can Navico or any of the big players in this relatively small industry get there in the near future?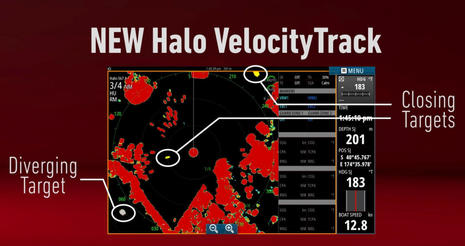 Well, here's one taste of the future. The new VelocityTrack feature for Halo radars is a lot like the Doppler-assisted MotionScope seen in the Garmin Fantom solid state radars or, if desired, it can simply highlight closing targets like the Furuno NXT radome's Target Analyzer does, all of which is good news. What's different is that VelocityTrack will be sold as an unlockable premium add-on, probably for about $500 with the whole transaction and upgrade possible directly from a boat's online MFD.
This should not be unsettling to current and prospective Halo owners given the price differential with Garmin's Fantom open arrays, and Navico has more premium unlocks in the works. An interesting possibility with feature unlocks is a free trial period during which a boater could try the add-on in real conditions on their own boat (though apparently that may be hard to implement in current NOS). Another possibility might be MFD auto notifications if, say, you were passaging north across the Gulf of Maine and hadn't yet purchased the VelocityTrack feature (though I think we were joking).
Business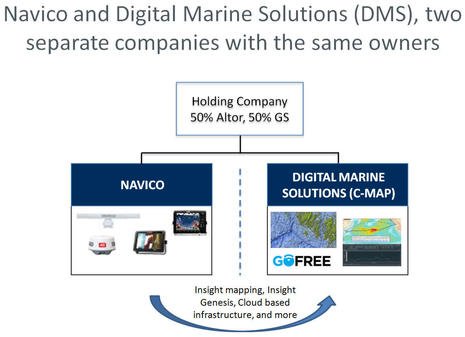 Ottosson also discussed the business side, which is at least highly reconfigured since parent Altor acquired C-Map — now set up as Navico sibling Digital Marine Solutions (DMS) — and then both were purchased by a newer Altor fund in partnership with Goldman Sachs. This means that there's more money available for growth and Leif wasn't shy about more "significant acquisitions" in the works, most likely in Simrad commercial marine (though NOS carries through all segments). I also learned that the Goldman Sachs investment is from the partners' own funds, and that Navico champions with GS are actively helping with the growth plan.
Also noted in the slide above is how the various GoFree mapping and cloud services are moving to DMS, which makes sense given the brand independence promised for C-Map.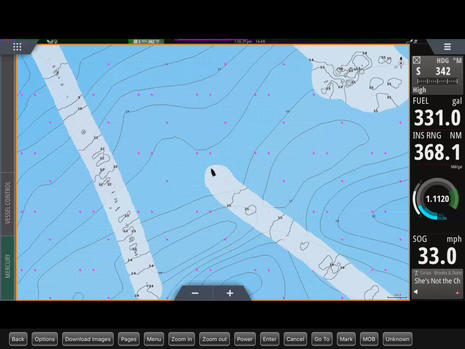 In fact, C-Map also presented at Hawk's Cay and while their first new product family will be C-Map Insight Pro and Lake Insight especially for Lowrance, B&G, and Simrad MFDs, they are adamant about their willingness to work with other display manufacturers. For instance, Raymarine confirmed that its new Axiom Series and LightHouse 3 operating system will eventually work with C-Map cartography.
Even more telling of Navico's big tent integration style, I think, is the appearance of Navionics SonarChart Live and Dock-to-dock autorouting in the latest NOS56 updates. I saw SonarChart Live running quite well off Hawk's Cay, above, but be warned that Dock-to-dock will not work in U.S. waters due to a patent conflict.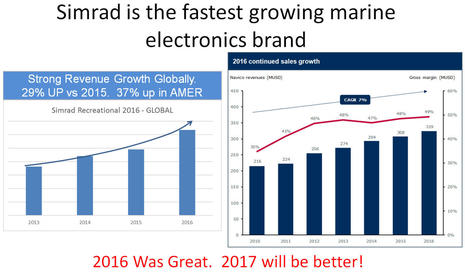 Leif also shared some numbers and was particularly proud of Simrad's purported 37% growth in the Americas during 2016, as well as overall global revenue reaching 319 million dollars. Interestingly, arch rival Garmin recently released financials showing 16% marine growth to 331 million for 2016, and FLIR (Raymarine) grew its maritime segment to about 186 million according to their recent reports. The latter may contain a significant commercial element — and Furuno does not break down its roughly 668 million USD 2015 marine revenue — but the entire global recreational marine electronics industry is not much more than one billion dollars. If it wasn't already obvious, the big boys have very large slices of a relatively small pie.
In summation, I think that Leif Ottosson articulated the fully integrated future of marine electronics very well, and also how Navico can get there. But he also noted that Navico has to be an even bigger company to best make the vision work, and while he's well equipped in that department, the competition is fierce.
Hobie/Elite Fun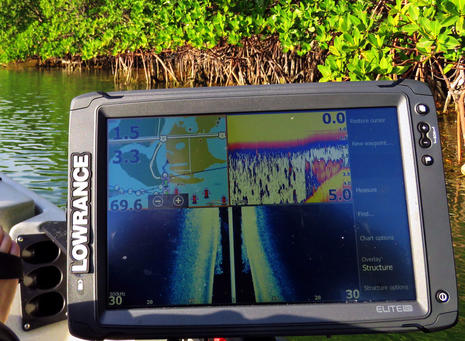 If you've stayed with me all this way, thank you, and maybe you too would now enjoy some quiet time on a Hobie Mirage Pro Angler like the ones I fell for at the 2016 Hawk Cay event. This year some genius moved the demo to Curry Hammock State Park and I also got to see what it's like to small boat with a new Lowrance Elite-12 Ti. While the sonar goodness emanating from the TotalScan transducer neatly integrated into the kayak's bottom was not very evident in this shallow spot, it looked great in deeper areas, and it's worth noting that, according to Lowrance, the Elite Ti was the globe's biggest selling family of MFDs last year even though it then only came in 5- and 7-inch sizes.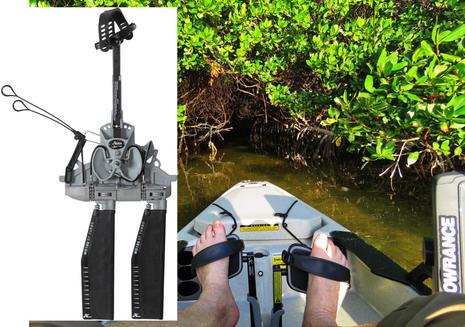 What really blew me away, however, is that the Hobie Mirage pedal drives now have reverse. It's called MirageDrive 180, it's standard on all 2017 Mirages, and it worked great for me. For instance, after I nosed into that creeklet above — which was on the Elite's Insight chart, to my surprise — I was able to back out simply by yanking on the red cable. And then when I cast into the fish I'd seen there, but of course caught a mangrove branch instead, I still didn't need the paddle for maneuvering.
The 180 drive also makes the Mirage even better for bird photography, and I happily went aground and off again numerous times. I also enjoyed checking out a terrifically accessorized (Albin?) trawler peacefully anchored in the park (below). Note the Torqeedo-powered tender, the large solar array on a rack also stowing a pair of windsurfers, and what I thought the pièce de résistance – about a dozen inexpensive solar lawn lights arrayed so that this beauty must sparkle after sunset.
But I became somewhat concerned when no one appeared on deck during my harbor meander. Perhaps the owner was suffering the same truism I know too well?
"Cruising is the time you get to enjoy between fixing pumps."
I feel fortunate because I usually enjoy fixing boat systems almost as much as using them. But, dang, wouldn't it be grand if a lot more boat components got well integrated, start to finish, into a central system, and the whole deal a lot smarter?