BR24 vs Furuno 4′ UHD, take two (yike!)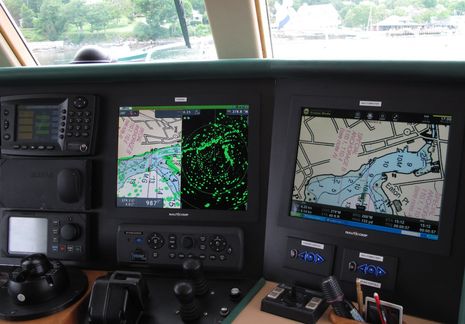 Well, that was exciting. Yesterday afternoon I went out on the Bay aboard Spirit of Zopolite, in large part so Capt. Bruce Kessler could show me how well his new Furuno 4-foot UHD radar works in close quarters now that he's seen Navico's Broadband Radar. And he was right; once away from the dock, the NavNet3D screen was resolving the complications of Camden Harbor very well indeed. The photo above, worth examining large (click on it), shows us returning via the channel through the Outer Harbor moorings, with almost all the boats and shoreline sharply resolved at quarter mile scale, and we could have gone down to 1/8th mile. I've been in this spot many times when you couldn't see anything except an occasional channel bouy or vague boat shadow, and it's interesting to compare the image with BR24 screens taken a few weeks ago…

In the screen below, Li'l Gizmo is just entering the Outer Harbor, with the BR24 set at 1/4 mile (and about five feet off the water). Note how the wide horizontal beam width typical of any 18″ radome results in wide targets, but how Broadband range resolution rivals UHD, and how it's nailing the three nav aids close to the boat. (Note too how Lowrance's built-in charts fail to show the relatively new Special Anchorage boundaries, and hence the channel, that are on SoZ's up-to-date NOAA raster charts.)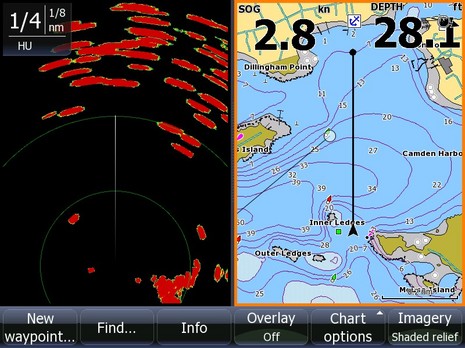 Now here's Broadband at 1/8 mile in the channel; that is a pair of low, round plastic channel bouys just ahead. Which is great, but I'm not sure I'll see those with the BR24 now mounted about 20 feet high on big Gizmo.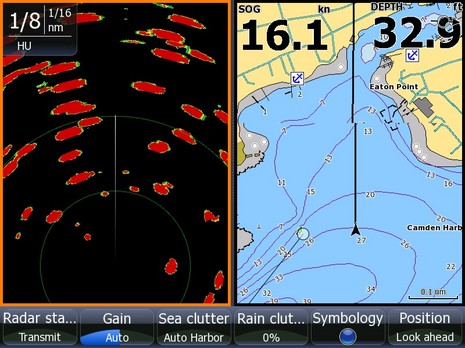 And of course this is all a bit silly as there is no real comparison between SoZ's full blown NavNet3D system and a BR24/HDS-10, beyond perhaps close-in range resolution. With the open array UHD we were seeing every target out on the Bay, including the wierd one way below, could easily make MARPA targets of them, and/or watch targets in true dual ranges. Bruce is also experimenting with Coastal Explorer, and tentatively liking it. In fact he showed me how CE2009 can quickly copy routes to the Northstar which then commanded the Simrad AP through manuevers. Altogether, it was a great boat ride…until the very end.
Spirit of Zopolite has five Mathers electronic throttle/shifters all ultimately controlling her Cummins 300 hp all-mechanical engine. That's so Bruce can have the best angle possible when he manuevers her 80 ton bulk to a dock. He was on the flying bridge as he backed and filled alongside the Camden Public Landing, wearing a headset so he could talk to his very able guest/mate aft, with me somewhat superferlous but ready to pass a dock line from the bow. It was on the last little backing move that Bruce announced, fairly calmly, that he couldn't get her out of reverse, and all five Mathers started alarming loudly. And it was great good fortune that SoZ's swim platform just gouged the floats a bit, slowing her down a bit more, before Bruce flew down the stairs and shut off the engine from the pilot house. Yike.
How did that happen? Well, SoZ was four boats away from a serious marina lightning strike in Southwest Harbor a week or so ago, so serious that a VHF antenna on the sailboat that took the direct hit was driven right through her teak deck! Boats all around suffered related electronics damage, including SoZ's Furuno FA100 AIS, which is now out for a rebuilt. The tech who checked out SoZ warned that other anomolies might show up, and that's probably what we saw yesterday. Once tied up, Bruce took power off the Mathers (i.e. rebooted them), and when turned on again, they shifted the boat fine. They had never failed like that in 8,000 hours of cruising! Something to think about.
But for a bit of levity, check out Raw Faith, a locally famous vessel that has failed both times it has tried to leave Maine over the last several years. In fact, this was the first time I've seen her underway, and I believe it was with special permission from the USCG which has had her under orders since the second costly rescue. Sometimes boat problems are more predictable.