BR vs UHD, Capt. Kessler is surprised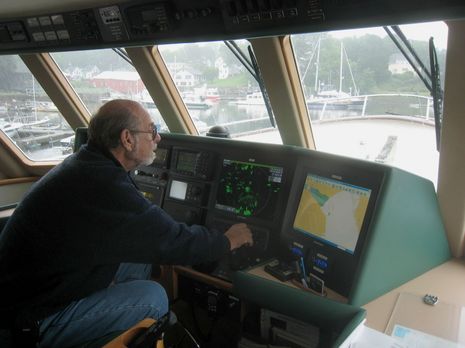 The weather here — a phenomenal run of rain and fog — has been great for testing the Broadband Radar temporarily installed on Li'l Gizmo, and I promise a screenshot show soon. But I've realized that while I've used many radars, and seen many others demonstrated, I've never had one on my own boat, and thus am not dead sure that the performance I'm seeing is as amazing as it seems. How convenient, then, that the indomitable Spirit of Zapolite cruised in out of the murk on Monday, complete with a brand new Furuno NavNet 3D system swinging a 4′ Ultra High Definition array. That's the indomitable Capt. Kessler above, trying to tune NN3D/UHD to get as crisp and detailed an image of Camden Inner Harbor as he'd just seen on a 14-foot outboard!
Bruce was truly impressed with BR's ability to target the crowd of boats moored and moving around the inner and outer harbors, not to mention the invisible nav aids at the entrance, even with all BR controls set to 'auto'. And he thought it was doing at least as good a job at close ranges as his new UHD array, perhaps even better. But we both have some homework to do. He's just learning his system (and I've seen a well-tuned UHD on a smaller boat capture close targets beautifully). Meanwhile, I'm about to try the BR24 mounted more realistically on big Gizmo's mast, and compare it with a new Raymarine RD418D, aka a 4kW 18″ "Digital" dome. (Good times ahead, once I finish the damp multi-installation mess I've created.)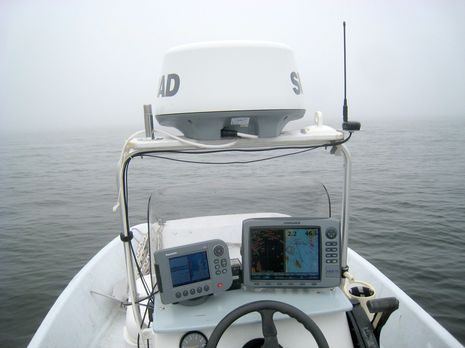 There's no question, though, that Broadband Radar and the Lowrance HDS10 as installed above do a great job at the 1/4 mile range seen on the screen, and less, which is super for getting into and around a complicated place like my harbor. And, yes, that's an AIS target on the HDS screen, and that black Y-Tronic combo antenna is connected to a Digital Yacht AIT250 Class B, which is holding up fine sitting in Li'l Gizmo's battery box. So is Jeppesen Nobeltec, running at Spirit of Zapolite's nav station below, showing the shortest AIS-equipped vessel anywhere!?!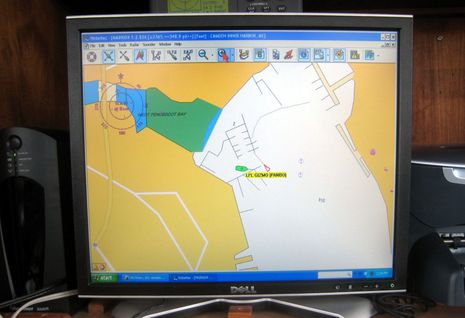 And, finally, for those readers who might be cruising Maine for the first time, below is a shot of SoZ passing Owl's Head in June, 2008, with the Camden Hills in the background. If you wait a week or two, it may clear off like this again. I'm looking forward to seeing Capt. Kessler and NN3D at work aboard SoZ latter this summer. Rain or shine, good times ahead.