Brian's P47: "Picking a Partner"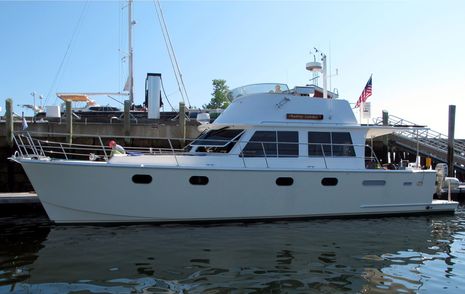 A handsome addition to Camden Harbor recently has been the latest launch of the power catamaran design that was almost Gizmo, and darned if it doesn't have a certain gizmological flare. Check the high-low combination of solid state and magnetron radars, for instance. In fact, the gadget-loving owner, Brian Strong, is a regular Panbo reader and he wrote up an interesting explanation of his electronics choices…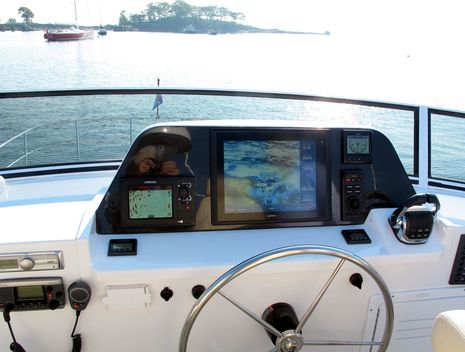 Brian wrote: We know that success in tennis doubles depends primarily on partner selection — quite true in marriage also. We recently took delivery on a Maine Cat P47 power catamaran with the primary electronics a Garmin 8215 at upper and lower helms and associated Garmin GMI 20's instrument displays (Panbo tested), GRIDs, VHFs, and autopilot. 
  Just as we know not to trust a single source of navigation information I feel the need for redundancy with the elimination of simplex elements whenever possible. For partnering to the Garmin equipment I selected a Simrad NSS7/3G radar package at the flybridge helm with a second depth transducer in the 'other' hull, a separate battery on the flybridge and a duplicate charging setup with a battery minder from 110V (and am adding a Victron diode protected 12V charging circuit). At the lower helm I receive the Simrad output on an iPad via GoFree wifi. This is all on an independent N2K system. If all goes to hell down below I have enough battery at the upper helm for a few hours of get out of trouble — short of fire or going down before the closest beach shows up.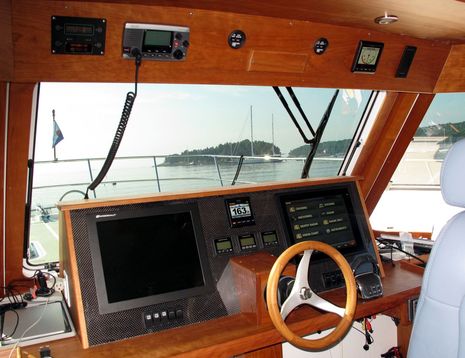 Brian didn't mention that he also has an Argonaut marine monitor at the lower helm which will display Coastal Explorer (some Panbo love here) running on a laptop and maybe also the various Ubiquity IP Aircams he has had installed around the boat (he says the included airVision management software is excellent). A neat possibility here is that Brian can use the unusual DVI PC input on the Garmin 8215 to get CE and the cameras up to the flying bridge if he wants. 
You can see one of the six Aircams mounted under the radar dome. Note, too, the Rogue Wave Pro WiFi system (Panbo install here) and also those Nokero solar-powered LED lamps that Brian uses to illuminate the flag. I'm not sure I like the idea of having a separate PoE injector for each camera, as you can see in the boat's partially finished networking cabinet below. Wouldn't it be a lot more efficient to have them all going to a single PoE switch?
   The fact is many of Brian's systems aren't completely installed yet, and the boat has already gone back to the builder for a month's work on the punch list. I hope he'll follow up with reports on the cameras, etc. or that maybe I'll get to see them in action. I think he's also going to take a crack at getting his Garmin system to integrate with his boat router because I notice in the photo below a printout of the instructions Pat McQueen posted on the Panbo BlueChart Mobile WiFi Adapter entry. (I got a kick out of that!)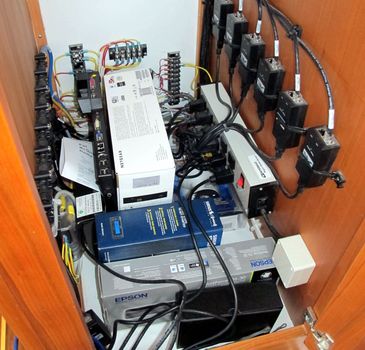 Let's close with more words from Brian: My previous boat was a PDQ MV34 power cat and during ten years I slowly upgraded to Simrad and had good experience with the NSE 12 and especially the 3G radar – which I find terrific for close quarter maneuvering in the heavy fog we sometimes have in Maine. On the P47 I have mounted the 3G radar low on the brow with the Garmin 24HD much higher on the mast antenna. It is also an excellent radar but goes over the top of the moorings I need to steer around in harbor. I think the Simrad NSS7/3G radar package is a terrific bargain for great backup, especially when the small increment for GoFree gives you additional displays via iPad. That said, Garmin has done a great job with the 8000 series and I am very happy to have it as my primary source.
   I actually owned the very first Garmin consumer gps back when they were called ProNav. That was when the gps signal was dithered, until the Desert Storm invasion required undithering so our tank commanders could use the off the shelf ProNav gps when the milspec units were unavailable.
   My, navigation has sure come a long way.
I want to heartily second that last thought and wish American readers a great Labor Day weekend. If you're anywhere near, do visit our Windjammer Festival.