Calypso Ultrasonic Portable, wireless wind and more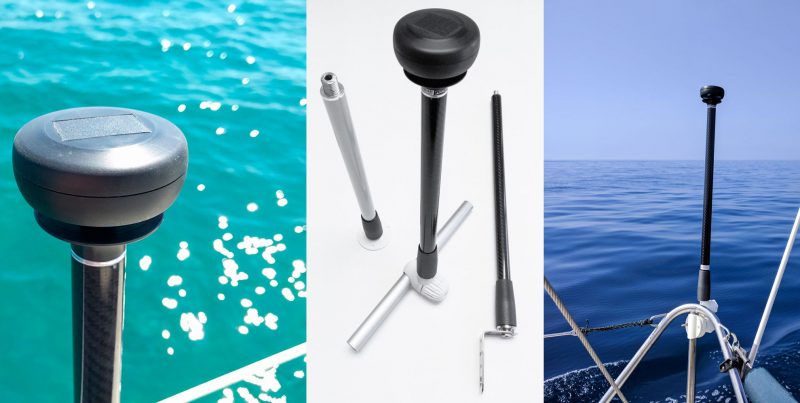 One reason I like ultrasonic wind sensors is the absence of vanes, cups or any other moving parts that might get damaged by roosting birds, loose lines or clumsy humans. So how about one that can also sense Heading, Air Temperature, Pitch and Roll; that is especially sleek and compact; and that comes in three models able to deliver the data over Bluetooth, NMEA 0183, and/or WiFi? I've been testing the completely wireless Calypso Ultrasonic Portable model seen above and I'm tentatively impressed.
While the other two Calypso Ultrasonic models are wired for power and added data output, the Calypso Portable uses a tiny solar panel to maintain an internal battery and only BLE (Bluetooth Low Energy) to provide data communications. It's reasonable to be leery about both of those technologies for a powerful sensor that may be mounted a fair distance from the data receiver. It was largely due to when Calypso shipped the test unit, but I challenged the Portable to work outside my thick-walled house during short Maine winter days, and it did remarkably well.
As explained in the Portable manual this model has a power management system designed to protect its battery no matter how much it's abused, and it did indeed go into Sleep mode after a long period of hostile conditions. But given a decent dose of sunlight, it was back in business and running fine despite cold and wet. It also consistently connected to either my Android phone or iPad despite distance and obstructions that most of my Bluetooth devices won't tolerate.
So it wasn't surprising that the Portable has been trouble free in more normal conditions while installed this season aboard Gizmo. Note that the 5/8-inch threaded rod in the photo above is not a normal way to mount an Ultrasonic, but Calypso did not include one of its aluminum or carbon fiber poles and the needed 16mm M16x2 mount thread isn't easily found in my area. Note too that the sensor is only 2.75 inches (70 millimeters) in diameter,  like all the Calypso Ultrasonic models, and now let's see what it can produce.
The screens above are from Calypso's own AnemoTracker app, which is mainly meant to demonstrate what the Ultrasonic can do. At upper left, for instance, are controls that let you change the wind data refresh rate from the fairly standard 1 Hz (once per second) to the 4 or 10 Hz rate preferred on racing boats. This page is also where you go to enable the gyro/compass sensors that can deliver Heading, Pitch and Roll to those data screens.
But Calypso's primary goal with the Ultrasonic Portable is to provide a valuable hardware component for other company's software, and they already publish an interesting list of compatible apps along with an "Open philosophy" developers manual that lays out the exact code needed to manage the controls just mentioned as well as compass calibration and much more.  SailRacer, for example, now supports the Ultrasonic, so with a Portable and the SailRacer inkDisplay I covered, you could have a quite sophisticated instrument system that's extremely lightweight, fairly inexpensive, and easy to move from boat to boat.
Calypso, incidentally, claims Ultrasonic accuracy of about 2 knots in wind speed and 1 degree in direction, and while I could not test that scientifically, the output did correspond nicely with more conventional anemometers installed on Gizmo. Also, on several occasions I watched it respond well to the light and variable winds that can confuse some whirlygigs but which can be really fun to sail in with the right boat.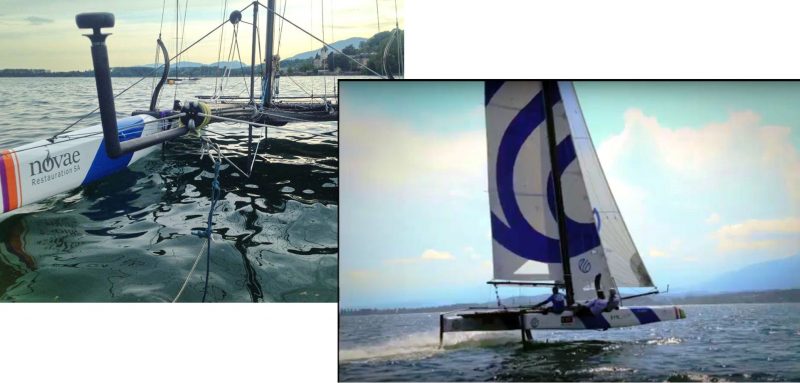 A new and not-yet-listed Calypso partner is Anemomind, whose performance sailing system I described here. Thus there is now a kit available that includes Anemomind's own sensor box and the Ultrasonic Wired attached to the bowsprit of the foiling cat Easy To Fly above. That crew has the benefit of the Anemomind app while underway and later they can visit the Anemolab online platform (seen below) to analyze their training sail or race.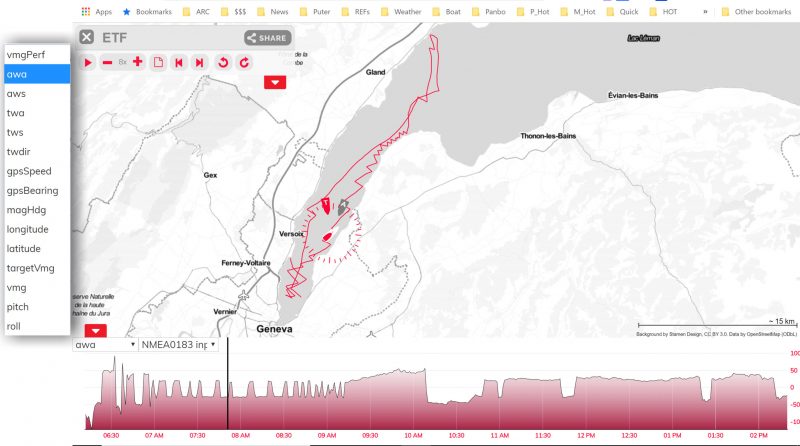 In fact, you too can analyze this ETF jaunt around Lake Geneva. Note the popup box of values you can graph, and that awa, awa, magHdg, pitch, and roll are coming from the Ultrasonic over 0183 while the values are calculated in the Anemobox. I don't know beans about this type of sailing, but that short tacking along the shore seems quite tight aside from one apparent bobble.
I'll also note that the Calypso Ultrasonic Wired model could be used with more conventional instruments and though you'd need a gateway to get the data into NMEA 2000, I saw some advantages to that route when testing the LCJ Capteurs CV7 ultrasonic. But with the Calypso you'd still be able to use the Bluetooth connection to apps and it's also cleverly used for calibrations like mounting offset (from your bow). And the Ultrasonic Wired WiFi adds a third data interface (with more wireless range and bandwidth), though I don't know of any uses for that option yet.
But if you're going to IBEX this week, you could find out more as Calypso is there in search of new partners and also a U.S. distributor. Ben Stein is also in Tampa and just finished his stint as an Innovation Awards judge, interesting results to be announced tomorrow. I'll close with a screenshot showing how another yet-unlisted partner called AFTrack uses the Ultrasonic Portable for regular navigation.