Class B AIS filtering, the word from Dr. Norris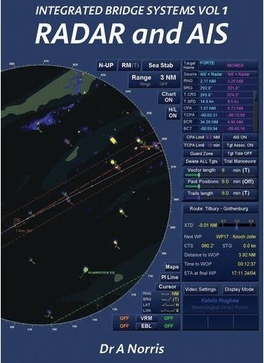 Why not ask the man who wrote the book? Dr. Andy Norris writes authoritatively about ship level electronics for the Nautical Institute and Digital Ship; has chaired IEC Technical
Committee 80 on maritime navigation since 1992; once worked as Technical Director for Kelvin Hughes and helped start ChartCo; and is himself a sailor who's earned an RYA Yachtmaster Ocean certificate. Plus he's helped Panbo readers (and writers 😉 better understand the limitations of Class B AIS before. So when I recently attempted to deconstruct the notion that watchkeepers can use filtering tools built into new ship radars with integrated AIS tracking to completely ignore Class B AIS targets, and then found indications that it is sort of possible, I asked Dr. Norris — whose IEC committee wrote the spec — to please "clarify just what's permitted in terms of AIS target filtering." The issue, he warned me, "is more complex than it looks"…

Andy also wants us to know that "my response is a personal view and is certainly not an official view from any of the organisations (all non-commercial) which I represent but I suspect that it would not be far from any official response, if such a thing could be elicited."
AIS Class B Filtering

by Andy Norris, 20 December 2010
Although AIS is a highly useful system for ships and small craft the warnings that I gave in 2006 to AIS Class B users still remain. You cannot rely on your AIS transmissions being picked up and appropriately reacted upon by any vessel. There are numerous reasons for this. The knotty problem of AIS Class B target filtering is only one of these and is probably near the bottom of the list in terms of the potential issues that can cause problems.

Since 2008 all new ship radars have had to include AIS display functionality. It is an IMO requirement that means for filtering of sleeping AIS targets are included on such radars 'to reduce display clutter'. In the list of example filtering modes 'AIS target class A/B' is mentioned. The requirements for filtering are not particularly explicit, especially with regards to its interaction with automatic activation algorithms, which are themselves left to manufacturers to decide upon. It may have been at the back of the mind of some legislators that innovation by manufacturers would be the best way to evolve both filtering and acquisition strategies in these relatively early days of AIS/radar integration. Maybe, in the future, more explicit functionality could then be statutorily defined. Until then, manufacturers will be implementing their own best ideas in these areas.

The problem with AIS Class B targets with regards to filtering is, depending on scenario, you may wish to have a filter that prevents all Class B targets being shown either as sleeping or activated, or you may wish to activate filtered targets under certain special conditions. Class B targets typically apply widely different safety zones compared to interactions between Class A targets, because of their differences in size and manoeuvrability. Particularly in busy areas, small craft often pass closer to ships than is generally considered safe for ship-to-ship encounters, even though needing particular alertness by the small craft skipper.

For this reason, especially in areas that are crowded with small craft but that also have appreciable shipping movements – such as in the Solent area of the UK – it could well be the case that any activation of Class B targets will cause almost constant activation of the Closest Point of Approach (CPA) alarm on the ship – continually distracting the navigating officer/pilot. A 1.0 NM CPA may be appropriate for ship-to-ship encounters in such an area, but many small craft skippers will be quite happy approaching ships at very much closer distances. Therefore, filtering of all AIS Class B targets, together with preventing their activation, may be the appropriate strategy in such areas to avoid possibly dangerous alarm distraction of the bridge team.

Many such areas are found around the world, justifying the inclusion of such a mode in manufacturers' equipment. It should not be forgotten that the bridge windows form the most widely used navigational aid. When operating in busy areas in reasonable visibility they normally form the primary collision avoidance tool.

In inclement weather in such waters it would generally be the correct practice to switch off the AIS Class B filter, considerably improving the probability of identifying small craft in poor visibility and bad radar clutter conditions. In general, there would be fewer Class B targets in such conditions. These would naturally wish to keep a greater distance from ships and, in any case, any detrimental over-alarming of the ships system would, in these conditions, be compensated by the benefits of increased probability of target detection. Of course, in other than crowded waters in good visibility, the AIS Class B filter should generally be switched off.

No normal ship would ever want to ignore the presence of small craft. In most situations AIS Class B transmissions are a useful additional detection aid. In some circumstances, however, Class B filtering is essential to avoid unnecessary and distracting alarms.
Over the next few years it will be interesting to see the strategies that evolve for AIS filtering and activation, especially when combined with evolving radar/AIS association algorithms. Combining radar and AIS data enhances navigational integrity. Used on their own, both AIS and radar have significant integrity issues but the overall integrity of navigation is greatly improved when used appropriately together – and can be enhanced by further integration with other navigational aids. Navigation sensor integration continues to form a highly interesting and relevant research area.
*********************************************************************************
So there we are. The IEC guidelines are looser than I thought when I tried to decipher them in 2009, and the Furuno radar recently discussed may indeed be able to ignore Class B vessels, or even just smaller vessels, if you set it up just so. But I still think that it's way too cynical to think that ships ignore small targets when they don't have to and that hence it's pointless to carry your own transponder. And so I asked Andy one more question: "Does it make sense for a
recreational vessel to only carry an AIS receiver because ships won't
pay attention to a Class B transponder anyway?" To which he replied:
My view is that is preferable for recreational craft to carry and use AIS Class B transponders.
This makes craft highly visible to an ever increasing number of ships in normal circumstances. It does not guarantee that you will be observed on a particular ship's AIS system but it increases the chances way above 0%, which is what happens if you don't use an AIS transponder.

Remember that a ship's radar will not be guaranteed to see you either, neither are you guaranteed to be seen from the bridge windows. However, the chances of being seen visually, by radar or by AIS will be greatly increased compared with relying on just visual and radar visibility.
Safety at sea, just as when driving, is governed by probabilities, not certainties. We need to be always decreasing the probability that an accident will occur to us, as individuals.
How about a New Year's Eve toast to improving probabilities (and ignoring cynical certainties)? And how about a big Panbo thank you to Dr. Norris?