Class B AIS here?, but worthless?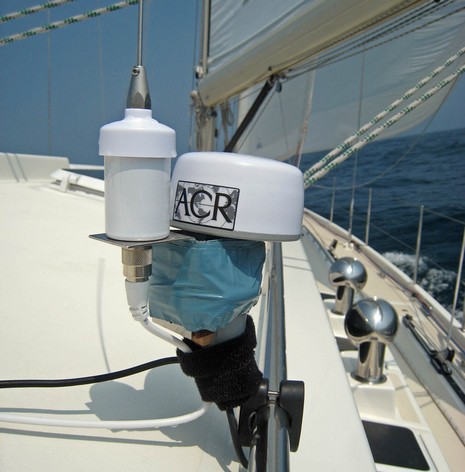 Today two reliable sources told me that all five FCC commissioners have now signed off on Class B AIS for US waters, though neither knows when the Order will become effective. The final step should be an announcement in the FCC Daily Digest. Having been wrong about the timing so many times in the past, I certainly won't venture a guess. But it does seem like a good time to discuss an e-mail I recently received from a marine electronics industry veteran and Class B AIS skeptic who would like to remain anonymous. Based on his own "on-the-water analysis" he thinks it's "completely worthless"! His points, in italics, along with my comments:
1) The practical range is only 5-7 miles line of sight, which is simply too short. My own offshore testing showed a 6–10 mile range, and that was with the low-mounted antenna seen above.
2) At a speed of 30 Kts a large commercial vessel transits 6 miles in 12 minutes. If it takes 4-5 minutes (not a lot of time) for the observer on the commercial vessel to notice a potential collision, 4-5 minutes to decide what to do, they only have 2-4 minutes to effect a maneuver to avoids a collision. Not realistic in my estimation. I don't think many ships are doing 30 knots, but even so 8–10 minutes is time enough in most cases.
3) If your vessel is stationary it will only transmit the vessel position every 3 minutes, when you are moving the position is transmitted every 30 seconds. Both conditions increase latency. Think about a small vessel colliding with a large commercial vessel. If the position is only updated every 30 seconds the commercial vessel is going to assume that during the 30 second between fixes that the recreational boater has altered course. If your vessel is stationary in front of a large commercial vessel they are going to get very few position reports, and again I think the commercial vessel will assume that you will move out of their way. There are issues with the slow Class B data rates, as I've often discussed, but I'm convinced that when Class B proliferates, developers will come up with better ways to plot them.
We've discussed Class B skepticism here before, but now there are a number of boaters outside the U.S. who've actually been using it for a while. I'd particularly like to hear from them in regard to the issues above. If finally us Yanks can actually buy a Class B transponder, should we?