Cobras are in the house, & mistakes are made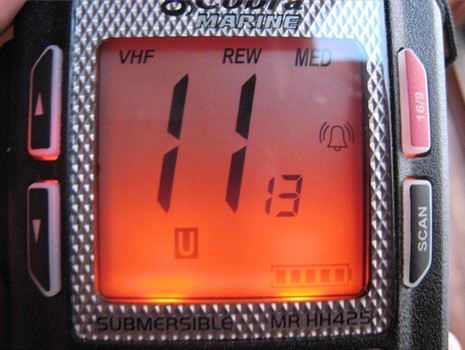 Yesterday loaner units of two new Cobra VHF's—the MR F80 B and MR HH425LI VP (who makes up such names?)—showed up on my doorstep. I plan thorough tests, but first some initial reaction to the handheld, which I wrote about when a similar model was introduced in Europe. If you read that entry, you'll see that I liked the "Rewind, Say Again" memory feature in part because I pictured using it when I missed an important bit of a long NOAA weather forecast loop. Well, guess what? The memory feature does not work when you're on the weather frequencies! Now, in many other ways the feature is quite well done, like that count down timer shown on the screen (my replay has 13 of 20 seconds left to play), the way you can record your own transmission (though you won't know how without the manual), and the "REW" on screen showing if you have the recorder on or off. And, by the way, 20 seconds turns out to be fairly long in terms of VHF transmissions. (And, yes, there is something a bit unbalanced about the screen lighting, more on that later.)
I want to whine some more about my wrong presumption re: replaying weather forecasts. I know that at least one knowledgeable person at Cobra read that entry, but did not think to explain this particular limitation to the feature (or missed it). That's a shame, because such corrections are a real Panbo feature. In fact, to some extent I use these entries as raw writer's notes, and that usually works well because I get the feedback of electronics enthusiasts and the trade, I can correct mistakes nearly instantly, and all that means that what I eventually write for print publication is more accurate. In fact, I just mentioned that same weather replay bit in a piece on this radio for Sail. It happens that it's still fixable, but in a week or so it would be headed to ink where it might have put a wrong idea into the heads of possible Cobra customers for many months to come. Plus, I know that others in the marine press use Panbo as an electronics research tool. So, head's up, manufacturers, please, please correct mistakes made here before they go further!