ComNav Class A AIS transponder, with NMEA 2000!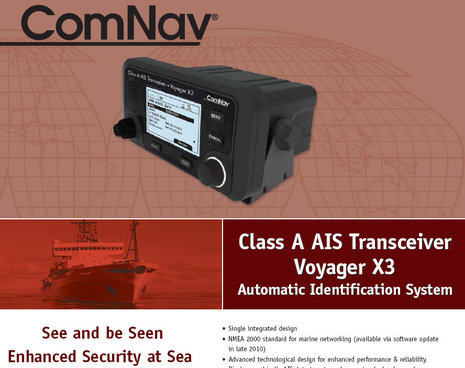 Very cool! It looks like the compact and relatively inexpensive Class A AIS Transponder that SRT teased last summer is not only getting close to real, but that it will also — nice surprise — have NMEA 2000 output (in addition to regular NMEA 0183 HS and RS232 PC outputs). The ComNav data sheet is available here (thanks, Dave!), but there are some caveats…

For one, the Voyager X3, as ComNav is calling it, is not yet FCC approved and therefore it's not yet for sale in the U.S. And the price is not listed (I've asked), so we don't yet know if ComNav met SRT's hoped for "less than $2,000 retail." Plus, the N2K output won't come until a software upgrade is issued in "late 2010."
But given all those caveats, this sure looks like an interesting new option in AIS. At 8″W x 4.2″ H x 5.4″ D, the Voyager X3 is sort of similar to the neat Simrad AI-50, only with the ability to transmit at 12 watts instead of 2. A yacht carrying a compact Class A transponder like this will get seen a lot further away, and will also be able to input its navigation state and destination, just like the big boys. And whereas we know that SRT actually builds these for OEM clients, we can probably expect to see it under other brand names soon.
And what about SRT's promise for a small, inexpensive AIS receiver printed circuit board? Well, I have no idea if Standard Horizon is using one in its new GX radio combos, but I'm pretty sure there's one inside Digital Yacht's new ANT200 seen below. Yup, that's a complete true dual channel receiver just 4 inches in diameter, and it only costs $300 with it's own stubby VHF antenna. Digital Yacht's got another interesting AIS receiver product I'll detail soon, and it sure looks like SRT is making good on its promises.