Cruising Solutions headsets, testing the Bluetooth update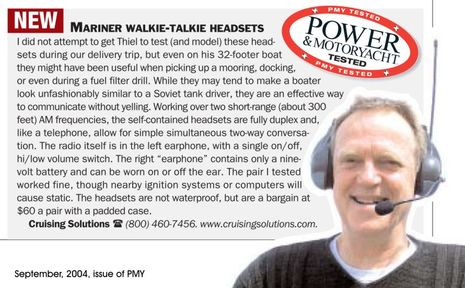 Apparently, the folks at Cruising Solutions have not forgotten that I once characterized their useful and still popular Mariner 500 intercom headsets {Update: no longer available} as "making a boater look unfashionably similar to a Soviet tank driver," and hence asked me to test their latest solution to the problem of verbal communications when captain and crew are in different areas of a boat. They are called "My Team Talks" Bluetooth headsets and they're much more than modern looking intercoms. "Bring state-of-the-art multiplex communication technology to your boat" is not an overstatement…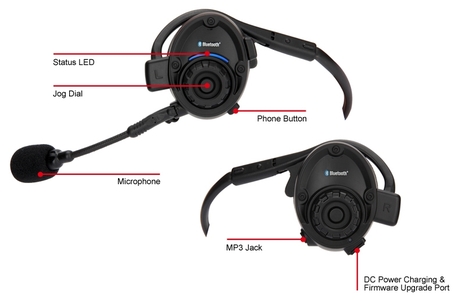 The technology that Cruising Solutions has selected for boat use (and to presumably support for a long time) was developed by headset specialists Sena, whose main market is motorcyclists. So you can find deep details on the Sena SPH10 headset page as well as reviews at Amazon. The capabilities are phenomenal. You could conceivably have a phone and another audio source (maybe even a VHF) wirelessly connected to a headset and still be able to intercom with up to three other headsets. I tried a lot of the features and found the performance excellent. The "My Team Talks" headsets also seemed easier to set up and use than the huge feature list might suggest.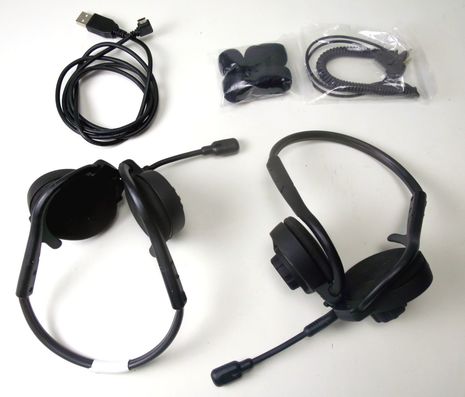 I used white tape to mark the headset I paired with both my Galaxy Nexus Android phone and iPad mini, and in this photo you can also see the little rubber tabs that fit between your earlobe and head to help keep the device in place. I found them fairly comfortable and could wear a pair for hours before needing a break. My dear mate, on the other hand, did not get used to them easily, but she does have an unusually small noggin (especially given its enormous and fantastic contents). No headphones are compatible with my hearing aids, but I found music, podcasts, intercom and most phone calls quite audible. All sources come through both speakers and music apps played in stereo; each source volume is individually controllable with the Jog Dial, which could also be used to skip forward and back through music tracks.
A really nice feature is the audible prompting. A pleasant voice confirms that the headset is turned on and then connected with the phone, plus it can inform of low battery status or lead you through complex settings when needed. Thus, it was easy to turn off the intercom voice activation that confused me when I first tried a single headset with phone and audio in my shop. Sounds like packing tape ripping off a roll would put the headset in intercom mode, and then the voice would warn me that the intercom wasn't available. But it turned out that using the intercom manually is plenty easy, anyway; one tap on the dial starts full duplex communication with the other set(s) until you or another user tap the dial again (and Intercom VOX Off is the default mode, changed I guess by a prior tester). We didn't test the intercom in extreme conditions, but the noise cancelling did seem to work well around normal wind and engine sounds.
I will note that the Sena manual is a bit daunting, but am happy to add that Cruising Solutions is currently working on both a video tutorial and a few quick start pages focused on the functions boaters will typically use.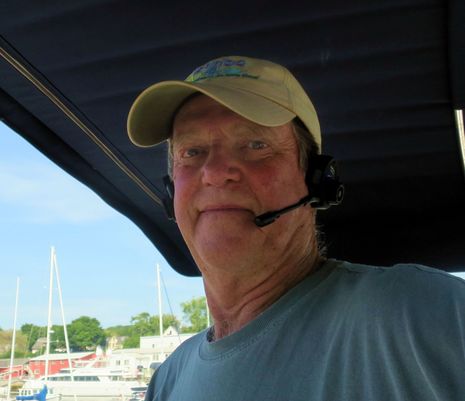 I've tried a lot of wireless headsets, including several with intercom abilities, and I agree with Cruising Solutions that these hit a sweet spot of features, performance, ease of use and value. It may be partly that Bluetooth has gotten more reliable and capable over time, but I also think that Sena is very good at what they do. The size and layout of Gizmo doesn't demand headsets for calm docking or anchoring, but I can imagine many circumstances — like trouble shooting something in the engine room — when they might be very useful, and I'll also miss them as just a very solid standalone phone and audio headset. For ultra simple and inexpensive intercom-only use, though, the Mariner 500 is still a valid choice, and maybe the look has become hip?
PS: Digging around for the old Mariner headset review I found and enjoyed this PDF of The Voyage of the Ava T. column that it accompanied. You might too, and here's an opening paragraph and photo taste:
Pictured above below is the helm of the good little vessel Ava T. as she approached the Cape Cod Canal shortly after dawn last Memorial Day. I was helping her new owner — PMY's very own, and very boat-proud Richard Thiel — make his first trip aboard this 1985 Jarvis Newman lobster yacht, a 300-mile delivery from Camden, Maine, to Stratford, Connecticut. Now an older boat in such transition is a somewhat fragile affair. System idiosyncrasies that may have been second nature to her old master must now be relearned by the new one, and problems that festered while the boat awaited fresh enthusiasm tend to pop up without warning. In fact, Ava hadn't been cruised, let alone driven hard, in more than two years, and the voyage — problem-wise — was epic. If you look hard you'll notice duct tape around the window!