Digital Yacht 4G Connect, with WiFi router and Alexa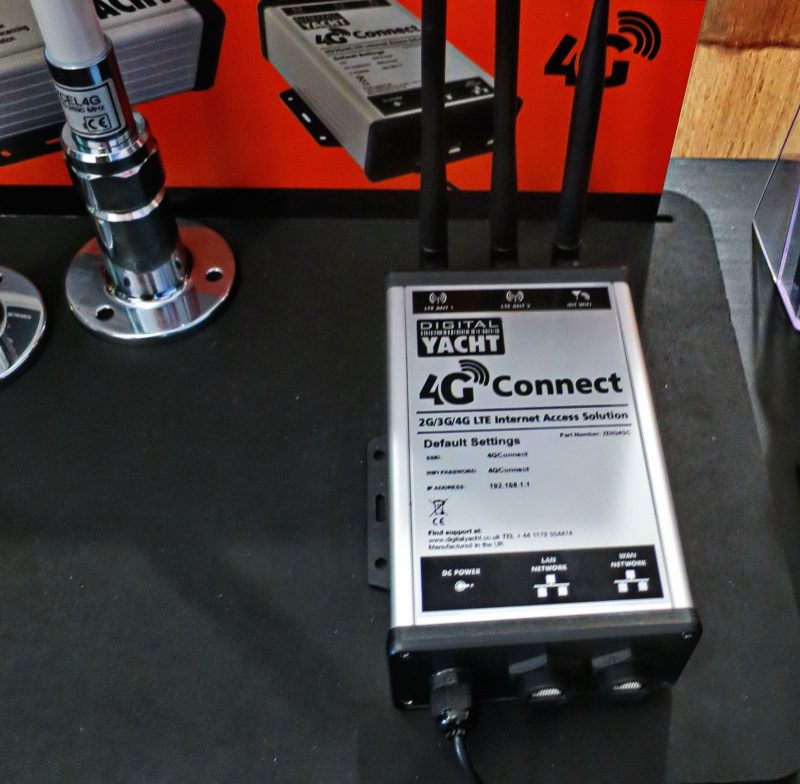 This Digital Yacht 4G Connect was impressively demonstrated at the Miami show. The standard model shown uses indoor MIMO antennas to connect with cellular data services, then WiFi and/or Ethernet to make the link to devices on the boat. The Pro model uses two exterior antennas that looked very rugged and well designed for running serious coax cable.
All that's attractive in itself — and recently approved by the FCC for U.S. use, I've heard — but DY added some special sauce related to some of their many other communications products. In the Miami booth, for instance, you could ask (Amazon) Alexa questions about a boat somewhere else on the planet and get a sensible answer like this:
You: "Alexa, ask iKommunicate for my position"
Alexa: "SARITA is travelling North East at 6.0 knots in the English Channel, 6 miles South of Bournemouth, United Kingdom"
That feature is thanks in part to an easy connection between the Connect 4G and a DY iKommunicate, as diagramed below with other possible DY integrations. The other part is a set of new Alexa SignalK skills being developed by Pocket Mariner. In fact, their free Boat Watch app already has an Alexa AIS skill and we'll have more on these talking boat features soon.