Digital Yacht aQua PC, show deals!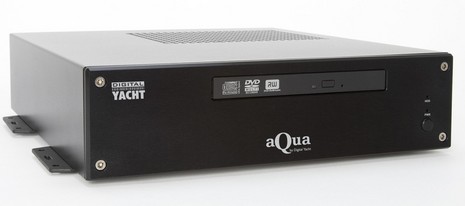 If I was walking the London Boat Show this week, I'd sure visit Digital Yacht, which seems to be on a new product streak. Besides the tiny, self contained ANT200 AIS receiver I mentioned here, they have a new line of 5-inch C-Map plotters — one with an AIS receiver built in (which I'll cover soon) — and an interesting new series of marine PC systems called "aQua". The boat show deal, which will purportedly be duplicated at the Miami Show, just might get your attention…
I know that general purpose computers and monitors are getting wonderfully inexpensive, but it looks like DY squeezed a lot of boat friendly features into a package that equals about 2,100 U.S. dollars: 8-30v DC 20W power draw (CPU only), 64 GB flash drive, dual RS232 NMEA 0183 ports, built in AIS receiver & GPS, etc. This AquaNav model also comes with a new charting program called SmarterTrack PC Navigator (or maybe it's another program rebadged?). If you download the brochure here, you'll see that there are also budget and media models.
I'm starting to search for a general purpose/navigation/media center PC for Gizmo — what the heck, doing it all with one system makes sense given plenty of nav backup — and the AquaMedia has some appeal. But does an Atom processor have enough horsepower? What other marine PCs should I be checking out? What about small civilian machines like a Mac Mini or Dell's new Zino HD?