Edson Marine: old school, new school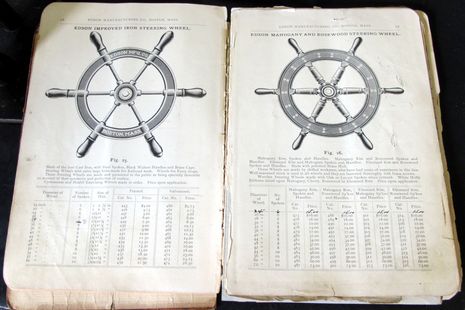 I visited Edson Marine headquarters while Gizmo was in New Bedford, Massachusetts, during my cruise home in May 2013, and one vivid memory is this old catalog that co-owner Will Keene showed me. My old sloop Alice had one of those Mahogany Steering Wheels, and while I'm sure it cost more in 1946, it's amazing to realize that you could once buy one for $15, Ebonized Rim included. I also enjoyed seeing how well Edson has kept on keeping on since Jacob Edson invented and started manufacturing the first diaphragm pump in 1859…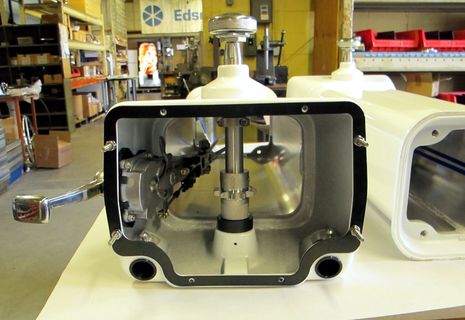 Edson still makes traditional wooden wheels but also super lightweight carbon ones, too — see their wheels site here — as well as all sorts of other hardware. They also apply their 155 years of experience to repairs and custom solutions. When I noted how much cable room is in the helm pedestals being assembled above, Will Keene sighed knowingly. He wishes electronics manufacturers would make narrower cable connectors and would also like to see more right angle adapters for easier fits into display housings. I know that a lot of boaters, especially sailors with skinny pedestals, agree.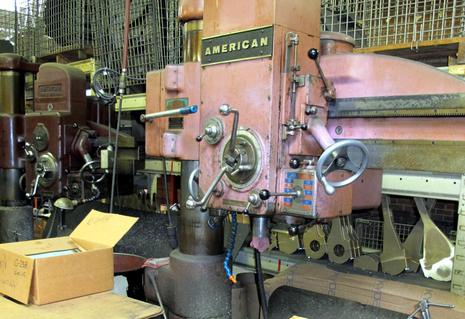 Now that is a drill press! And notice the heavy duty (rudder?) shaft arms in the background. Some of the machinery at Edson is vintage, but certainly not all…
You can see that this Matsuura CNC machine was turning out pretty complex aluminum parts while I was visiting, and next to it was a neat stone tumbler finishing them. By the way, I was reminded of my Edson visit because I'm working with some beautifully machined Vision Series electronics mount components that I will detail soon.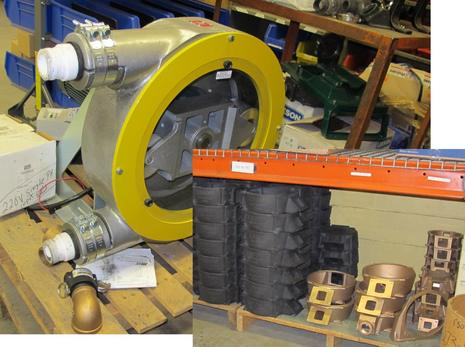 Jacob Edson would probably be proud that his company is still making pumps. In fact, Edson has diversified into industrial pumps and when you get your boat pumped out, it's quite possibly one of theirs is doing the job. But this was the work of the Keene family, mainly Will and his brother Hank, who grew up in the business (and in boats) and purchased it from their dad in 1989. The prices aren't what they used to be — and if Edson does discount, it's probably to their many boatbuilder clients — but the company has a tremendous reputation for quality and customer support. The Keenes have also actively supported the marine industry and related organizations like the first class New Bedford Whaling Museum. (And you can enjoy some Off Center Harbor videos thanks to Edson support.)
Also classy, I thought, is how Hank (left below) attributed his recent retirement to his advancing Parkinson's disease. Such honesty may encourage others to deal with their symptoms sooner and hopefully, some clever genetics engineers will find a fix.