METS 2013: Glomex WeBBoat, fingers on Garmin and Simrad, and more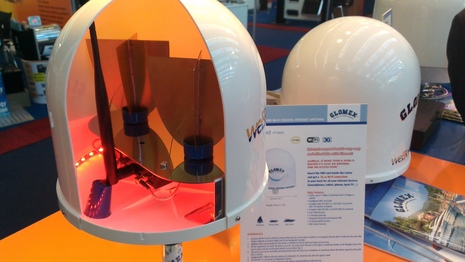 The Marine Equipment Trade Show 2013 held in Amsterdam last week lived up to its reputation again. The trade floors were packed with exhibitors, and I was told that the booths were packed with visitors on the first two show days. Fortunately, it wasn't as busy during my third day visit and I could move around easily — if not as anonymously as before; at Garmin I was welcomed as "Hey, you're the guy from Panbo!"  Ben has already reported on Garmin's down- and side scanning sonar, xHD radomes, etc., plus the new Simrad NSS and B&G Zeus2 Series, but I got to see the new products in action and there was much more to cover, like that neat Glomex WebBoat WiFi/3G access point seen above…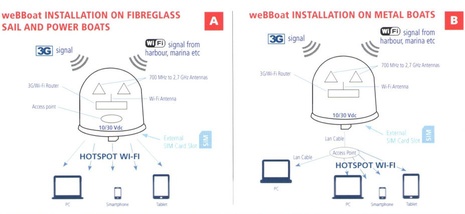 Glomex WebBoat
To start off with the Glomex product — although it looks like a satellite antenna, it actually holds a small router (just visible in top image, with the antennas attached to it) and an access point in order to grab internet over WiFi or 3G. It creates an on-board wired and wireless network, and uses those radar-reflector-shaped long distance WiFi antennas to connect to any shore access point, or failing that to a shore 3G tower. It's only 300 mm (12-inches) high, weighs just 500g (1.1 pound), and only requires DC power to function. If you have a metal (or carbon) boat you can remove the access point from the device and place that inside, linked by an Ethernet LAN cable. For more information read this brochure PDF: glomex_webboat.pdf
We'v covered devices like these in the past on Panbo. Dan wrote about the Novatel 4G-to-wifi hotspot and Ben has repeatedly written about the Rogue Wave Wifi bridges and there is the Locomarine Yacht Router solution, but I like this one's simple all-in-one aspect, which will make it easy to install. As usual with Glomex it will not be very expensive either. Expect this on the market in 2014.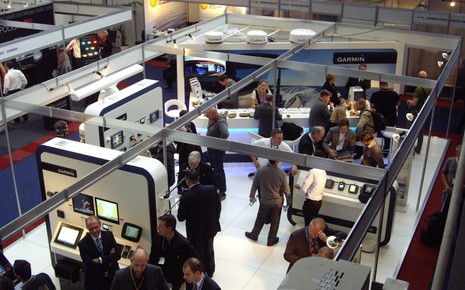 Garmin
Garmin's 2014 mega wave of new kit looked ready to roll. The demo models worked fluently and seemed ready for production (and I got to play with everything that I wanted as I received the grand tour).
Obviously for Garmin the biggest upgrade in terms of sales potential is the fishing market that they can now address with SideVü and DownVü. The technology is akin to what HumminBird and Lowrance came out with years ago, but slightly different. Whether this is an attempt to avoid a patent war or that there is a real technological advantage remains to be seen. I'm sure we'll hear lots of reports of people fishing with the new equipment once it is released (plan: February, 2014.)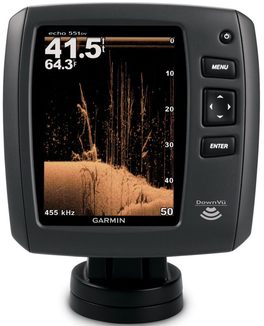 As to Garmin Marketing being infatuated with using ü in product names, I am not sure they realise that in German (where I assume the Umlaut was borrowed from) Vü is NOT pronounced like the english 'View' but like 'Vuuuu'? It certainly sounds silly to me. But then I don't like weird capitalisation (like iPhone) either, so maybe I'm seeing it all wrong.
New Garmin medium-size chartplotters will all support Garmine Marine Networking, meaning that they can share sonar, radar, maps etc. Witness the single ethernet port on the new GPSmap 800 series. I'm not 100% sure whether a software update for the existing 700 Series will add more networking functionality, but it was very strongly suggested (and I think they have to in order to compete with Raymarine's policy of full networking on all MFDs, even the low-end 'a' Series.) Watch this space!
When I saw the pictures of the new Garmin radar scanners I thought the top ridges were there just for styling reasons, but apparently they are there because they actually help clean up the radar picture by reducing side lobe emissions, which makes for a clearer picture. Garmin claims that the new generation is mightily improved. I guess that Ben may have to do some more radar testing in 2014.
The final thing that I want to mention with Garmin is how their User Interface philosophy "the power of simple" is seen in the new Fusion-built Meteor media box. I am used to the Navico SonicHub, which shows up as an "audio bar" at the bottom of the screen showing the currently playing source, title and volume. In the version of the Garmin interface that I was shown at METS the screen only shows a "Media" button that you need to press to get access to the media controls, but once you do you get a simple screen that is easy to understand. This is different from the screens showing at Fusion's how-garmin-uses-fusion-link page. The button approach that I saw is the easiest to understand and control, but it does limit the amount of data on-screen at the same time and requires you to take action for some actions that are just a glance on other brands. I guess that you could call both approaches user-friendly — just that what is friendly for one person is not what it is for somebody else. Maybe Garmin will offer a media bar option on the bigger plotters only, or maybe it is going to be a configurable option. Time will tell.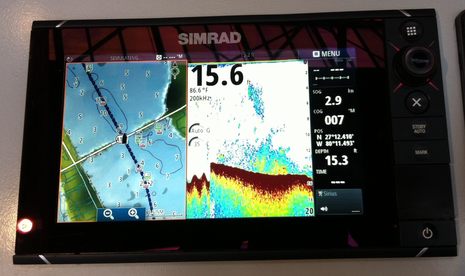 Simrad evo2
The new NSS evo2 chart plotters were on show side-by-side with the new NSO evo2 and big touch screens. The styling of these is identical, making a "glass bridge" that consists of both NSS and NSO screens look coordinated. Simrad is still on a roll and fine-tuning the look and feel. Evo2 is a gradual upgrade from NSS. I did get the feeling that they see strong demand for touch, and that NSS evo2 will not only be the replacement for NSS but also for NSE, although NSE will still be available for those who want it.
As to the multi-touch functionality I tried to see what worked. Pinch-to-zoom worked as expected, but they also use some commands seen in Windows 8 and the latest Android and iOS devices like swipe-from-edge. If I swiped in from the top the autopilot control window popped up in the same spot as it used to live on NSE/NSS, which is exactly what I expected it to do. Although this sounds like a small thing, such easy-to-remember gestures do make products much easier to use. Even last week I had to explain to a delivery crew that you could take AP control from another station without going to Standby on a NSE by doing a long press of the Standby/Auto button — which apparently is not intuitive.
I must say that I am impressed in how Navico is using its three brand strategy and in particular how they provide Lowrance HDS and Simrad NSS with alternating releases which incrementally bring out new functionality. Speaking of software, there will be a software update for NSS evo2 and HDS G2(T) planned for Q1 2014 that will include, amongst others, FusionLink support. Navico, if you are listening: now that there is no real price difference between the brands and a clear marketing strategy (Sport/Sail/Fish) can we please have auto-pilot control on HDS 2 Touch? Thanks!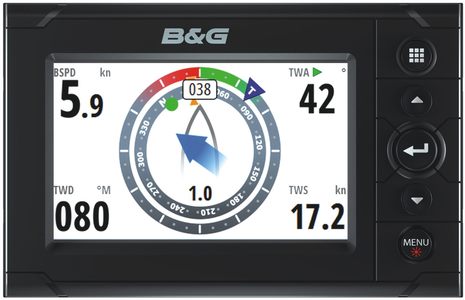 Although Simrad NSS evo2 and B&G Zeus2 will probably sell more, I still think that the real star of the Navico show was the new B&G H5000 range of sailing instruments (like the new 5-inch Graphic Display above). I think they deserve their own entry here on Panbo, coming soon.
Other impressions
Four more things caught my attention.
First up: the increased numbers of suppliers for big boat items such as roll stabilisers and huge satellite dishes — witness the overall DAME award for Sleipner (aka Side-Power) vector fin stabilisers. Apparently there is a (perceived) large market for this.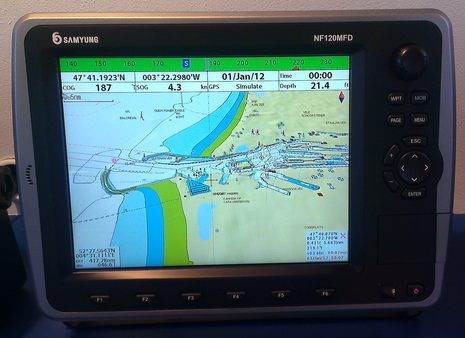 Secondly, the continued increase in electronics suppliers from Asia. One example I noticed this year is South Korea's Samyung ENC, which produces a complete range of marine electronics: chart plotters, tablet apps, radar, autopilots, AIS, etc. There's nothing that we haven't seen before, and it looks as if they are not particularly targeting end users outside their own territory yet, but once they do they might offer some price bargains.
I also had an interesting conversation with Alltek Marine (AMEC) again. They have come a long way in three years, and now produce fully approved AIS class A and B transceivers for a lower price than the mainly european competition. I'm seeing these available at various retailers in Europe and the USA starting at $400.
The big surprise from Alltek is that they are working on a FMCW radar — e.g. competition to Navico's Broadband radar. They are still in the prototype phase, but were very open about that and clearly soliciting input. When I said that there might be a market for PC based radar if they just produce the API for how to talk to their radar the engineer told me they were thinking of something even more disruptive: making their radar compatible with chart plotters from (for example) Furuno, Raymarine, and Garmin. That way they could offer a real alternative for users who would like to have the benefits of a FMCW radar. Gutsy move if they bring this to market.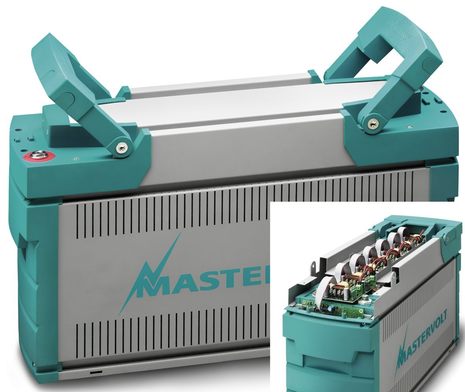 Thirdly, although there were even more suppliers of Lithium batteries than last year, it looks as if the initial buzz around them has subsided. From what I hear in the market it looks as if most owners and builders are taking a wait-and-see approach to see how this new technology works in practice. Like distributed power, there is an advantage to the new technology, but at a higher cost and some risk, in particular when pooling larger battery banks. I would want a fully integrated system. Mastervolt seems to be the leader in this area at the moment, and they've clearly learned a lot. Their 2nd generation batteries are much easier to install than the 1st gen and are more robust that others on the market. Still at an eye watering price though.
Fourth is the slow but continuous rise of pure electric propulsion. You can tell from the solutions that are available that the most viable market is for motorboats in areas where there are strict environmental controls, and for day sailors that only require an auxiliary engine. This year I saw the first larger engines on actual display that are able to replace a 50 or 100 kW diesel or petrol engine. The most impressive, I thought, was the Torqeedo Deep Blue outboard engine system (pictured below) that won last year's DAME award. It's quite a BIG engine in real life I must say! It is obvious that hybrid or pure electric solutions are slowly chipping away at the total dominance of oil powered engines. Until the battery situation is fixed this will remain a solution for particular niches though.
I would have like to have seen more METS this year but my time was limited, so that's all I have.