Fleet Broadband 150, the Miami intro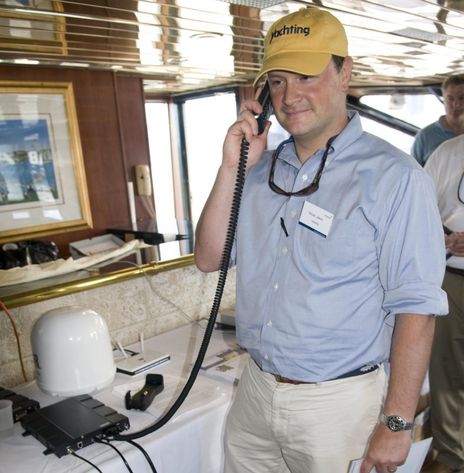 I'm in a gang now, sort of, and I like it. Above is my Yachting magazine colleague Jason Wood calling me via FB150 sat phone from the Inmarsat demo boat on Biscayne Bay Monday, photographed by colleague John Brownlee, editor of Salt Water Sportsman. Yesterday I talked and texted via the loaner Iridium 9555 handset with two other members of the gang, SWS electronics guy Glen Law and Sport Fishing electronics gal Chris Woodward. We are testing electronics together, or at least comparing notes, and that's good…

At any rate, there did seem to be a somewhat annoying delay in the FB150 call I got from Jason, but we can both be fast responders. Overall, Jason was impressed: "Based on the calls I made, I thought the sound quality was very good:
loud and clear. The slight delay — which seemed to cross up a couple of
eager talkers like us — took a bit of getting used to." And, in answer to my question about the FB150's Internet abilities, he added:
Yes, the guy who demo'ed had a real-time stock market page running and
share-price changes were ticking through as fast as you please. He also streamed radio and video. The
video got a little choppy, a live feed of the UK office (which was
closed) with just an oscillating fan with streamers tied to it, blowing
in the breeze. And he video conferenced us with that office, sort of a
picture-in-picture view of us.
Another cool aspect is that the FB150 will do SMS text. That's text messaging,
but also is used in the corporate world for conferencing — very
effectively and efficiently. It does a lot of the things that your
mobile phone does, that you get accustomed to and may wish all your
handsets do: push-to-talk, for example. I don't use it, but I know
many people who rely on it, like back country
fishing guides.
John Brownlee simply reports, "Yes, it worked remarkably well. Still pricey though." Unfortunately the precise parameters of "pricey" are still unknown. The Inmarsat press release says that the terminals will be "sub-$5000″ but KVH says that hardware, and air time costs, are still undetermined. The hardware itself is also a little confusing. Inmarsat used the Sailor brand Thrane & Thrane dome in Miami; I think KVH will be using the same Thrane & Thrane internal hardware, but in a TracVision M1 style dome for its TracPhone 150; and there's another terminal called the Skipper 150 I'll report on soon. The most important thing about FB150 is that even a smallish boat can have voice and fast Internet comms anywhere, if the associated wallet is deep enough.