Inmarsat Fleet One, affordable FleetBroadband for real?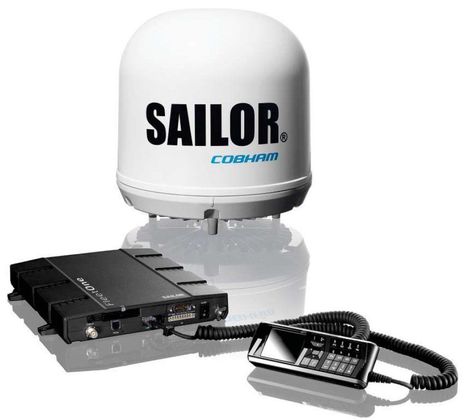 Boaters looking for a reliable, moderately fast satellite Internet connection for light and/or occasional use have learned to be leery of Inmarsat. When FleetBroadband came out in 2009 — particularly the FB150 model with its easily installed 13.5-inch stabilized antenna — it seemed like a reasonably affordable option for bluewater cruising. This promise was confirmed in a terriffic Panbo review series conducted by Gram Schweikert as his family sailed from Maine to New Zealand with both KVH FB150 and Iridium OpenPort antennas mounted on the spreaders. Note the fairly friendly FB rate sheet published in Gram's installation entry and how (with very careful data use) he found the FB150 quite useful out in the Pacific at only about $100 to $150 a month in service charges. Unfortunately, the deal changed…
In 2011 Inmarsat purportedly modified the terms their service resellers could use — causing particular pain to intermittent users (and the dealer/installers who had set them up) — and in 2012 we got a clearer understanding of the company's motivation. Inmarsat's VSAT competitors in the data-hungry ship and megayacht market were using nearly global FB systems as a backup to cover the areas they couldn't. Suddenly, the middle class yacht could no longer, say, prepurchase 12 months of a basic $59/mo service plan and use the total block of 60 up/download megabytes and 1,100 voice minutes however they wanted during that year. The FB150 is still available, but you don't see them on many cruising boats.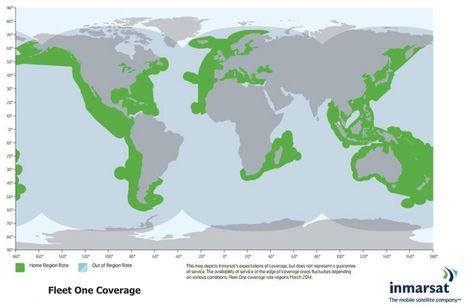 Well, Fleet One is Inmarsat's new attempt to "meet the particular communications needs of leisure mariners, day boaters and sport and coastal fisherman," and the Sailor Fleet One hardware pictured at the top of the entry looks remarkably similar to the Sailor 150 FleetBroadband System. In fact, it may well be the exact same hardware, but with software that only enables one voice connection at a time and that limits data speeds to 100 kbps — versus FB150's "up to" 150 kbps. The major difference, though, is that Fleet One's attractive rates only apply within the coastal regions shown in green above…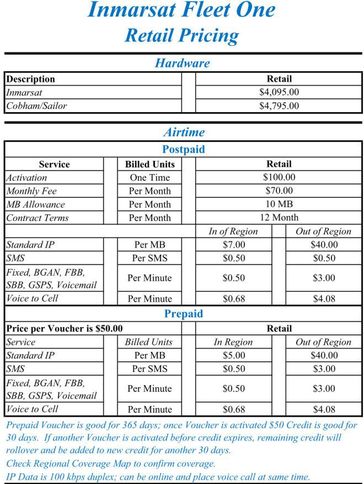 The green (or lavendar) regions are actually quite substantial. It looks, for instance, like a yacht could cruise throughout the Carribean and then passage to New England via Bermuda without ever crossing the line where Fleet One prepaid data rates take a huge leap from $5 to $40 a megabyte. With "In Region" voice calls at 68 cents a minute, Fleet One could be just the right service level above a sat phone (or maybe the new Iridium GO!). You're not going to surf around the Web like you do when you're on land-based WiFi or cellular connections, but carefully managed Internet use should be easy and fairly quick. Cruisers will also appreciate the fact that $50/30 day prepaid vouchers are good for a year and that unused time can roll over onto another voucher if it's activated before the first one's 30 days is up. Plus, an activated SIM card can go unused for 8 months before another $100 activation fee is needed. And note that the same hypothetical coast-of-North-America yacht could pick up the same Region rate in the Med, and they still would have had easy data access while crossing the Atlantic, though at a premium rate (that will discourage use of Fleet One as a VSAT backup :-).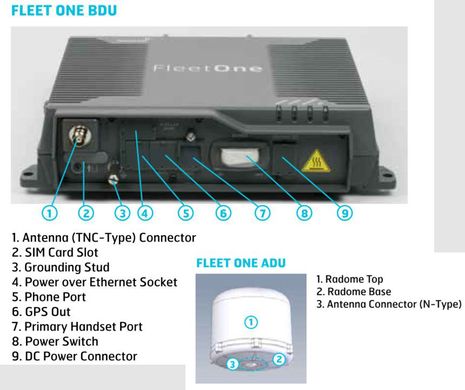 Installing the Fleet One BDU and ADU — the below and above decks units — looks fairly straightforward. The above manual illustration is from the Inmarsat-branded hardware, which looks very similar to the proven Skipper FB150. Accessing Fleet One Internet via the built-in browser pages, illustrated below, also looks fairly straightforward. I'd still recommend having a reputable dealer/installer involved, though, if nothing else than to serve as an advocate with Inmarsat if things turn sour. The company may want to work with leisure boaters, and this offering seems attractive, but I'm not sure they've learned how to treat us. For instance, I'm pretty sure that even though a Fleet One system could use its included GPS to warn a user if they've crossed a Region border into high rate territory, it does not. That's why the non-partisan sat comms expert who supplied much of the info for this entry favors pre-paid usage. "It limits liability!" Soon, the Web should have more information and opinions about Fleet One. I'll be paricularly interested in what Global Marine Networks has to say, and note that they already like the Iridium Pilot (formerly known as OpenPort for similar user profiles.