Iridium 9555 hands-on, & OpenPort/FB150 news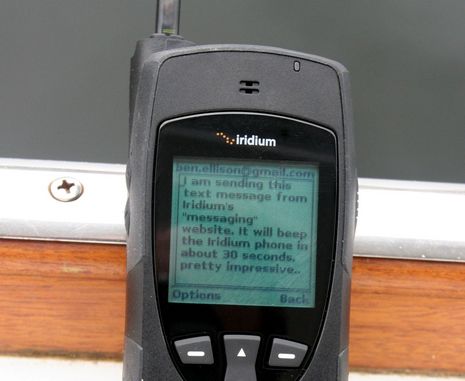 These are big times in the small world of global satellite communications for medium size boats! Yesterday Inmarsat demoed Fleet Broadband 150 hardware and service in Miami (my people were there, and even called me via FB150, full report soon) and today Iridium issued a press release boasting about the extensive sea trials its OpenPort system has endured, and how it's now shipping (actual FB150 hardware, like KVH's TracPhone FB150, won't ship until sometime "this summer"). Meanwhile, yours truly was using the new Iridium 9555 handset to text himself (above) and call his patient spouse from Camden Harbor…

She said I sounded a little drunk, and it was only eight in the morning! Since then I've talked to other people plus listened to my own voice messages, and there does seem to be a slight slur built into this sat phone. But that's extremely minor; I'm not sure if it's this new model handset or my location or improvements in the overall Iridium system, but voice quality on this test is noticeably better than when I tried an Iridium 9505A back in 2007. And, perhaps most important, I didn't experience any annoying delays during either test.
Text messaging, at least inbound ones, work well too. Friends and family go to the messaging.iridium.com, type in your number, and up to 160 characters (I used all 160 below)…and about 30 seconds later the phone beeps and is ready to show you the message (above).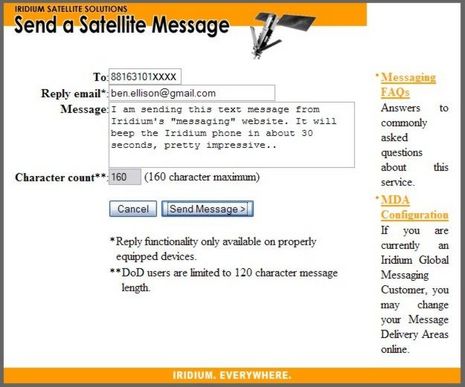 Using the 9555 as a modem was more problematical. Lord knows its mini USB plug is a heck of lot easier than the 9505's ungainly old serial dongle, plus the included driver seemed to load fine, but there's very little in the manual about how to complete the connection, and I failed to. I did call Iridium technical support, where I was quickly connected with a knowledgeable tech who reminded me about how to install a standard windows modem on the 9555 port, and gave me the Iridium number that connects to the Internet. I still didn't quite connect. But I'm sure it would work, though at Iridium's sad 2.4 bps data rate, with a little more effort, like actually reading the modem manual the tech emailed me. And I may try that, though it is Spring in Maine and I have a new boat, and, besides, if I were really going to use this sat phone for email anywhere, I'd get GMN's XGate or OCENS Mail (they're twins), which would make the Iridium connection seamless and painless, and the email much faster.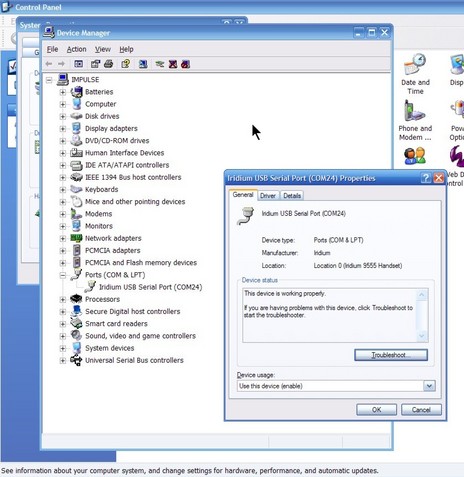 PS 5/13 I talked over the phone more today and some parties thought they heard a little delay, though not enough to cause difficulty. And I was pleased to find that the phone worked fine inside the cabin of Gizmo, that is to say underneath a fiberglass cabin top, electronics helm, and antenna mast. But I did see the signal strength bars drop once in a while inside the boat, possibly as the active satellite finished its pass (they do a full earth orbit every 100 minutes!). At any rate, check out this "not drunk" Google Voice recording: