FOB to Finland, Class B & Spot onboard!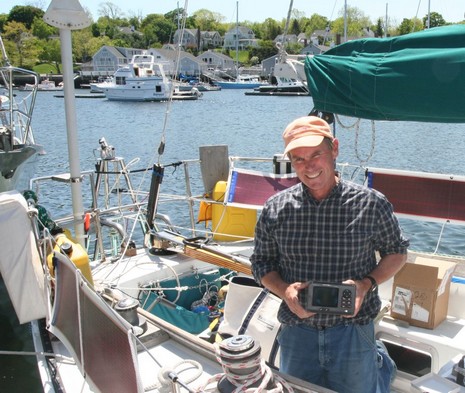 Sometimes you-know-who works in mysterious ways. On Saturday afternoon I watched a long-time friend, Tom Amory, set sail for Finland with his daughter and her friend, but without the Simrad AI50 Class B AIS transponder he'd tried so hard to obtain. I was excited for him, but also yet further ripped at the FCC. Tom ordered the unit from a Canadian distributor who agreed to ship it to the U.S. for use in international waters, but insisted on putting its true identity on the customs form. It got turned back at the border! Then Tom employed an alternative importation technique, which didn't work in time. Note to the FCC commissioners: What the hell are you doing, making an upright citizen smuggle in a U.S. Coast Guard approved safety tool that he can legally use about 3,988 miles of his 4,000 mile voyage?!?!
The heavenly intervention part: on Sunday Tom realized that his Lifeline AGM batteries weren't coming out of their winter sleep and needed a desulphating hot charge he couldn't do offshore. That's him above early this afternoon back in Camden with his new Class B on board, though not yet installed. Which is going to happen underway as Flash of Beauty (aka FOB), Tom's much modified J35, is literally making tracks as I write. Virtually too, as I finally thought to pass him the test SPOT both as a backup safety and comms device, and so all of us can see if Spot's North Atlantic satellite coverage is as good as the latest coverage map indicates. FOB's SPOT share page is here. FOB, by the way, is also equipped with an OCEN's Iridium phone, email, weather, and SailBlog package, and thus we can hopefully learn more about the trip here.
All this is not to say that Tom needs a slew of gadgets to cross the ocean safely. He's a very experienced sailor, including two Bermuda One–Twos on FOB, and experience breeds judgment, and both trump gadgets. I was reminded of what hundreds of thousands of miles of serious saltwater can do for a guy when the amazing Loïck Peyron sailed into Boston early Saturday morning, less than 13 days out of Plymouth by himself in an Open 60 with over 3,000 square feet of possible upwind sail area. The NYT article says he plans to sail back to France this week, again solo, and is looking forward to catching up on his sleep along the way! Maybe Tom will see the AIS target of a trés suave Frenchman go by.
PS. 6/2: Pretty freakin amazing: FOB actually saw and spoke with Peyron yesterday, as he loafed by at 16 knots.