Fusion Marine Stereo, an update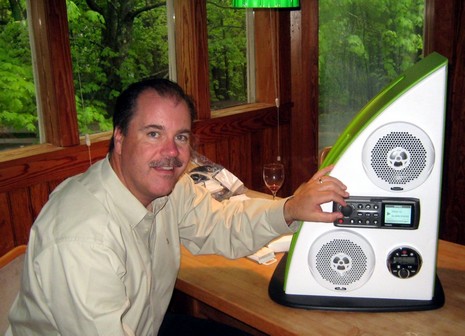 The July issue of Power & Motoryacht is now online, including my write-up of the new Fusion Marine Stereo, which pretty much summarizes earlier Panbo entries on this innovative system. But recently I got to see the shipping version of the MS-IP500 in the flesh, thanks to a visit by Todd Crocker, above. For many years Todd exercised his marine product creativity and high energy at Standard Horizon, then at Uniden (and is still justifiably proud of its snazzy color 625c fixed VHF), but now he's a Fusion partner and manager of the U.S. division. He delivered a persuasive demo at my kitchen table!

One thing he explained is how Fusion uses Class D amplifiers which can supposedly pump more energy to the speakers using less boat electrical power. Specifically, Crocker claims that cranking up two zones on an MS-IP500 might drain about 3.5 amps versus about 7 amps for various competitive systems (which don't permit the same flexible zone volume controls Fusion does). He also expressed Fusion's commitment to the iPod as the perfect boat audio storage device and hence claims they have invested more than any other company in getting their iPod implementation right. I'm pretty inexperienced on that score, but did notice how fast the IP500 could search and pull up files from the iPod docked inside. I also really liked the serious marine look and feel of that big button and LED faceplate. Sure, it would cool if the screen was color and could show album covers, but I thought the grayscale quite readable.
I also liked the build quality of the unit, including the heavy duty and well-labeled cabling you can see below, which are ready to completely power two audio zones, and feed two more via new Class D zone amps. So I remain very bullish on this product, and think it will end up another feather in Crocker's electronics hat. I will add that Todd was apologetic about Fusion's marine stereo site, which is now up to date, and also about initial slow product deliveries. But he said that lots of units would arriving in the U.S. about the date I'm writing this. Hopefully I'll get one to try myself.