Garmin 376C, holy mackerel!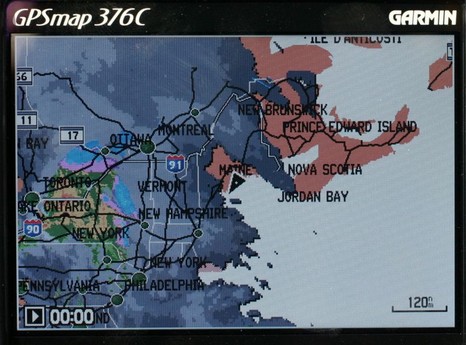 I would have posted earlier today, except that fooling with this Garmin 376C vividly reminded me (above, and bigger here) that the spell of dry, sunny weather was about to end. So I spent some hours winterizing the fleet, all the while watching the clouds thicken up from below and above. I could also see an animation of all that rain moving across New York state, plus the lightning strikes, the frontal lines, pressure gradients, wind predictions, buoy reports, etc. etc. It is phenomenal how well you can see all this info on the 376's little screen. The display itself is exceptionally bright and detailed, and Garmin has also done a good job at letting you view the weather data mixed together or one element at a time. And, get this, I was also listening to XM radio (below). I've been trying the 376C intermittently over the last month or so, and am very, very impressed. It really makes sense in terms of carrying your XM weather and audio subscriptions with you on land or sea. The only con I can think of is that BlueCharts have gotten pretty expensive relative to the competition, but maybe that will change.
The Garmin 276C was one of my 5 Sail magazine "editor's picks" for innovative, important marine electronics introduced last year. I'm working on my 2005 picks right now, and the 376C is definitely a contender. If you have suggestions for other hardware or software that should be on the list, please let me know.