Gizmo update, careful with the wipers!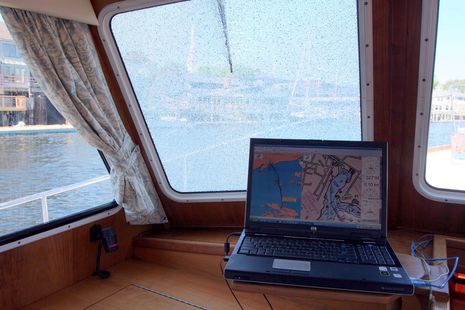 So Gizmo's nifty, and now semi-permanently installed, PC charting system could have perished abruptly in a nasty mix of saltwater and glass. But it didn't. In fact we were tied up on our float before the slow shatter of tempered glass became evident. And it was really me, not the boat, at fault. On Memorial Day, soon after we set out for home from Pulpit Harbor on North Haven (note the link: it's great news that MyTopo has revived the old Maptech mapserver), the running port windshield wiper went overboard with a bang. It was blowing 20 knots Northwest right on our nose with short, sharp seas, and we were taking serious bow spray even at 6 knots, but none of that broke the window…

When we got into the lee of Lasalle Island in the middle of the Bay and I went forward to wash that window, I flipped up the remaining spring-loaded wiper stub, and left it up. Very dumb move. It came down with a real bang as we approached Camden. And when it looked like the glass survived that hit too, I thought to myself, "good window!" But I was wrong; it wasn't quite strong enough to take what was essentially a sharp hammer blow almost on center, though it did break quite slowly. I was also wrong when I assured my dear mate at the float that the glass could never have blown completely out because there was sheet of plastic laminated into it. When I put a drop cloth under it yesterday and gave it poke, it collapsed into a pile of chunks and slivers. Yipe.
But there was lots of good news on our first cruise. Gizmo handled beautifully in conditions fairly extreme for Penobscot Bay; she was so solid at displacement speed that I even went up to 16 knots and put her almost sideways to the seas; she never made an abrupt move, and she was dryer. Good boat. And though nothing leaked despite sheets of spray that sometimes made the fly bridge, that broken window came out easily yesterday, no adhesive caulk involved. A sign of a well built boat. But I do wish they'd used laminated glass in the windshield, and that's what's being put in that frame this afternoon.
Meanwhile, here's a look Gizmo's current lower helm. The old Raymarine radar and GPS are gone, as are the original Icom radios, and lots of already dead or now unneeded power and data cables. Newly installed to starboard is that Icom M504, with a Command Mic III attached and up on the fly bridge…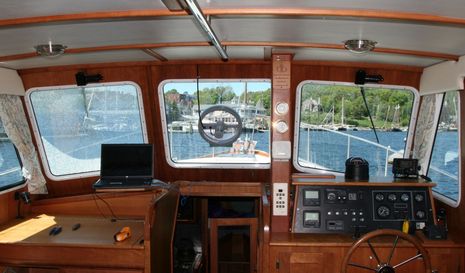 The ICOM's NMEA 0183 ports are wired to Airmar's Combiner Box below, which means the radio is getting GPS info from the Airmar PB 200 now mounted on Gizmo's mast, and DSC messages are sent to the laptop via USB cable. The PB 200 is also cabled to a mini NMEA 2000 network, and thus to the Maretron USB200 and hence to another laptop input (all explained here). Then there's the ACR Nauticast B AIS transponder, with one of its outputs going to the laptop via Keyspan serial converter. And, finally there's the Digital Yacht SPL250 VHF/AIS antenna splitter, useful for getting the most from the boat's two original VHF antennas, and testing more radios and sticks. In fact, while this is a pretty powerful, and somewhat redundant, system by itself, it's also ready to provide 0183 and 2000 data inputs to all sorts of test software and multifunction displays (which is why I built it more for access than aesthetics). I've pretty much stripped Gizmo's mast down, too, but it won't stay that way for long (though I may need a group Panbot consultation to figure out where to what).