GPS & train collide, head's up!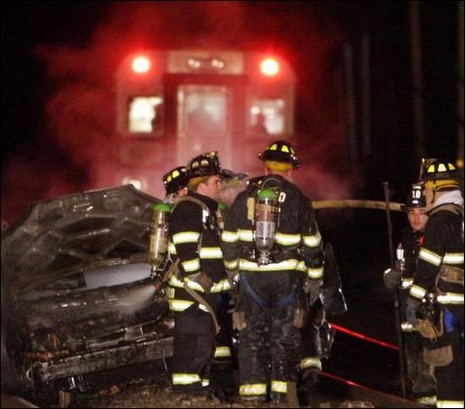 I guess we can thank poor Bo Bai for reminding us to never, ever bury our heads completely into navigational gadgetry. Bai was headed to the Saw Mill River Parkway in Bedford Hills, NY, but according to a railroad spokesman, "As the car is driving over the tracks, the GPS system tells him to turn right, and he turns right onto the railroad tracks," adding "he tried to stop the train by waving his arms, which apparently was not totally effective."

We can enjoy that a bit of dry wit because, thankfully, no one was hurt as the train pulverized the rental car over a couple hundred feet of track. While I got this detail from the good coverage at LoHud.com, the story is roaring around the internets including a site which suggests that you don't outsource your brain to your GPS system. Hear, hear! Oddly, though, no site I've seen thought to create a useful link or image (below) showing where the accident took place, which is now so easy to do thanks to technology. And many reporters presume that the GPS made the mistake, whereas I'll bet Bai misunderstood its instructions. Plus, obviously, he was not properly aware of his situation, i.e. had his head somewhere other than up! The railroad, by the way, plans to charge him for the badly damaged track, and whereas he has a pretty unique name (is this him?), he's probably forever tagged, Google-wise, with this bonehead moment.
PS Here's a follow up report which shows a large crossing sign right in front of the tracks.