Greening Gizmo, 17 amps of solar panel!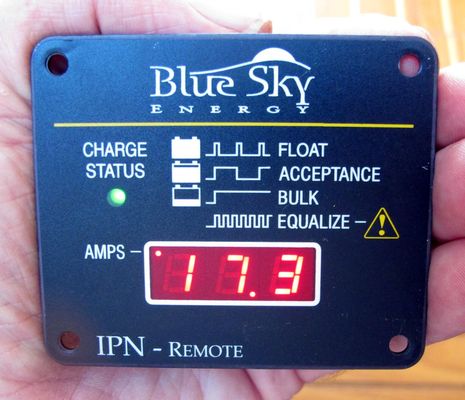 Happy day! You may recall that I planned to put solar panels on Gizmo last summer, but in fact I didn't know what to expect in terms of output or even if that output would support my Sea Frost refrigeration system. Well, wow, you're looking at 17.3 amps of solar juice at around local apparent noon today, and I'm seeing 12 amps as I write this four hours later. And though I've been running all sorts of gear all day, and the refrigeration for two days, the battery bank is at 12.6v, which is a healthy number I rarely see unless I've just been out cruising. I'm thinking of having a cold beer to celebrate!…
While the two Kyocera 140 Watt KD140SX-UPU off-grid panels now residing on Gizmo's extended house top are purportedly able to generate nearly 10 amps apiece — according to the table at eMarine — I've had many cruisers tell me that they never see close to the max from their setups. But then again I got that 17 amp number with the panels tilted about 40 degrees toward the midday sun. As explained in that earlier entry, a tilting rack makes sense for Gizmo because her home mooring float puts her stern nearly due south. But you may notice that I gave up on using stock panel mounting hardware to build the rack, and I'm very glad I did. My friends at Rockport Steel, who also build fine boats, whipped up a custom aluminum rack that is not only lean and light but also strong enough to serve as a crutch when Gizmo's substantial mast is lowered for winter covering (or a low bridge)…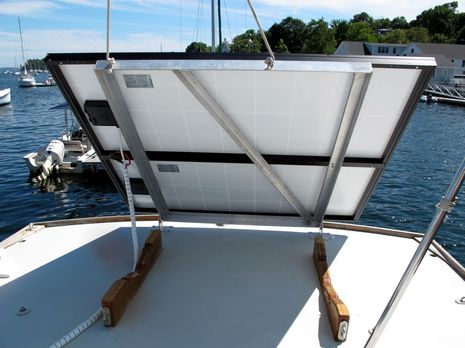 I also used 10 gauge cable for each panel to make the twenty foot run from the cabin top to the Blue Sky 2512i MPPT charge controller mounted very near the battery bank in the engine room. I wanted to minimize voltage drop and the 10-2 was the maximum that can be easily wired to the controller's terminal block. I'm pleased to report that when I check the cables during that 17 amp period, my laser temperature sensor saw hardly any heat in them. The controller itself, though, was 96° in 73° ambient and the three foot 10-2 cable run from the controller to batteries was a little warm, particularly the inline 20 amp blade fuse. I could shorten the latter but I think I'm good (and will keep an eye it).
I didn't end up buying the eMarine marinized Blue Sky controller that I wrote about last year partially because I'm cheap but also because I was planning to switch over to Victron's new BlueSolar MPPT 70-15 when they become available in the U.S. this fall. The Victron looks well designed for boat use — fully potted with big cable terminals and a built-in blade fuse — and I'm also told that it will be possible to gateway it to NMEA 2000 (which is already native to their larger 150/70 model). It will be a long time before I get over the thrill of seeing more juice flowing into my batteries than I'm using, with no noise whatsoever, and N2K could let me enjoy that all over the boat. However, now that I know that the Kyocera panels and Blue Sky MPPT controller can capture more than 15 amps for at least an hour or two on a good day, I'm not sure I want to limit myself to the small Victron's 15 amp max…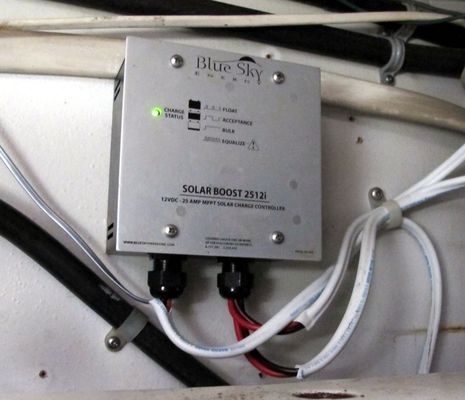 Gizmo has always been a great candidate for solar power as she almost never gets shore power and I disliked her generator installation so much that I removed it completely. And it probably helps that I've become so conscientious about battery conservation that 17 amps looks like treasure. While of course this is the beginning of a long test, I'm very optimistic about what these panels seem able to do and how it's going to change Gizmo life at rest. And I think this $1,500 setup — $400 for the rack and the rest to eMarine for all the components you see — is going to seem a good deal after a while.
I'll have to add the photo I'd like to close with later, but picture a profile of the boat with a halyard attached to the tilting rack. For an old-time sailor it's a thrill that I can now honestly issue the command, "time to hoist the panels, laddies"!