Icom M506, five models of goodness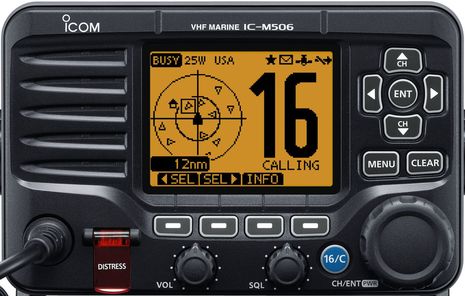 When Standard Horizon introduced its Matrix AIS/GPS radio in December, we learned from a European reader that Icom UK was showing off a VHF with just about every feature a boater might desire (with the possible exception of a built-in GPS).  As hoped for, Icom America has now revealed its version of the IC-M506 and will be showing it in Miami next week. It turns out that at least here in the states the M506 will be available in five models so you can get the features you want without paying for ones you don't…

So once approved by the FCC, the base model known as the M506 NMEA will be a conventional fixed VHF in terms of using NMEA 0183 to connect with a GPS for DSC distress calls and other functions like position sharing. But there will be kits available to add NMEA 2000 connectivity and/or a dual channel AIS receiver. The next models up include N2K with a choice of either front or rear mics, and the top two models add the AIS. Pricing is not set but may look something like $500 for the base model plus a $100 each for the two major options plus $50 for the rear mic. Icom has always been a premium brand and even the base model M506 seems to have a lot going for it.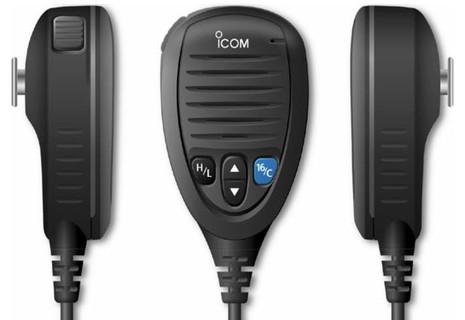 For instance, the newly designed mic is purportedly louder while still including Icom noise cancelling improvement of both incoming and outgoing audio. And the big 132×96 pixel display looks good for the nav and AIS screens as well as for using the soft key and knob interface possibly best seen on this video from London Boat Show. The M506 will also support a second station Command Mic IV, apparently including the AIS functions. I have not yet tried Icom's last call voice recording — first seen on the M73 handheld, and extended to 2 minutes on the M506 — but I liked the feature a lot when I've used it on other radios.
   I have not paid attention to which VHF radios support a rear mic attachment, but now that I'm trying to design new Gizmo helm panels with more of a 'glass' look, I appreciate the rear mic possibility. (I also wonder if some MFD manufacturer will come up with a big screen VHF interface something like Fusion Link, but VHF regulations may prohibit that.)
Finally, while the M506 manual is not yet available, I don't doubt this UK site's claim that the radio can easily set up direct DSC calls to an AIS target (a feature so far still missing from the Simrad RS35 and Lowrance Link 8, I think). Afterall, the M506 can apparently interface with Icom's own MA500TR AIS transponder. I wonder if a M506 N2K will display and make target calls using standard AIS data coming in via NMEA 2000. Any other questions I should ask in Miami?