iPad cases for the boat, & some interesting apps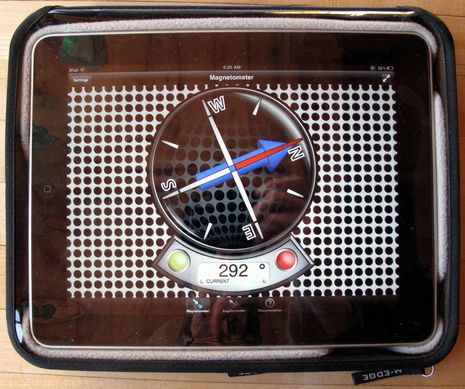 I find that my iPad is so sharp and slippery that I almost always use it in a case, and once I get it on the boat there will also be an increased danger of impact or water damage. So I've been testing three candidates for Gizmo's cruising iPad case. That M-Edge Leisure Jacket above is far and away my favorite at this point. Yes, it's a bit bulky but the high-density fitted-foam bed and cloth cover are light, easy to handle, and highly protective; and the whole thing tends to stay where you put it. Perhaps most important, the vinyl cover does not impede screen use nearly as much as you might presume. I've used the Jacket a lot now, with all kinds of apps, and I'm rarely annoyed by the plastic. The pocket on the back may be too tight to be very useful — and I wish it had a "kickstand" for typing comfort (though it's easy to stick something under there to get the right tilt) — but I like the Leisure Jacket. Now, about that weird compass app…
The app shown in the top photo,
Plaincode's MagnetMeter
, is actually a lot more than a compass, perhaps confusingly so. And it doesn't seem to work perfectly (geographic north should be 17 degrees different from magnetic north here at Panbo HQ). But the graphics are stunning — also true of
Plaincode's Clinometer
— and I'm wondering if it could be used to identify/quantify sources of disruptive magnetism around a boat. I'm hoping one or more of you will spend some time figuring this app out. It's free, and also available for Android.
Maybe you noticed that the M-Edge Jacket isn't truly waterproof. I don't think that will be critical aboard a cruising powerboat like
Gizmo
, but should I want to bring the iPad along in the tender, I believe it would be very safe in
the Dry Case tablet model
seen below. Sucking a vacuum into your case and having it hold is quite reassuring. I did find that too much vacuum could make the iPad's main button unusable, but that's easily taken care of. (The volume, mute, and on/off side buttons can be difficult to use with all these cases, by the way, but most of their functions can be done with the screen, as shown.) The vacuum also lets you smooth out plastic ripples that might otherwise get in the way of your touch finger (the small air bubbles that show if you click on the photo are unavoidable but rarely seem to show in use). And as with
the Dry Case iPhone case I already tested
, I'd personally like this design better without the clunky headset extension (I use Bluetooth). But I don't know how anyone can check out
Dry Case's testing routine
and still dismiss iPads as unusable on boats because they aren't waterproof (screen brightness being another issue ;-).
The charting app seen below is the new
iSailor from Transas
. So far in its development it's pretty plain fare in terms of features, and it still has a few display bugs — like the fact that some shallows are blue shaded on the screen below, some not. But I think this is the first commercial vector chart company to compete with Navionics on the iOS platform, and the Transas stradegy is somewhat less expensive if you don't want access to a huge chart region. The app is free and then regions — so far only in the U.S. — are $5 a piece.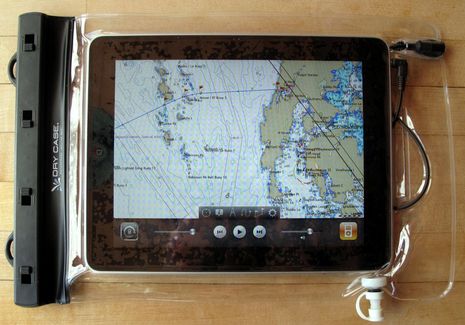 The third cruising iPad case candidate is actually meant for important papers, I think, and came as a customer appreciation gift from my local insurance agent. I haven't located another source but maybe it's worth noting that the
Allen Agency
has become a national presence in regard to all sorts of marine insurance. At any rate, there's a triple ziploc closure that gets rolled up under that yellow velcro flap, which pretty much assures waterproofness, I think. Plus it's easy to get the iPad in and out of the case, and once again I found that a layer of plastic did not appreciably impede use of the pad (though the crease it came with is a little annoying and I'm hoping it can be eliminated with a little reverse-rolled time in the sun).
The app shown is the
AIS viewer Sea Hawk Pro
. It's a little buggy, and comes with limited feeds, but it does cover Miami (where I'm headed soon), it can purportedly be set up to display most any format of AIS feed you might know about on the Internet, and it only costs a dollar.
Incidentally, it looks like
Otterbox has some iPad cases
that might work well on a boat, and maybe some of you know of other candidates?