iPhone apps update, & the future?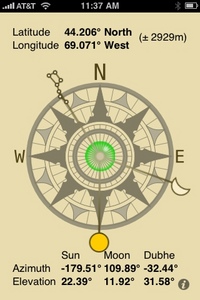 It's hard to keep up with marine related iPhone apps, and the reviews at Apple's iTunes Store often don't help. The Celestial Compass above, for instance, has seventy 1 or 2 star "this app doesn't work/sucks" type reviews versus just fifteen positive ratings, even though it does exactly what it purports to do, and that's not trivial. Admittedly 'compass' may be a confusing name, but this app uses spherical trigonometry and an ephemeris to calculate the bearings (azimuths) of three celestial bodies at your location so you can line one of them up with the screen and thus orient yourself to True North, E, S, W, etc…

When I built my home in 1978, I recall using two techniques to assure its True South orientation — a compass which I corrected to the local Magnetic Variation taken off a chart, and the shadows at the time of Local Apparent Noon as calculated with my Longitude and the wondrous Equation of Time for that day. The $.99 cent app above would have been a lot easier, but at least it shows that my efforts worked; I took that screen shot when the shadows lay straight back from all my south facing windows, and it confirms that this house is a giant sun dial. It also shows why we're early risers in Maine (we're way over on East side of the Eastern Time Zone) and how pathetically low the Sun is even at true noon at this time of year. This app could also be used to check a compass, as long as you know the local Variation, and can get a good bearing on the Sun, the Moon, or the Big Dipper.
All of which is a long winded way to say that there are some amazingly neat little apps out there, and I hope you all will share your favorites here. And I have a couple more to trade, like Fugawi's new iMap seen at left below. There may well be more full featured and faster topo map apps available, but iMap (currently priced at $4.99) not only gets you access and caching of all U.S. and Canadian topo maps, but also an X-Traverse account that makes it very easy to share tracks, routes, and waypoints with iNavX (as shown below), Fugawi ENC, and actually many other programs and plotters via the .GPX format. iMap also has a nifty touch screen waypoint edit control that all developers should take a good look at.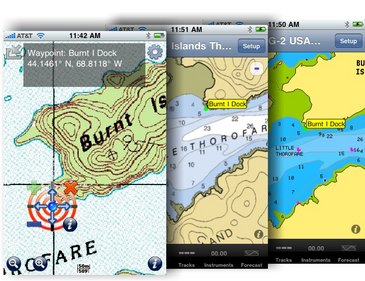 Then there's FlytoMap All in One. The price has gone up to $4.99 since they wrote the Web description, but still the app gives you download rights to a phenomenal amount of data. Like all U.S. ENC charts (though remember NOAA hasn't completed coverage yet), plus detail of some fifty national parks and a wild variety of exotic destinations. The shots below show Acadia National Park with topo, trail, and ENC detail; vector chart detail (and Google photo map overlay) of Cristobal, Galapagos (where VOJ was recently); and a partial list of Flytomap downloads. The book icon, by the way, indicates guide information, but it seems pretty generic.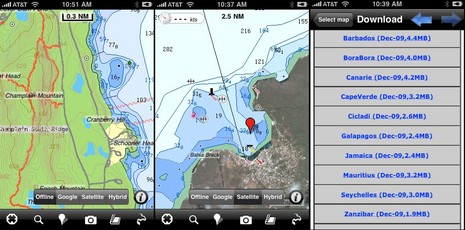 Of course all the marine apps I've written about already — like iNavX, Navionics Mobile, Navimatics and ShipFinder — keep improving, and I've never even gotten into all the weather apps available. It's weird how big a subject this has become, and I'll soon be trying to sumarize the state of things for Cruising World. I'd appreciate hearing about what apps you cherish onboard, and where you think this whole smart phone, apps thing is headed for boaters.
PS 12/23: Nick sent in the screen shots below of the apps he's been using as he and Sherri cruised some 6,000 miles on Sweet Time, well blogged here. Hopefully he'll add some comments about their favorites!