Journey: A boat with the right attitude!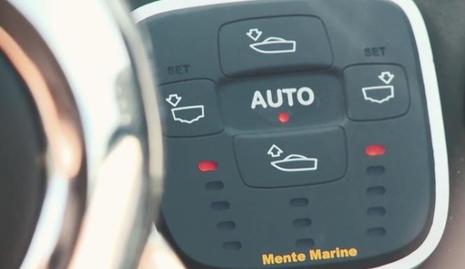 Five years ago when I told a friend that I was purchasing an attitude control system he said "does it bolt to your head?" Perhaps it should but I'm happy it didn't! I'd recently purchased Journey, a 1976 26′ Tollycraft Sedan that I found time consuming to trim properly, even for a boat guy in love (and still so). Purchasing Mente Marine's automatic trim tab control system was at the top of my list of improvements but would it stand the test of time and be worth the installation effort and cash?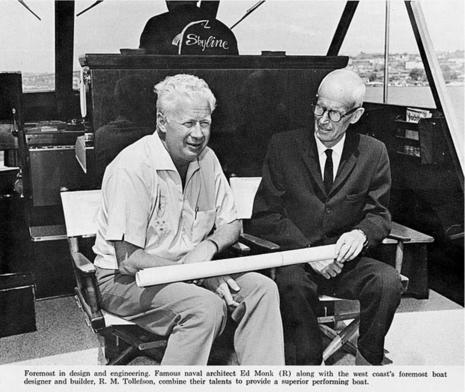 The Tollycraft brand of powerboats are legendary in Washington state and British Columbia where I live. Robert "Tolly" Tollefson the founder of Tollycraft, lived to be 100 and his amazing legacy lives on through the 6,500 boats he built over 40 years. It was the 10,000 lb solid build weight and 6'4″ of interior headroom that really sold me on Journey. Even though she has a relatively small 9 degree deadrise, she handles the Salish Sea nicely.
My broker — an old salt named Jim Young from Island Yacht Sales (and fellow Tollycraft owner) — took me cruising so I could learn to control a shaft boat (with a small rudder) and also how to trim the bow angle to the sweet spot where the she was happiest at her 18 knot cruising speed. I then made the mistake of installing a bubble level on the flybridge so I could tweak port / starboard trim when people moved around the boat. I say mistake because I was spending too much time fiddling with the stiff and flimsy Bennett trim tab joystick-style switch. I needed to be maintaining a vigilant watch for Pacific Northwest deadheads. There had to be a better way?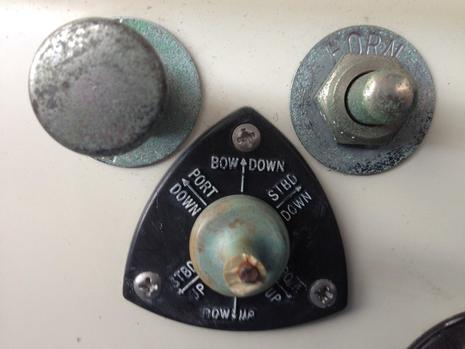 My first thought: seeing as I had Bennett hydraulic trim tabs (approximately 80% of the US boat market) was that it would make sense to add their automatic trim tab control unit. That was until I realized that I would have to leave my manual switches in place and add wire runs for the automatic controls back to the engine compartment. With two helm stations to wire I didn't want the hassle of running new wires. I would also incur the added cost of replacing my beat up manual switches. Why not an all in one control unit?
After an online hunt I stumbled across a Finnish company named Mente Marine. With a slogan like "For the right attitude," how could I resist. After an email exchange with Mente's helpful Peter Ostberg, I learned how non-proprietary the system is. Mente's ACS System (developed in 2002) is compatible with hydraulic tabs from Bennett, Instatrim, and the no longer produced Teleflex & Trim Master tabs. They can also control electromechanical tabs from Lenco, Eltrim, Ultraflex, and Lectrotab. Lectrotab has now become a US distributor for Mente, which may be overlooked by hydraulic trim tab owners who might presume that Lectrotab branded (Mente's) "automatic leveling control" unit won't support their tab type. Note that Lectrotab doesn't use the phrase "attitude control." In fact there are so many names for trim tab control that start with the word automatic; trim tabs, trim control, list control, attitude control, leveling control…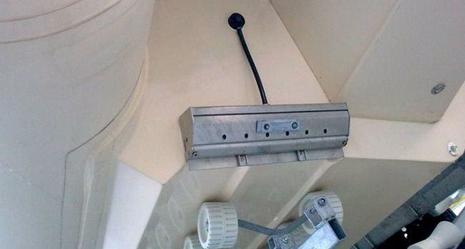 There is also a relatively new type of trim tab which is air powered. If you remember the guillotine, the Greek company Hydrotab has engineered vertical interceptor trim tabs that go chop using an air pump! This is one of the few trim tab types that Mente can't manage. Air power seems a cool environmentally sound idea with no risk of leaky hydraulic fluid. Hydrotab is a newer kid on the block and their videos infer low pricing, but trust me, this is a pricier product line. DAME award winner and 15 year old Swedish tab manufacturer Humphree also sells a vertical style trim tab (but electromechanical) called the interceptor x-series. With similar iconography to Mente, Volvo Penta offers automatically controlled interceptor style tabs with their boat trim system.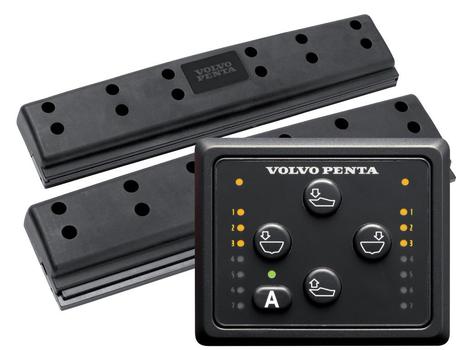 The main enemy of semi-displacement and planing hulls is high wave resistance and surface friction. How interceptor style trim tabs work is by quickly moving a blade up and down causing pressure to be created at the stern of the boat which can reduce wave resistance. There are many other factors at play though such as hull design, weather conditions and weight distribution. Tabs won't fix all problems! Traditional trim tabs work in a similar way to the interceptor style but they introduce more surface friction with their horizontal design. Humphree has a range of boat control systems, but most similar to Mente is Humphree's automatic list control system. Humphree sells a nice display unit (as does Hydrotab) but I question how necessary it is to pay for a color display. I want to set and forget. Let the gyros and computer brain do the work while I keep a lookout. Perhaps in large vessels it makes good sense?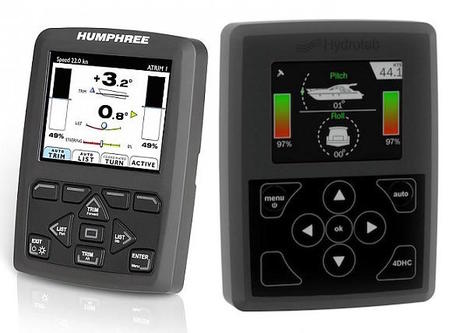 Getting back to Lenco – the makers of electric actuators – they sell a system called the autoglide. It's a similar automatic trim tab system to the others but is proprietary to their own actuators. I like the idea of Mente's system which allows me to select actuators from a different manufacturer should mine fail at some point. It would just be plug and "pray."
If you have a single helm boat you can probably install the ACS RP (US$650 – roll and pitch) system in under an hour. Just pull your manual switch and substitute the ACS control panel which contains all the brains of the system. If you use engine trim they have a model that just controls roll – the ACS R. Mente has wiring diagrams for different actuator brands. Just use the color matching diagrams and run no new wires.
When I installed my two helm system (US$1,100 from Mente online store) it was simple to swap the manual Bennett controls (reusing the existing wiring) with the Mente head units and then next to the hydraulic pump, install the black box. The black box is only needed for the two helm ACS version (ACS A + FCP). The box bridges the wiring from the two helms to the actuator control unit or pump. The only new wires to run are the power wires to the black box.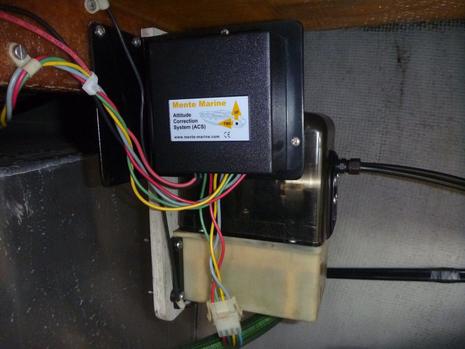 After five years of using the Mente ACS system I'm still impressed. I never touch it. I don't have to activate automatic, it just remembers when I key on the ignition. It will automatically retract the tabs at slow speeds (built in gps) or when ignition is turned off. When I accelerate to get on plane the system knows and just starts working. Since I installed my Mente the controls have been modernized from membrane to key press style and are expected to last 20 years. I believe my boat is safer and I have lower fuel consumption because roll and pitch is being adjusted safely for me. Here's a fun simulation on Mente's website you can try.
Some of the knocks against these types of systems are that they work against your turn as the boat leans inward, or that they make it unsafe in a following sea. While I only have experience with the Mente system, I can attest that these conditions have not been a problem. The Mente ACS delays its control in a turn so it doesn't fight you. In a following sea it retracts the tabs to keep the bow as high as possible.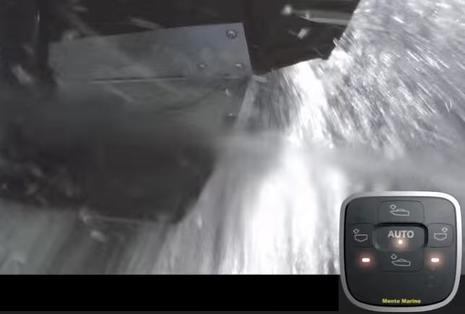 The only condition where you might want to switch to manual is when you are in a following sea with a long distance between waves. In this case the tabs will have time to deploy (after a delay) as the boat levels out and might not have time to retract again as you go down the next wave. If you are hunting for more speed, easier steering, better fuel economy, faster time to plane and set and forget functionality, you'll love automatic trim tab control. We'd love to hear your thoughts or experiences with attitude correction?